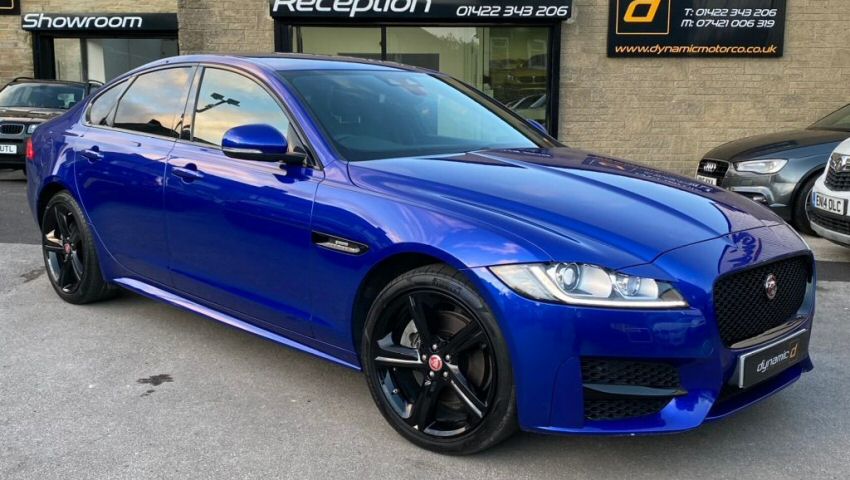 Caught in the classifieds: 2018 Jaguar XF R Sport
In this week's "Caught In The Classifieds", we've got one of the most underrated mid-size saloons currently on sale. When the Jaguar XF first came out back in 2007, it was marketed as an alternative to the already-established German trio: BMW's 3-Series, Audi's A4, and Mercedes' best-selling C Class. The first-generation XF was a good car, but it never sold in the same brash numbers as its rivals. Despite the exterior facelift in 2011, it just wasn't appealing enough for a lot of buyers, even though it was arguably as good as any car in its class. Then, in 2015, Jaguar gave it a complete revamp with an all-new generation and platform.
Exterior
Visually, the XF is definitely a class above the Germans. Whereas the Audi A4 and the Mercedes Benz C Class look almost conservative and restrained at this point, the XF exudes aggression and menace. It has a sharpness to it that the others struggle to match. Jaguar's current design language is one of the best in the business, and it all started when they decided to reimagine the F-Type. The XF is an evolution of that design, and you can clearly notice a lot of F-Type inspired design cues.

The front is dominated by the large central grille opening adorned with the Jaguar logo in the middle. The headlights are thin and long, similar to the ones found on the facelifted F-Type. The elongated nose means the bonnet is massive, making the car appear much longer than it actually is. The bonnet itself is creased at the edges, giving a sort of "power dome" effect.

From the sides, you can tell just how aggressively stanced it is. The front overhang is short, so the engine effectively sits behind the front axle, giving it great weight distribution. The rear overhang is noticeably longer, for both more boot space and greater stability.

The rear itself is somewhat more conservative than the front, but the way the LED taillights light up at night is so F-Type-esque, you simply can't fault it. The trim to go for is the R-Sport, since it comes with more aggressive bumpers, wheels, and a twin-exhaust setup at the rear. Finished in deep blue like this particular example, the XF is a real head-turner. Believe it or not, this car attracts more attention than a lot of sports cars and muscle cars.

Interior
Jags have always had nice interiors, but the older ones looked dated and old-fashioned. They never had quality issues per se, but they were never visually appealing. Jaguar obviously reads forum threads and reviews, because what they've done to the XF's cabin is simply astonishing.

For starters, they've definitely stepped up their game in terms of materials. Quality leather and expensive brushed aluminium can be found everywhere, along with piano black or wood finish depending on the trim. This example has a piano black centre console which looks ace. Cheap plastics are few and far between, making the XF a much more grown-up proposition than before.

The seating position is bang on. You sit nice and low, much more so than you do in an A4 or a 3 Series. The steering wheel itself is easily as sporty as the one found on the M-Sport 3-Series, but I would go as far as to say that it feels slightly better because it's thicker.

The one 'letdown' is the infotainment system. It works great and there's nothing wrong with it, but it feels a touch slower and less intuitive than BMW's iDrive for instance. If you're a fan of simpler infotainment systems though, you may prefer this one. The instrument cluster has two analogue gauges either side of the central LED display, and even though it's not a full-LED cluster like Audi's Virtual Cockpit, it looks nice. The colours are vibrant and the letters and numbers are sharp.
Elsewhere, you'll find the XF has plenty of room in the back (albeit slightly less than the A4), and the boot is easily big enough for a family of four or five. It's not the most practical car in its segment, but it's up there.

Engine and Performance
Here's where Jaguar's been clever, because they've managed to make the XF a 'Jack of all trades'. They took a good long look at the Germans and decided they'd create something to compete with all of them. So, to that effect, the XF feels as sporty as the BMW 3 Series, drives as comfortably as the Mercedes Benz C Class, and is as safe as the Audi 4.

Because it's all-wheel drive (but rear-wheel biased) and has nearly 50/50 weight distribution, the chassis is incredibly neutral and predictable. Drive it back to back with a 3-Series, and a lot of you might prefer the way the Jag drives because it's that sporty. The steering wheel has a ton of feedback, and turn-in is immediate. The front end feels incredibly poised and balanced, so much so that there's virtually no understeer.

This particular example has a 2.0-litre twin-turbocharged four-cylinder diesel, producing 240 horsepower and 369 lb-ft of torque at just 1,500 rpm. It's a Land Rover-sourced Ingenium unit and not a Ford engine like the one found on the last XF.

Power is sent to all four-wheels through ZF's silky-smooth 8-speed auto. Standard XFs are rear-wheel drive but this top of the line R-Sport is AWD. The system itself is rear-wheel biased as we already mentioned, but this thing will demolish any road come rain or shine, snow or ice. In that sense, it feels like an Audi A4.

Then, when you're not in the mood for sporty driving, put it in comfort and enjoy the incredibly damped and well-sorted suspension. It still feels sporty in the sense that it's agile and precise, but the suspension itself becomes so compliant that it just soaks up any road imperfection.

Model: Jaguar XF
Year: 2018
Trim: R-Sport
Mileage: 18,000
Price: Ł16,500
Rating: 9 out of 10

Why you should buy one
It's a real shame not a lot of people shortlist the XF when they're in the market for a mid-size saloon. In my opinion, most of the people who try one end up buying it because it's just that good. Is it the best car in its class? I would say so, especially if you want something interesting and a bit rarer than its German counterparts. Make up your own mind be heading to DesperateSeller.co.uk where you'll find a wide selection of Used Jaguar XF cars for sale.