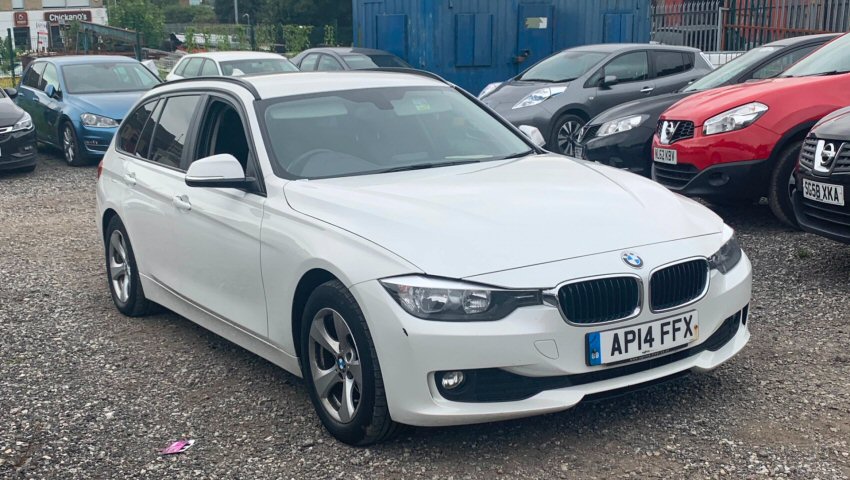 Cheap and cheerful: 2014 BMW 3 Series 320d
In our ĎCheap and Cheerfulí section, I usually try to highlight cars that are fun to drive without breaking the bank. Sometimes Iíll showcase hot hatchbacks, other times Iíll focus inexpensive roadsters like the first-gen Audi TT. Because I wanted to highlight something different, something you could genuinely use as a daily driver, but still make it fun, today Iím highlighting what is arguably BMWís best-selling model and trim variant to date: the 320d.
Ever since the first 3-Series E30 came out, BMW has dominated the premium performance saloon/estate segment. With the F30 generation, they further upgraded the already-iconic E90 platform, taking some of that carís core values and improving upon them. The F30 is one of the most accomplished Ďsportyí saloon/estate cars currently on the market, especially if you value driving involvement.

To my eyes, the F30 is the sportiest Ďregularí premium saloon, trumping both the Audi A4 and the C-Class with its superb chassis and excellent dynamic prowess. Because I love a good bargain, Iíve decided to stick to our ĎCheap and Cheerfulí philosophy, only going over budget by £500.

To that extent, I present you with a 320d I managed to find on our site for just £5,450. Yes, itís done roughly 156,000 miles and it has a few scrapes and bruises, but these cars were built to munch miles unlike anything else on the road. The fact that itís had just two previous owners and it seems to have been well looked after is a major selling point as well.

Exterior
This may be a regular non-M 3-Series, but itís still an incredibly good-looking car. As they say, beauty is in the eye of the beholder, but most of the people I know seem to think that the BMW 3-Series is a handsome thing. Itís full of square lines and creases, making it much more aggressive than a C-Class, even if it isnít quite as sharp as an Audi A4 of the same age. Weíre not talking about the hardcore M3 variant either. Even this base model 3-Series without any M-specific parts or xenon projectors looks amazingly well.

Interior
Inside, the BMW isnít quite as exciting to look at as the Mercedes Benz C-Class or the A4 because it looks slightly more conservative and contemporary. If time has taught us anything though, itís that BMWs always seems to age gracefully. Look at the previous E90 or even the E46 generation. Although they look older, theyíre still not as dated as Mercedesí cars of the same era. Even today, the 3-Seriesí cabin looks as fresh as the day it left the factory.

When it comes to build quality, the Germans dominate the premium segment. All three of the major German brands exhibit excellent interior quality and craftsmanship, but the BMW is the clear winner when it comes to cabin materials and fit and finish. Itís simply a level above the rest, as nothing seems to squeak or rattle, even in this 150,000 miles example.

The seats are, in my opinion, the F30ís best cabin feature. They give you an amazing driving position because you can get nice and low, which is exactly what youíd want from a sporty saloon. The steering wheel is exactly where youíd expect it to be, and the pedal placement is perfect for heel and toe, even in this diesel (even if you canít exactly rev match a diesel). You donít get any of that off-centre offset you get with a lot of Mercedes models. You can instantly tell this is a driverís car from the first time you open the door and step inside.

On the technology front, BMWís iDrive infotainment system once again proves just why itís the best in the business. Even this slightly older system feels better than most modern units on the market right now. Itís simple and easy to use, plus itís very intuitive.

The cabin feels spacious and roomy, with decent headroom and legroom in both rows. The Audi A4 is slightly larger inside, but not only by the slightest of margins. The rear seats of the 3-Series are great if youíre hauling two passengers since theyíre the most comfortable and supportive. Three across can be a tight squeeze, but only if youíre carrying 6-foot adults.

The boot is large though, especially in this estate variant. For an average family of four or even five, itís more than enough. If you need more space or cargo capacity, thereís always the 5-Series.

Engine and Performance
The 3-Seriesí crowning jewel is its chassis. Simply put, itíll run circles around all of its main rivals. You can buy it in rear-wheel drive or all-wheel drive configurations, but most people opt for the xDrive since it makes for a better year-round daily driver.

This particular model isnít AWD, but thatís part of the appeal for me. BMWs have traditionally always been RWD, giving you that sense like youíre being pushed along rather than pulled. Because the rear wheels power the car, the fronts are free to only take care of the steering and nothing else. Itís a wonderful sensation if you like a playful car.

Obviously, the 3-Series comes with a variety of petrol and diesel engines, but the most popular one is the 2.0-litre diesel in models such as this 320d. Itís powerful enough for most situations, such as overtaking, but itís frugal enough where you donít have to fill it up every other day. The optional 8-speed ZF transmission is fast and precise, but this being a manual gearbox, you have to row through the six gears yourself, which is a positive in my book.

Conclusion
The F30 3-Series is one of the best cars in its class. Itís the most fun to drive, itís reliable, and it wonít cost you a fortune to fill up. Donít be discouraged by this carís high miles, as itíll easily cover double that if you take care of it.