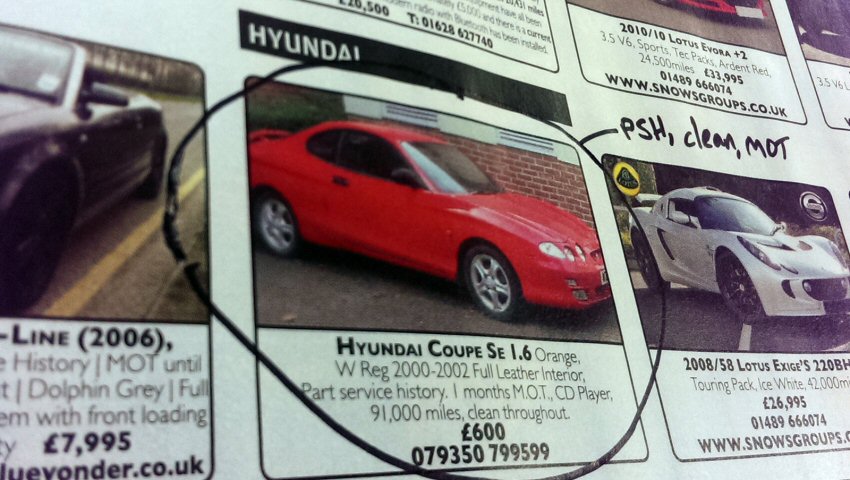 Car ads and the unvarnished truth
Honesty, they say, is the best policy. But is it? In today's world of pragmatism and realpolitik, some level of dishonesty isn't only wise, it's a practical necessity of everyday life. After all, imagine the problems you could make for yourself if you refused to tell even the whitest of lies (Q: Does my bum look big in this? A. Yes, it looks like an oversized camelís hump). In psychiatry, this is known as a pro-social lie Ė a distortion of the truth which builds relationships, trust and cooperation.
Of course, the fact that life demands at least some level of lying is hardly a surprise. But there are some aspects of our lives where being economical with the truth is so culturally embedded that lying isnít only accepted, itís expected. Take the world of advertising, for example. Here, a certain amount of terminological inexactitude (as Winston Churchill used to say), is fundamental to the whole process. Letís face it, you simply donít sell products by telling the truth and nothing but the truth. And anyone who does come totally clean about what theyíre offering is destined to crash and burn. Sorry, pal - no sale.

At least, thatís the conventional wisdom. But some people see things differently. There are recent examples of sellers who have actively decided that the conventional wisdom is Ė to be blunt about it Ė a load of c**p. Honesty, for them, really is the best policy. And, to prove it, theyíve sold their merchandise with a level of truthfulness thatís as amusing as it is novel. Here are three examples from the automotive world. We apologise for the language, but weíve printed the ads verbatim.

1. The Ďmost honest used car ad ever writtení
In 2017, Shelmar Roseman, who works at Journee Autos in Florida, decided to sell a beat-up old (2002) Oldsmobile Alero. The ad he used was shared over 31,000 times on Facebook and retweeted nearly 75,000 times. It read:

Nothing special or pretty about this car. 200k miles. Rust on the side. I even zoomed in on the rust so you can see it. This car runs and drives. The air blows cold and it has a cd player. Thatís it. Nothing more nothing less. Donít bring your ass down here saying it looks different in the pics or you didn't know it had that much rust. Iím telling you right now. This bitch rusty. This sh1t is $900 dollars. You're getting 900 dollars worth of car. Donít ask me about the check engine light or this light or that light. Its 900 dollars. Donít bring this sh1t back for nothing. It has 200k plus miles. You damn right u gone find something wrong with it but as for now it cranks. Steers an drives. Blows cold ass air. An won't leave your pockets bare. This will get you from A to B. Just donít try to make it to C. An donít bring that bitch back to me. This car will last you at least ALL SPRING '17.ė

Did it sell? Yep, it did. And for the asking price, too.

2. The Ďparcel of s**tí
This time from England, Dave Goodwin wanted to sell his Saab 9-3. His 2019 eBay ad read:

For sale, this absolute parcel of shit.... 55 plate Saab 93 diesel.... basically a Vauxhall Vectra in a Swedish wig.... Engine and gearbox are good, runs like a smackhead with a stolen sky box and a block of cheese under his arm, and it's still showing taxed so you won't get pulled when youíre out and about selling Sputnik to kids wearing man bags. All the lights work as you can see, and it looks like the previous owner washed it every day with a f*****g brick. No time-wasters, serious buyers only. Ideal cheap family car at £695 if you can handle your wife leaving you for a crackhead on a mountain bike and your kids denying you as their father when you drop them off at school in the pile of shit. Part exchange welcome.


Again from the UK, Danniella Edwards, 20, wanted to warn would-be buyers that her Peugeot 207 - which had up 102,000 miles on the clock - was a 'death-trapí. So thatís exactly what she said. And the car sold! Hereís the ad that achieved her goal:

I think the clutch is basically gone because for some reason when I'm driving and I don't even press the gas pedal it bloody races itself. I'm pretty sure the head gasket has gone as well, what a shock! It has gone all gooey and yellow. It has no passenger window because of my ex. It is covered in dents, yet again because of my ex. It had a brand new battery two months ago (the only new thing/decent thing). Also I think the electrics are going because I spend £10 a week on bloody replacing them and no matter how often I do a new one goes each week. You can drive away today in it if you can bare the bloody annoying sound of the clingfilm blowing away in the wind and no matter how loud your music is you still hear it. Offers of £200 or more please.

And thatís it for now. Talking of honesty, weíre telling the complete truth when we say youíll find some great deals to suit all tastes in the DesperateSeller.co.uk used cars section!