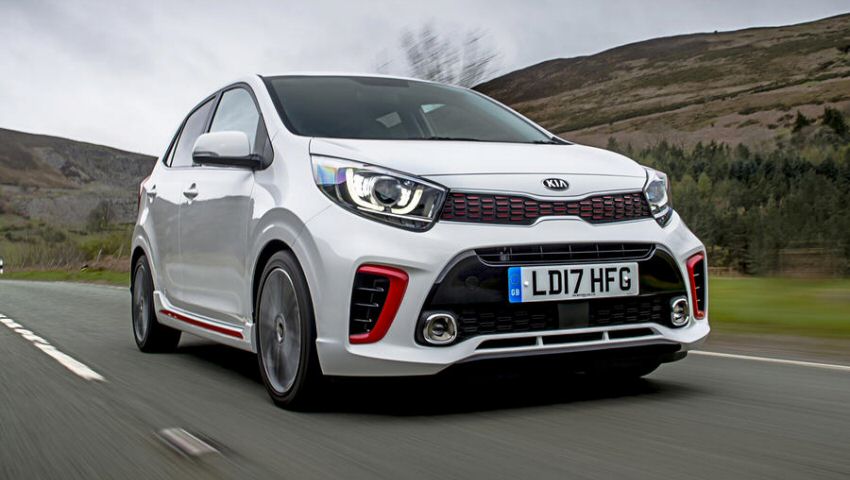 2019 Kia Picanto
The Kia Picanto is a very popular little car and when the 3rd generation model was launched back in 2017 the previous version had already sold over 1.4 million units worldwide. In anyone's books this is an awful lots of cars in what has always been seen as a very competitive segment of the market.
The 2019 model is based on the same platform as its Hyundai i10 sister car and comes with a choice of four petrol-only engines. These engines include a 67 brake horse power (bhp) 1.0 litre, an 84 bhp 1.25 litre and a range-topping turbo charged 1.0 litre that produces 100 bhp. All models are front-wheel-drive 5-speed manuals as standard with a 1.25 litre version also available as an automatic.

The car we looked at for this review is the top spec GT Line S Picanto so the interior in here is plusher than what you get on the more basic versions. However, there's no denying that everything is still very logically laid out and there's very good quality throughout. Ok, there are plenty of cheaper plastics dotted around the place but the important thing about this end of the car market is how well built it feels and how solid it is. We have no doubt that this cabin will last the full 7-year term of the Kia standard warranty. One of the highlights in the cabin is undoubtedly the 7-inch touchscreen infotainment system which is standard on Wave spec models and upwards. The system is brilliantly responsive and it benefits from a bank of physical buttons that run along either side of the screen. The physical buttons makes everything a lot easier to navigate specifically when you're on the move. The sat-nav is reasonable but you do get Apple Car Play and Android Auto fitted as standard and you're probably going to want to use the maps that come with this software.

Overall, the kit levels on the top spec GT Line S car is pretty good. You get a well-stocked interior with luxury features such as heated seats and steering wheel, cruise control, autonomous emergency braking, a wireless phone charger and a reversing camera. However, thanks to this car's flat backside it will need constant cleaning. Unlike earlier models the Picanto now comes with a height adjustable driver's seat though even with it in its lowest position taller drivers may find that their heads touch the ceiling while feeling a little hunched behind the wheel. For such a little car the storage space isn't too bad at all. You get decent sized door bins which will nicely fit your average sized water bottle, a space for your phone, a couple of cup holders by the gear lever, a storage box just under the arm rest and a small but useful glovebox.

The Picanto comes as standard with five doors so it's relatively easy to get into the back. Once you do sit in the back then you'll be surprised to find that there's a surprising amount of space on offer. There's plenty of leg and head room and you can have four adults on a long journey without them losing their minds sitting in the back. If you're really good friends then you can get a fifth person in the middle seat but we'd probably advise against it because they'll be pretty snug at the back. The storage space in the back is a little disappointing when you sit in the back because there's no door bins to put your water bottles and there's no space behind the centre are rest either. All you do get is a little pocket behind the door handle which you could probably fit some spare change in. Pop open the boot lid and you're greeted with class-leading boot space. The Picanto boasts 250 litres of capacity with the seats up and 1110 litres with the seats folded down. You also get easily accessible underfloor storage which sets this car apart from its main rivals.

Four things you need to know before buying a Kia Picanto
1. Like the rest of the range Kia's smallest and cheapest car comes as standard with a 7-year 100,000 mile warranty for stress-free motoring.

2. Autonomous emergency braking, which improves the car's safety rating and insurance costs, comes as standard on 3 spec models and upwards.

3. The best-selling Picanto is also the cheapest Picanto in 67 bhp 1.0 litre spec trim.

4. Earlier Picantos didn't have a height adjustable driver's seat so bear this in mind if you're buying one second hand.

Any good city car should be able to shrink around you as you drive it. What we mean by this is that you should be able to zip though narrow city streets and width restrictors without giving them a moment's thought and in the Picanto you can do just that. The steering is nice and light while the turning circle is small and your all-round visibility is very good indeed. The car offers an intelligent balance between sportiness and comfort though if you're more interested in the latter then we'd recommend ditching the larger 16-inch alloy wheels that you get fitted to higher spec cars. These aren't exactly back-breaking wheels but it you want to most absorbent and forgiving ride then the 14 or 15 inch wheels are the ones to get. Motorway refinement levels are what you'd expect for a small car like this so you can expect that when travelling at 70 miles per hour (mph) that things can get a little noisy. However, we'd challenge you to find a similar car where this isn't the case. To be honest a lot of this noise is caused by the fact that the manual gearbox doesn't have a 6th gear and the automatic gearbox doesn't even have a 5th gear so the engine revs a lot higher than it actually needs to. The 100 bhp 1.0 litre 3-cylinder engine in the car we're testing is particularly frisky with a decent slug of pulling power and a real willingness to pick up speed. On the right roads this car is genuinely fun to drive with this engine. If you're a young driver and you can't quite meet the insurance costs for something like the Ford Fiesta ST then the Picanto can quite easily be a decent bang-for-your-buck alterative for outright fun.

City cars are built to be both sensible and affordable forms of alternative transport for those that simply need to get from A to B. Yet the best cars have always had a touch of unexpected fun about them. The Kia Picanto not only has all of this but does all the essentials right and yet it's got a breadth of ability and a character that sets it apart from many of its rivals. It might be the smallest Kia you can buy but it's also one of the best. If you think that this is a car that could suit your needs and lifestyle then take a look at the used Kia Picanto cars for sale we have on DesperateSeller.co.uk.