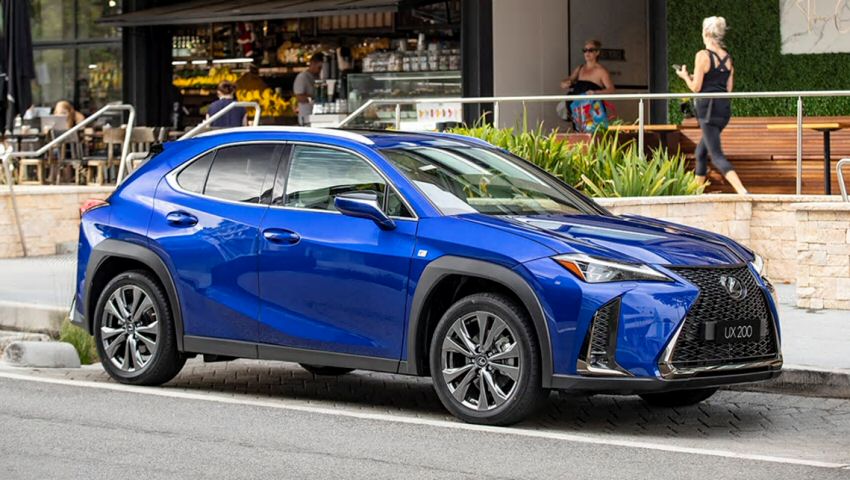 Is the 2019 Lexus UX just another posh Toyota?
The car in the photo is a Lexus and youíre probably going to already know how this article is going to read. WellÖ.
You already know how itís going to pan out. Weíre going to say that this car is basically a posh Toyota, itís not as good as its European rivals, itís not that nice to drive and it doesnít have that much character either. You also expect us to go on and say that it does have a nice interior and itís reliable. Well, in this article weíre not going to tell you any of this because the new UX is actually pretty good.

The UX, which is yet another collection of letters to signify a Lexus model, is the smaller SUV in the range. It rivals the Benz GLA, Audi Q3, BMW X2 and the Volvo XC40. Now, it may be the smallest SUV in the range but itís actually not the smallest Lexus you can buy. This award still goes to the CT hatchback and with the SUV trend showing no sign of slowing down itís easy to see the UX and the CT replacement.

Thereís no denying that the UXís styling will divide opinion. However, we think that the UX is the best looking SUV that Lexus has made in a very long time. It can be described as a sort of melting pot of creases and slashes and all comes together rather well without looking too fussy. Thereís even and LED bar along the back which gives the car some cool appeal. However, much like the Mercedes Benz GLA this is a small SUV and yet it looks a bit like a hatchback thatís been pumped up somewhat. It just doesnít look convincing enough to be a small SUV.

Apart from the fact that the UXís exterior makes it look like a hatchback on stilts, itís an absolute winner inside. The first thing you notice is the sheer quality appeal throughout the cabin. You just canít help but feel that everything inside just feels really well put together and has a quality feel to it. Itís so nice in fact that we would go as far as saying itís got the best-in-class for interior quality. Itís not just the lovely use of quality materials but the touch points, such as the indicator stalks, gear lever and touchpad, all have a lovely feel to them. Everything just turns and clicks with a really nice precision. The overall design is beautiful where youíll find lots of nice and interesting angles throughout. You do get a fantastic driving position though itís probably a little too low down for our liking. Itís almost like sitting in the BMW X2 but if thatís your sort of thing then youíll love it. You also get a high central console and a high window line which all helps to make the interior feel really snug and comfortable.

Unfortunately, there are some bad things about the interior with the first of them being the infotainment system. The basic trim gets you the small screen though you can opt for the larger screen. We would definitely opt for the larger screen as otherwise you get a sort of black outer rim that looks pretty nasty. Even still this isnít as bad as the operating system itself. Lexus has been using the same operating system for years and it just doesnít work as well as the ones found German rivals. Not only this but you get what can only be described as a hideous touchpad that just doesnít do what you want it to. The other bad thing about the interior is the storage. Itís bad because you just donít get any. Yes, you do get a couple of cup-holders and a cubby hole in the central rest but the door-bins are absolutely miniscule. As for the glovebox, yes it does have slots for the carís manual but the rest of the space here is minute.

The basic UX comes with satellite navigation, duel-zone air conditioning and 17 inch alloy wheels. The F Sport trims gets a much sportier look, 18 inch wheels and sports seats, while the Takumi version gets leather upholstery, ventilated seats, a Mark Levinson sound system, a 10 inch multimedia display, 360 degree camera, a driver head-up display, sunroof, blind spot monitoring and rear cross-traffic alert. There are also five option packs too that provide features such as the head-up display.

Sit in the back of the UX and youíll soon discover that things take a bit of a downward turn. Yes, there are some nice little touches like a couple of USB charging points, easy to reach IsoFix points and an armrest with a couple of cup-holders. However, space-wise it can only be described as average. Average height passengers may have ďokĒ enough leg room but nothing special. The headroom is just ďokĒ too. There are also some odd quirks back here. For example, there are no door-bins and thereís only one seat pocket which is strangely located on the back of the passenger seat. The doors open wide enough which is great but try getting out and you might find yourself hitting your head due to the low window line.

Things get even worse when you get around to the boot - lift up the tailgate youíll wonder where has all the space gone! In all honesty it has to be one of the smallest boots weíve ever come across in a small SUV. Yes, thereís a bit of underfloor storage but if you go for the 4-wheel-drive version you get even less boot room! You can of course drop the rear seats down which is straight forward enough but when you do thereís then a bit of a step down. This isnít great as it then makes it difficult to slide your luggage in and out. To compound things further you only have to look at the parcel shelf Ė if you can call it that. What you get is a flimsy bit of material which you canít put anything on!

At the time of typing this article thereís only one UX available which is the 250H. It uses a 2.0 litre petrol engine, an electric motor and a battery pack. Itís you typical hybrid that charges up through brake regeneration and not with a plug. It packs 179 brake horse power (bhp) and sprints to 62 miles per hour (mph) in 8.5 seconds. There may only be one engine option but you can opt for 2-wheel-drive or 4-wheel-drive. However, most of the UXs are going to be 2-wheel-drive because this car is the sort of SUV that youíre not really going to be taking off-road. Whichever setup you go for you get the same CVT transmission. Itís here that youíre probably going to expect us to say, like we usually do, that the CVT transmission helps to ruin the whole driving experience in a car. However, it doesnít in the UX. This has to be the best Lexus weíve driven that has this transmission fitted. It doesnít make a din and itís nicely suited with the engine. Ok, if you stamp your foot on the throttle it does rev out but no more so than your usual petrol engine fitted with a conventional automatic gearbox - it really is pretty impressive. The UX has the same platform as the Toyota Prius and Toyota C HR and you can really tell as this new generation of Toyota and Lexus platforms mean that the cars that theyíre producing are really good fun to drive.

The steering in this car isnít brimming with feel which you wouldnít really expect with the electrical systems nowadays. However, in this car the steering is really nicely weighted making it light in and around town. On the move it weights up really nicely and is really direct. Thereís no slackness to it Ė you just turn the wheel and the car turns with you which is how it should be. The chassis is nicely set up and makes it very agile around bends. Yes, there is a little bit of body-roll but for a car of this type itís really not too bad. The general ride in the UX is pretty good too. Around town it can get a little bit jittery and on undulating fast roads it can get a little bit bouncy but for the most part the ride on this car is very good. The UX is a refined car which really does live up to its premium billing. So youíll find it quiet and hushed with very little wind noise especially on the motorway. Usually when you drive a Lexus or Toyota hybrid thereís always a ďbutĒ but not in this car. It really is a comfortable and plush car to travel about in.

How can we conclude this article? Well, itís probably the nicest, most impressive and most persuasive model Lexus currently makes. Itís good to drive, has a lovely interior and will be cheap to run. Itís certainly a car that matches, if not beats, some of its key rivals. Itís just a shame that itís not that practical but if this doesnít matter to you then the UX is well worth a look. Take a look at some of the used Lexus UX cars for sale on DesperateSeller.co.uk today.