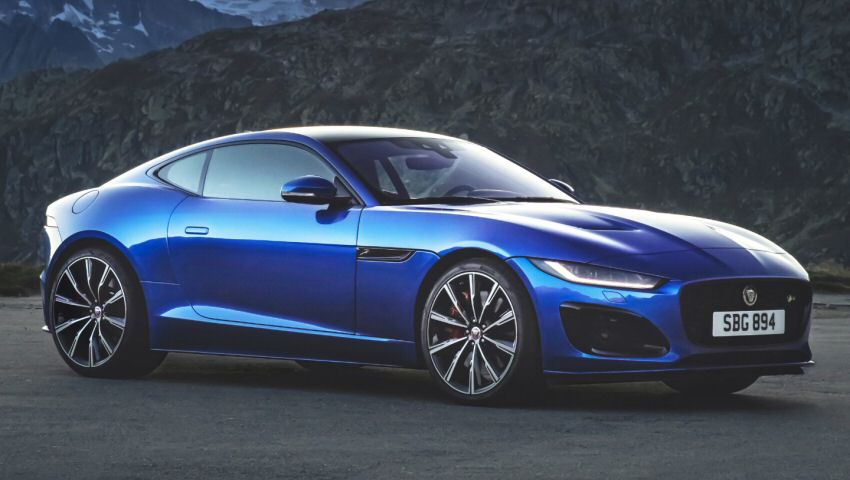 The 2020 Jaguar F Type remains in an awkward position
When the Jaguar F-Type was first released in 2013 it was a highly competitive sporting GT car. It looked great, sounded lovely, was hot off the mark and was very well priced especially when compared against rivals from Porsche and co. When the even better coupe model appeared a year or so later thing got even better for the F-Type. However, the rate of progress in the car industry has been rampant over the past five or six years to a point where the F-Type was starting to feel quite dated. This was even more evident in the way that it drove when compared to its best rivals.
This brings us nicely onto the car you see in our photo, the heavily revamped F-Type. Itís been sharpened all-round visually and whose dynamics, says Jaguar, are in a totally different league when compared to the previous car. So, are Jaguar telling the truth about this new F-Type or is it still little more than a relic when compared with the Porsche 911 Turbos, Audi R8s and all-new Corvettes of this world?

When you first take a look you soon realise that Jaguar have made a lot of changes to the 2020 F-Type. Itís fair to say that this car looks a fair bit different to the old car. The biggest changes come at the front where there are new headlights. The previous F-Type had rounder headlights that were positioned higher up on the bonnet. Now theyíre slimmer, positioned more towards the front of the car, and has a kind of sleek J-blade look to them. At this point itís worth noting that LED headlights come as standard on the R models along with adaptive high-beam and pixel LED technology too. Bringing the headlights further forward gives this car a slightly longer look but in reality the dimensions havenít changed at all. You also get a couple more vents on the bonnet, the bumper is different and you get a bigger grille. Around at the back you also have different taillights that are more defined than the ones before.

Step inside the F-Type and youíll discover that there are a few changes in here too. Some of the materials have been upgraded to give the car a better feeling of quality and generally speaking itís all put together very nicely. Not only does everything feel and look very durable but thereís also some new design features too. Most notably is the new 12.3 inch digital driver display which looks very impressive indeed. In truth, the analogue dials from the previous F-Type were beginning to look a little old-school so this new system brings the car right up to date.

So, what are the changes under the 2020 F-Typeís skin? Well, a simplified engine line-up now consists of the 2.0 litre 4 cylinder badged the P300 and a new detuned version of the 5.0 litre supercharged V8 with 444 brake horse power (bhp). This unit is badged the P450. We only had a brief drive in this car but it was long enough for us to conclude that itís a worthwhile step up from the more pedestrian P300. Scintillating pace and still the option of rear-wheel-drive this seems to be the new sweet spot of the F-Type range even if the majority of buyers will still be opting for the P300. Then you have the range-topping F-Type P575 R which now has the same power output as the previous F-Type SVR.

If youíre familiar with the V8 supercharged engine from Jaguar Land Rover youíll probably know that itís got a bit of a reputation for being extremely loud. In fact, itís about as subtle as a rugby player in a pub whoís consumed about 8 pints of larger! What Jaguar have done with the 2020 model is given drivers a ďquietĒ option. Apparently, not all customers want a really brutish V8 soundtrack all the time so thereís now an option for a quiet startup. The question here is, have they actually robbed any character from the supercharged V8? Well, absolutely not because all you have to do is press the sports exhaust button, select ďDynamicĒ, and release the ridiculous potential of the engine which is seriously rapid. Another thing thatís really great is that because the car sits on an all-wheel-drive system thereís just so much traction. Itís this traction that allows you to drive confidently and really make the most of the engine in a way that you couldnít in previous F-Type Rs. The tweaked suspension has made this car feel slightly more stable at the rear end and this certainly helps highlight the fact that this is a really fantastic engine.

The previous F-Type didnít quite give drivers a beautifully smooth and flat ride and although itís still not perfect in this car it does feel slightly more composed. The engine is a massive selling point for this car but itís not really much use if the rest of the dynamic package doesnít make it all that fun to drive. We could argue that this is an area where the F-Type falls down a little bit when compared to its rivals. At this pricing point itís important to remember that weíre dealing with some pretty serious competitors such as the Porsche 911 and Audi R8. The F-Type doesnít have the same level of delicacy in its handling than you get from these other cars. The F-Type is a very heavy car and so the body control does suffer. When you drive it you really do notice that itís a heavy car especially because you donít get that sort of effortless nimbleness than the 911 offers. Saying this when the engine sounds as good as it does in the F-Type then all of this is soon forgotten.

The F-Type line-up benefits from some steering, suspension and traction control tweaks. All of these tweaks makes it feel sharper to drive, more controlled and much more comfortable. However, the F-Type remains in a bit of an awkward position pricing-wise and the P300 still doesnít feel particularly special especially when you factor in that it costs a similar amount to the Porsche 718 Cayman and Alpine A110, both of which are outstanding sports cars. If your budget can stretch to it then the P450 is much more enjoyable and offers a rear-wheel-drive V8 experience that helps it stand out more. The P575 R is ludicrously quick but itís also extremely expensive for what it is. It doesnít quite have a perfect mile munching Grand Touring package and neither does if offer the class-leading handling of a Porsche 911. However, the monstrous V8 will be a strong enough selling point for many buyers. Interested? Then head to DesperateSeller.co.uk where we have a plethora of used Jaguar F-Type cars for sale across the UK.