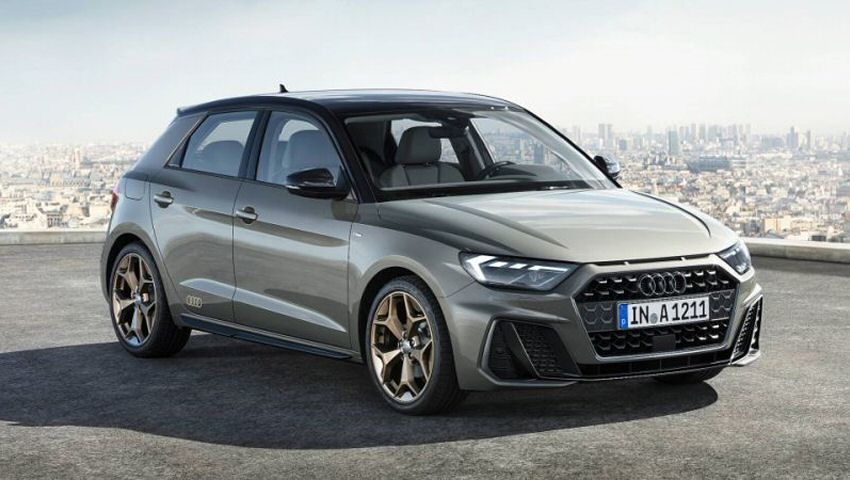 2019 Audi A1 preview
The car in our photo is the all-new Audi A1 and itís the car Audi hopes will finally compete with the Mini.
The A1 may be the smallest and most affordable car in Audiís range but it doesnít mean that itís not got attitude. Gone are those slightly mundane looks of the previous model while instead you get a car that Audi proudly claims is inspired by motorsport. More specifically what they mean is the legendary Sport Quattro from the 80s. At first glance youíd be hard pressed to find the similarities between the two and weíre not sure itís enough to persuade the typical supermini buyers. However, it does have some rather nice design touches thanks to this inspiration. Audi say that this is translated into features like the short over-hangs, blistered wheel arches, a strong and angular c-pillar and three slots above the grille which do all help to give this car a sportier look. However, if you put the Audi hyperbole over to one side for a moment what this basically means is that this car is now longer, lower and wider. Overall, we think what theyíve done looks great as this car now has a more aggressive stance than the Mini. However, in typical Audi fashion, itís really only the top of the range top spec models that look truly great. When it comes to extras we think itís worth pointing out that the only colour that comes as standard is white. This means that every other colour will set you back up to £600 as of time of typing!

Step inside this car and the new Audi A1 is a world away from the desperately dated old one. You can see how itís taken inspiration from the luxurious Audi A6 and A8 and somehow seems wider and more spacious than it really is and this is pretty much thanks to the horizontal surfaces. It also has more motorsport inspired detailing in the dash which is angled towards the driver in a jaunty and sporty manner.

Despite our earlier moans and groans that itís really only the top spec models that look great, to be fair to the A1, you donít have to go overboard with the options pack. This is because even the standard kit is pretty generous. The entry level SE gets LED front and rear lights with sweeping indicators and 15-inch alloys. You also get safety kit including pedestrian and cyclist recognition, a speed limiter and lane departure warning. Thankfully, unlike the dual screen that you find in the Audi A8 and A6, in the A1 you just have one central infotainment screen which is really well positioned in the driverís eyeline. You get a choice of two screens depending on which model you go for. If you go for the Technology pack then you get the larger screen and also the wireless charging pad. You also get Audiís Virtual Cockpit which is just brilliant. What else is inside worth noting? Well, you now get physical climate control buttons which makes life so much easier when youíre on the move. There are now a myriad of ways to colour-code your car so you can get really lovely vibrant matching interior trims. Audi have really let their colour department got to town and thereís a really interesting array of fabrics to choose from. In fact, if you mix up both the interior and exterior the wheels and the roof colour combinations then you can personalise your A1 in a million different ways - apparently. Unfortunately, thereís also more than a hint of scratchy black plastic in the cabin which is just so disappointing to find in a car with an interior as nice as this one.

Disappointing is not a word we would use to describe the back of the Audi A1. Itís in here where youíll find good headroom a decent amount of legroom and a nice long bench seat with good sized door bins. The boot is also more spacious than the previous model thanks to the fact that the A1 is based on the much larger Audi A3. It now has a wide opening, a low load area and plenty of room for your suitcases.

When it comes to engines the big news is that thereís no diesels in this Audi. Initially, there just the 30 TFSI available with either a manual or automatic gearbox. The 30 TFSI, by the way, is the confusing name Audi have used to describe the 1.0 litre 114 break horse power (bhp) three cylinder turbo petrol engine. Arriving in early 2019 will be a 94 bhp 1.0 litre turbo engine along with a 1.5 litre turbo petrol. In March this line-up is joined by an automatic 1.5 litre turbo and for now at least the sportiest A1 being the 197 bhp 2.0 litre which will be badged to the 40 TFSI. Towards the end of 2019 the automatic version of the 94 bhp 1.0 litre turbo will appear. Thereís also talk of the hot Audi S1 joining the range for a real dose of fun.

The car weíre testing for this short review is the 20 TFSI and until that 25 TFSI model, which is the 94 bhp 1.0 litre turbo arrives next year, this is pretty much the runt of the family. However, this car certainly isnít lacking in strength. Nowadays we expect a lot from superminis like this. We want them to be practical, spacious and have the ability to just chuck everything in but we do also want them to be fun and it has to be said that this car is pretty fun to drive. The 1.0 litre turbo is pretty quick from 0 to 60 miles per hour but it just feels slower than the straight line speed would allow you to think when youíre just driving it around town. Weíre not massive fans of the gearbox either as itís just a typical off-the-shelf VW. Itís really notchy particularly lower down in the range although it does smooth itself out when you get to the top. The controls all have a nice weighting to them as does the steering which feels pretty accurate if not a little light. Body control is good too meaning that it can be good fun to hurl the A1 into a few bends. Cruising refinement is also good too. On bad roads youíll find a little more noise than you can expect but on half-decent roads such as on the motorway thereís virtually no road noise coming back into the cabin at all. Even the standard A1 comes with the option of choosing from wither normal or sport suspension setup. Thereís also the option of fitting adaptive dampers so this is definitely a car that you can have a bit of fun in.

With this new A1 Audi have really laid down the gauntlet to Mini in the battle of the posh and fund to drive superminis. The questions is, will they win the fight? Why not decide for yourself by taking a look at the used Audi A1 cars for sale we have available on the DesperateSeller.co.uk website today?