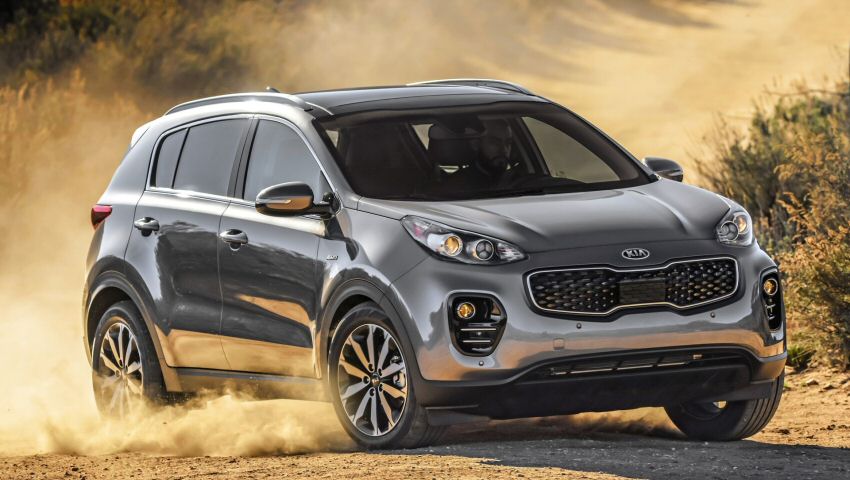 Can the 2019 Kia Sportage still compete?
Way back in 2010 the third-generation Sportage showed that Kia could make an SUV that was both practical and well made. It was also the model that finally convinced people that a Kia could be stylish. Does the latest Sportage still offer enough to compete with its rivals?
Thereís no doubt that the fourth generation Sportage improved things even further but with newer and more daring rivals, like the Peugeot 3008, coming along the Sportage was starting to look a little bit old. Kia has therefore given their SUV a refresh both inside and underneath the bonnet. Thereís now a new diesel engine and also a mild hybrid diesel. Thereís new front and rear bumpers too as well a new rear lights, sportier trim levels, LED headlights and icecube LED daytime running lights that have more than the hint of a Porsche Cayenne.

You could say that the whole car, particularly if you opt for the top spec GT Line trim, has a kind of mini Porsche Cayenne look about it Ė thatís if you squint your eyes really really hard of course. Regardless, we really like the way this car looks on the outside. Step inside and the changes in here are subtle to say the least. Thereís a new steering wheel as well as new dials in the display but apart from that thereís nothing else to write home about which is all a bit of a shame. Itís a shame because whilst the quality in the cabin is still excellent itís actually starting to feel a little bit dated especially when you compare it to cars such as the Peugeot 3008. Having said that we do really like the buttons in the central part of the dash. Theyíre just all very functional and really easy to operate particularly when youíre on the move. Another thing we like in here is the infotainment system which is completely new for this generation. You get a great clear 8-inch screen and itís very intuitive and easy to use.

The Sportage range is probably one of the largest around. The entry level 1 comes with 16-inch alloy wheels, LED daytime running lights, cruise control, a reversing camera and a 7-inch touchscreen. If you want sat-nav then youíll need to head to the 2 model. Strangely, there is no 3 model but there is a 4 model which gets you larger wheels, a touchscreen, LED front and rear lights, electric leather seats, a JBL sound-system and a panoramic sunroof. The GT Line add sporty styling and red piping on the seats while the GT Line S gets you a power tailgate, wireless phone charging and a 360 degree parking camera.

When you sit in the back of the Sportage youíll instantly be struck by how spacious and light it is. You get excellent knee room and plenty of headroom too. Again, you just get the feeling that everything in the back is just really well put together and that it will withstand the rigours of family life. Practicality-wise, you get good storage, decent size doorbins and also some power outlets too. You also get IsoFix points on the two outside seats. Whatís pleasing is that youíll easily fit three child seats across the back. The only complaint we have with the back of this car is the fact that the door donít quite open wide enough for a family car. In the boot the amount of space you get is about average for the class. Therefore, you can expect it to be larger than a Ford Kuga or a Nissan Qashqai but smaller than the Peugeot 3008. One thing you needs to be aware of is that the boot space gets even smaller if you go for the mild hybrid diesel version as the battery pinches the underfloor storage.

With regards to engines, the Sportage carries over the previous carís two 1.6 litre petrols, a turbo and non-turbocharged one. The 1.7 litre diesel has been replaced by a new 1.6 while the 2.0 litre diesel now comes as a mild hybrid. Sportages are two-wheel-drive with all-wheel-drive only available on the 1.6 litre turbo petrol, a more powerful 1.6 diesel and the 2.0 litre diesel.

The car we tested for this review was the 2.0 litre mild hybrid diesel and the word ďmildĒ really is the best way to describe it. You shouldnít go thinking that this car is like a Toyota Prius style hybrid because it just isnít. Essentially itís just a big old diesel engine thatís hooked up to a battery. Ok, this might be putting it a little too simplistically. Thereís actually a 48 volt electrical system that sends power to a small lithium ion battery which is topped up when youíre braking or coasting. Then while under acceleration the battery sends power to the engine to give it a bit of a boost. It does actually feel pretty punchy and you can definitely feel it doing its thing when you lift off the accelerator. So, for example, when youíre approaching traffic lights thereís quite a bit of brake regeneration going on. Itís actually pretty good but itís hampered by the automatic gearbox. The gearbox itself is a 7-speed dual-clutch and the changes are just way too sluggish. Youíre probably better of sticking to the higher output 1.6 litre diesel as it gives you better fuel economy and itís much cheaper to buy. If diesels arenít for you then we suggest going for the 1.6 litre turbo petrol and not the naturally aspirated one as it just feels too breathless and lacks the kind of punch that you need for a car of this size.

While the mild hybrid benefits are slightly dubious the Sportage is still a very good small SUV to drive. The steering is actually a real highlight. Itís not too light, its quick and it gives you plenty of feedback. The chassis and body control are excellent too. All of this makes the Sportage a nice fun car to drive. Ok, maybe the Mazda CX-5 is slightly more fun behind the wheel but the Sportage really does offer a good blend of handling and refinement. Itís quiet on the move and feels a far more solid and expensive car to drive than its asking price would typically suggest.

Overall, while this new model has lost some of the shock value of the ground-breaking third generation model this is to be expected. The Sportage feels like a grown-up pragmatic family SUV thatís also good to drive. If youíre considering the Sportage then take a look at the used Kia Sportage cars for sale we have available on DesperateSeller.co.uk.