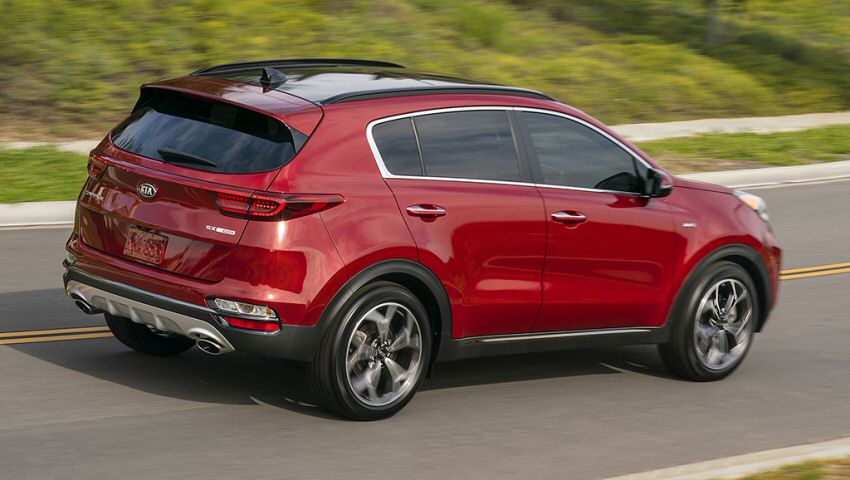 The 2020 Kia Sportage is still decent for the money
The Kia Sportage is now in its 4th generation and is a far cry from the rough-and-ready 4x4 that was launched way back in 1993. With such a congested market does the Sportage still have what it takes to compete and is it still good value for your money?
The Sportage has been a huge sales success for Kia ever since it turned into a much more handsome SUV back in 2010 in its 3rd generation. In the 4th generation model those looks have been taken a little bit further with its tiger-nose front grille and C-shaped LED lights at the rear which found their way onto this car after a facelift back in 2019. Along with the Peugeot 3008, the Volvo XC40 and Lexus UX the Sportage has to be amongst the best looking SUVs on the market.

Unfortunately, the smart looks on the outside arenít quite matched up on the inside. Yes, there are some nice combinations of some matte plastics and metallic finishes dotted around and it does feel pretty solid, however the SEAT Ateca and Skoda Karoq are still the cars to beat in this class as they both have much more impressive interiors. Saying this, even the basic 1 level trim gets a 7 inch touchscreen that comes with Bluetooth, DAB radio, Apple Car play and Android Auto. The system itself is easy to use with the casing point being several shortcut buttons that you can use to help you flick between key functions while on the move. If you step up to 4 or GT Line S trim then you get a 8 inch screen. Another handy addition that you get with the top two trims are some handy USB charge ports in the back so your passengers can charge their devices. Overall, the Ateca and Karoqís infotainment systems are slicker than the one youíll find in the Sportage.

Thereís plenty of adjustability in the Sportage through features such as reach and rake adjustment in the steering wheel so you wonít have a problem finding a decent driving position. If you opt for a trim level above 1 then you get electrically adjustable lumbar support and height adjustment. Some people will prefer their seats to go a little lower but generally the seating is very comfortable for longer journeys. Forward visibility is excellent in the Sportage but the same canít be said when youíre looking out the back. However, thereís no need to fear as you do get a reversing camera as standard on all models. In terms of space if youíre 6ft tall then youíre going to be happy enough thatís unless you opt for the panoramic roof which is on trims 4 and above. This is because it does eat a little into your headroom slightly. With regards to storage you get decent sized door bins, a couple of cup holders, a compartment under the arm rest and a good sized glovebox.

Just like in the front the space in the back is pretty much on par with rival cars. Thereís plenty of leg, head and elbow room for two adults to be sitting back here. Thereís also more than enough space if youíre going to be using if to fit in two child seats. The Sportage does have one trick which gives it an upper hand over its rivals. This is that the rear seats split in a 40/60 configuration and that you can also recline them to an indulgently laid-back angle. Most rival cars have fixed positioned rear seats and therefore more limited. The boot size is great and you even get a flush load lip so that itís easy to get bulky items in and out. Itís slightly longer than the Atecaís boot but not quite as tall. The opening is large and square so again itís really easy to get your things in. You could quite easily fit in a pram or a set of golf clubs but maybe not at the same time. The Skoda Karoq has a much larger boot and the SEAT Ateca is about the same though the Nissan Qashqai is a little bit smaller.

The Kia Sportage is similarly priced to the SEAT Ateca and Skoda Karoq. While Opt for one of the 1.6 diesel trims and it undercuts the Nissan Qashqai. Fuel economy in the Sportage does leave something to be desired as itís less fuel efficient than both of its main rivals. However, if you do low mileage then you may want to consider then 1.6 petrol because itís a lot cheaper to buy than the diesel.

The Sportageís trim line up is a little confusing to say the least. It goes from 1 to 4 with 3 missing and two sporty GT Line models sitting at the top. If we were making the choice then weíd opt for the 2. The 2 makes sense as you get heated front seats and dual zone climate control among the highlights. The higher trim levels are harder to justify. To be honest Kia doesnít really do options you just have to pick the trim that suits you best. The Sportage gets six airbags as standard while 2 trim gets traffic sign recognition along with lane-keeping assistance and automatic high-beam headlights. However, itís a little disappointing that blindspot monitoring and automatic emergency braking are only standard on the more expensive trims. Other rivals have automatic emergency braking as standard as standard across their line-ups so itís a shame that Kia doesnít do the same.

The Sportage gives you a number of different petrol and diesel engines and some of them come with mild-hybrid technology. However, our pick would have to be the 1.6 CRDi 134 diesel as the best. You get solid flexible performance that will pull you up to motorway speeds with ease even with a fully loaded car. This car has quite a sporty set up when compared to most of its rivals so this does very little for ride comfort. Although other cars in its class such as the Nissan Qashqai or Skoda Karoq are more comfortable the Sportage never gets too jarring. Though it is certainly less settled than you would want an SUV to be. Unfortunately, the firm ride doesnít quite result in a sporty drive. Yes, the Sportage does stay more upright than the Qashqai through bends and it does grip reasonably well but the Karoq and Ateca are even more agile. The biggest problem with this car is the steering. It just feels too heavy and doesnít tell you enough about what the front wheels are doing. Another really annoying thing about the steering is that when youíre driving along the motorway you find yourself making lots of tiny corrections just to make it keep going in a straight line.

Kia has an excellent reputation for reliability however, it does actually come with a fantastic warranty which is class-leading. It least for seven years and has an unlimited mileage so youíve always got this to fall back on. The 2020 Kia Sportage has striking looks, is decent value for money and gives you all the space you need. However, itís not a great car to drive, the interior is not as classy as in its rivals and itís a shame that automatic emergency braking is not standard across the range. If youíd like to find out what this car is like for yourself then take a look at some of the used Kia Sportage cars for sale we have available on the DesperateSeller.co.uk website.