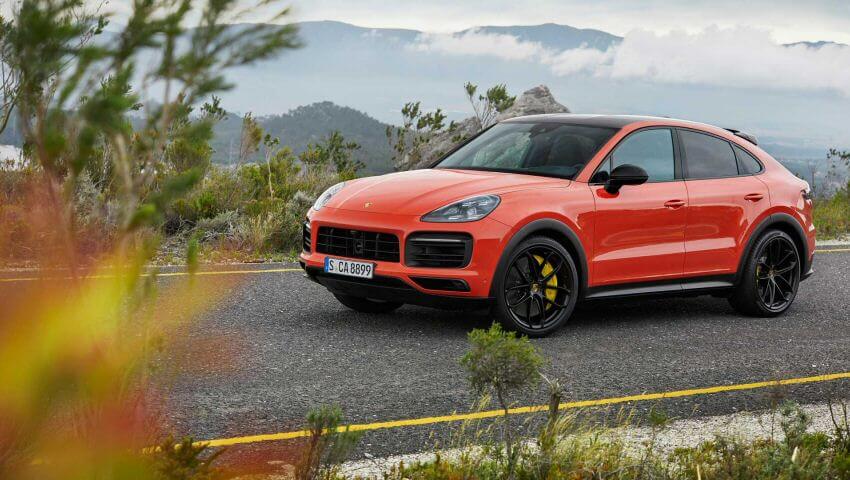 Porsche joins the SUV-coupe bandwagon with the Cayenne Coupe
Arguably BMW pretty much kick-started the whole coupe-SUV trend around 10 years ago with the introduction of the X6. Mercedes soon followed along with Audi and now Porsche has joined the party with the Cayenne.
One word that comes to mind when you first look at this Cayenne is striking. Porsche have kept things very simple on the outside of this coupe version of its best-selling Cayenne. So, there's no real surprise that they've decided to call it…..the Cayenne Coupe. Looking at it from the front it looks pretty much like the standard Cayenne but then again you'd expect that. However, from there on onwards it's all change. The windscreen is flatter while the roof itself is 20 millimetres lower than the standard car. The roof also slopes down a lot more than the standard car too and when you get to the back there's hardly any similarity to the standard car at all. It's much wider at the rear while the number plate position is now lower down in the bumper helping to make the car look even lower.

There's no doubt that Porsche have worked very hard to make the Cayenne Coupe not feel like your typical SUV-coupe, in other words, claustrophobic. What they've done therefore is lower the rear bench downwards to give passengers extra headroom. We have to say that it works really well as standard sized adults will find a decent amount of headroom and plenty of leg room too. As standard you get two individual seats while in the middle you get a really rather useless tray. Porsche have done this because they believe that this type of car should be seen as purposely sportier than the standard Cayenne where as the standard version is more suited to a family. The boot is slightly smaller than in the standard Cayenne and obviously loses out in the boot's height. However, it's still of a really good size for a car of this type. Also, if you're someone that gets excited about storage then you'll love the net on the underside of the parcel shelf.

As of typing, there are five Coupe model trims available. The entry level car gets standard LED headlights, Apple Car Play, Porsche's beautiful analogue rev counter, two outer display screens, front and rear parking sensors and camera and 21 inch alloy wheels. You can spec your Cayenne Coupe with various options such as a sports exhaust with black painted pipes. Not only does this add a lovely touch physically but it really helps to improve the sound of the V6. You can also add a spoiler that can raise up at around 70 mph. You can also raise it manually if you're that type of person.
Be aware that option packs are outrageously expensive. So expensive that you could quite easily spend over £18k extra on them!

Just like the regular Cayenne there are no diesel options in the Coupe. The entry level car gets a 335 brake horse power (bhp) 3.0 litre V6 while the S version gets an extra 100 bhp. There's also a 4.0 litre V8 turbo version on offer which gives you 542 bhp and also a couple of hybrids.

So, with the Coupe aiming to be more sporting than the standard car it's bound to feel different on the road? Well, quite frankly we'd be lying if we said that this car feels any different to the standard Cayenne. Ok, the windscreen is a little bit flatter, it's a little bit lower, the track is also a little bit wider and there's a lower center of gravity. However, it just doesn't really feel all that different. You'd really have to drive both cars on a track, back-to-back, to notice any real differences. However, for normal driving it just feels the same.

The car we used for this review was the entry-level Cayenne which pushes out just under 340 bhp. The first thing we noticed when we took it out for a spin was that it didn't actually feel as though it had 340 bhp under the bonnet. We're not being idiotic as it does still feel like a quick car. In fact the figures actually support this in that if you opt for the Chrono package then 0-62 miles per hour (mpg) take just six seconds. However, if you decide to floor this car at, let's say 40mpg, then there's quite an annoying delay before the car decides to get a shift on. There's no doubt that this car is quick but it just doesn't feel quite as quick as you'd expect it to be. There's quite a bit of engine noise but the speed just doesn't feel quite in tandem to what you're hearing. At the end of the day Porsche will quite happily sell you're a turbo if you want extra performance.

You'll need deep pockets to run the Cayenne Coupe but you probably know this already. The base model V6 only returned around 23 mpg in our time with it. However, if you regularly drive in the city and have access to a charging point then the plug-in hybrids may be a better bet. Don't get us wrong as the Cayenne, for a car of this size and type, is one of the finest in the business. This is because the handling in this car is absolutely fantastic especially as you have the entire suite of Porsche technology at your fingertips. Tech such as the PDCC (Porsche Dynamic Chassis Control) uses electromechanical anti-roll bars to make sure the car corners properly in the best way it can. You also get electronic rear-wheel differential and four wheel steering which all add up to make for a hugely impressive package. It has to be said that there are very few cars of this type that can outrun the Cayenne when it comes to cornering. To think that this car weighs a2.2 tonnes is truly remarkable. We wouldn't say that this is a car that feels like a Porsche 911 on stilts as this would be a lie. It just doesn't have the same delicacy as the 911 or even a Porsche Boxster. It doesn't even have the Porsche Panamera's sort of last touch of bite. However, the steering is still great for a car of this type. The car we tested had the 8-speed Tiptronic gearbox fitted. Unfortunately, it's not duel-clutch and therefore not lightning fast though it's certainly quick enough. There are times when you feel as though it could be a little bit sharper but generally speaking it's pretty fast nonetheless.

Generally speaking the ride in the Cayenne is brilliant though driving in and about town isn't quite perfect if we're being totally honest. It's around town that you just can't hide the fact that this car comes with some really big wheels on and as a consequence it tends to patter a bit over broken surfaces and potholes. Another weakness is on the motorway. This car is just fine if you're on smooth tarmac but if you come across a more concreted surface then it can get a little noisy in the cabin. You could argue that we're being a little pedantic here because as far as big, fast and fat performance SUVs go the Cayenne Coupe doesn't lose anything or add anything to the standard Cayenne package. And you have to bear in mind that the standard Cayenne is one of the SUVs in the business.

In conclusion, the Cayenne Coupe isn't a car you buy first and foremost so it's cheap to run. You buy it because of its image, styling and standing. Of all of the coupe SUVs on the market the Cayenne should be the most desirable as after all Porsche is a traditional performance brand. It's a desirable car but for us it sort of manages to do the impossible. It makes the regular Cayenne seem like a respectable SUV. Feel free to make up your own mind by taking a look at the used Porsche Cayenne cars for sale we have on DesperateSeller.co.uk.