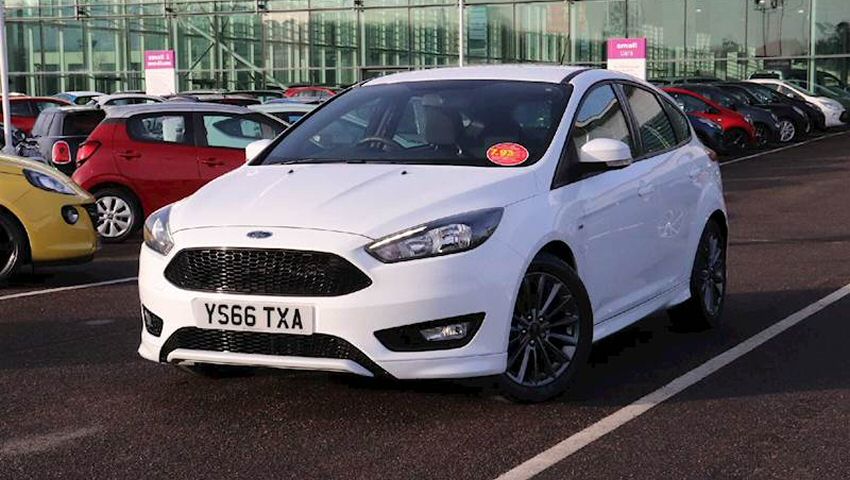 Caught in the classifieds: The 2017 Ford Focus
In today's Caught in the Classifieds we found a car that combines good practicality, an excellent drive and low running costs – the 7th generation Ford Focus.
The 7th generation Focus went on sale back in 2017 and has gone on to become one of the UK's best selling cars. What's this means is that you'll have absolutely no problem finding one on the DesperateSeller.co.uk website. The first thing you're going to need to decide is whether you want one of the pre-facelift models or one of the post-facelift ones. It's pretty easy to spot the immediate difference between the two as the post-facelift models have a much wider grille.

It's in the front of the Focus that you'll really appreciate because it's from the driver's seat that you'll enjoy what is a brilliant car to drive. You get plenty of adjustment in the steering wheel as well as the seat so you'll have no problem finding a suitable driving position. As with so many other Ford's the Focus strikes a really nice balance between a comfortable ride and sporty handling. The steering is precise, well weighted and gives excellent feedback. If you opt for a post-facelift model then you'll get a large touchscreen for your main functions. The earlier cars come with a smaller screen and lots of physical buttons. The quality of the materials used inside the Focus had also improved as part of the facelift so you can expect softer touch materials around the dash and a more solid feel all-round. If you're interested in buying a Focus then it's worth noting that the visibility is brilliant at the back so you may want to find a model that has reversing sensors.

As a family car built to rival the likes of the Volkswagen Golf, the Vauxhall Astra and Kia Ceed you can expect the Focus to provide enough room for four adults to sit comfortable and five at a push. There's plenty of leg room and the head room is generous too. Practicality-wise, you also get two IsoFix points on the two outer seats for clipping in child seats.

With petrol, diesel and even a fully electric models to choose from the engine range can seem a bit bewildering. You also have to factor in several different trim levels such as Zetec, Titanium and the sporty ST models. No matter what you go for all will include desirable features such as air conditioning, Bluetooth phone connection and alloy wheels. Therefore, we would recommend that rather than looking for a specific trim level it may sometimes be easier to search by year, price bracket and mileage. As for as the engine line-up diesels will tend to suit high mileage drivers better. Those drivers that cover a more average annual mileage are likely to find petrol options to be cheaper in the long run. In general the majority of Ford Focus cars run without much fault that's if they've been properly maintained - running costs are low too.

Make and model: Ford Focus
Year: 2017
Mileage: 30,000 – 40,000
Target price: £10,000 - £12,000

So, there you have it – this week's Caught In The Classifieds is the 2017 7th generation Ford Focus. We believe it's a worthy challenger to the best in class and at the time was the most impressive generation Focus yet. It's a car that has a fantastic balance of practicality, performance, speed and comfort. Interested? Then take a look at the used Ford Focus cars for sale that we have on the DesperateSeller.co.uk right now!