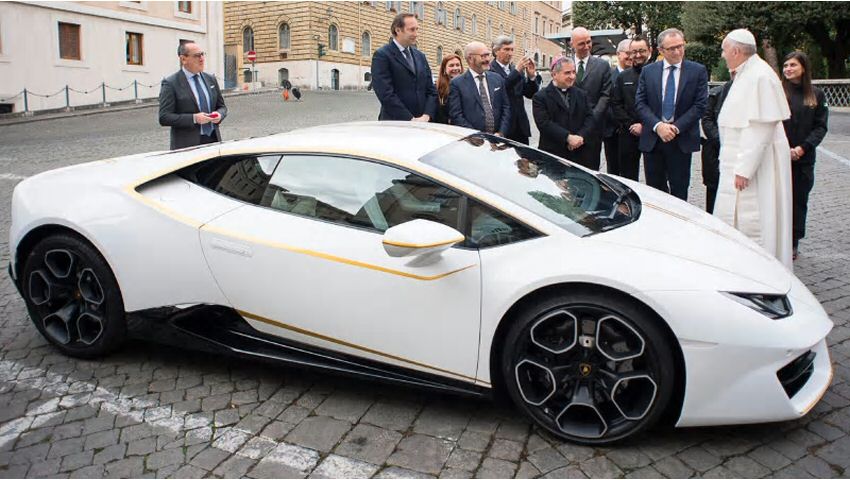 Powerful people and their cars
Ok, here's a quick exercise. Ready? First, close your eyes. Now think of a car, any car, from a movie or TV. What was the first that came to mind? Now, there's a chance that it was something like Del's trusty old Reliant three-wheeler from Only Fools and Horses, or Alan Partridge's icon of blandness, a beige Rover 825. It's much more likely, though, that you thought of something just a tad more sophisticated and/or futuristic, like James Bond's Aston Martin, or even the Batmobile.
And the reason for this is simple. It's basically because, while the stars of the onscreen world are sometimes depicted as owners of a dodgy or downmarket jam jar, they're much more often to be seen driving cars built along the lines of the Knight Rider's KITT, a Pontiac Firebird Trans Am stuffed with artificial intelligence and equipped with a self-drive capability, or the A-Team's GMC G-Series Van, armed with more weapons than your average battleship.

Of course, the cars of the fictional world are, well, fiction. This set us, here at Desperateseller.co.uk, thinking. How close does this fiction come to reality? In other words, what do the 'stars' of real life drive? Are they really that different from the made-up world of our fantasies? We thought we'd take a look at a few vehicles driven by famous power-wielding people, and let you judge for yourself.

U.S. Presidential car
Nick named "The Beast", there's quite a lot about this Cadillac that's kept under wraps by the US Secret Service. But we do know one thing: it's a toughie. Weighing (it's estimated) around 8 tonnes, it's so heavy that it can only reach around 60 mph. It has no keyholes and the method of entry is a state secret (known only by Secret Service agents). Every inch of glass is 5" bulletproof material, and it comes with an arsenal of weapons, including rocket-propelled grenades, tear gas, shotguns, anti-tank missiles. Oh, and the tyres are bulletproof.

UK Prime Ministerial car
It may weigh less (about half as much) as the President's car, but this Jaguar XJ Sentinel is still a pretty powerful animal. It's supercharged 5.0 litre V8 engine gives it a top speed in excess of 120 mph, and it's lined with titanium and Kevlar to make it bulletproof. Like its US equivalent, many of the details are classified, but we do know that there are 'gun ports' at the sides and back to allow security officers to return fire in the event of a shoot-out. But it's not death-rays and stunguns – this classy car is also built for comfort, with heated and cooled seats, and a whopping 1200W surround sound system.

Turkmenistan's Presidential car
Now here's a car to rival anything you'll find on the screen, at least in terms of speed! Costing a cool $1.6 million, this bright green, 8.0L, quad-turbocharged Bugatti Veyron makes Turkmenistan's national leader easily the fastest of the world's politicians. In fact, President Berdimuhamedow does more than use his official vehicle for state business – in 2012, he entered the country's first ever automotive race, and won! If he ever gets tired of being President, he could apply for a job in F1!

Queen Elizabeth II
As the UK's Head of State since 1952, the Queen's had some pretty special cars over the years. Her current vehicle, a custom Bentley, is valued at around $15 million dollars and has a 6.75L V8 twin turbocharged engine capable of delivering a top speed of 130 mph. As it's bad form for the queen to be seen struggling to get out of a vehicle, it comes with coach doors that open at almost 90 degrees, is armoured and can be made air-tight should the Queen ever come under a chemical attack. Interestingly, its engine has been adapted so it can use biofuel, as the Royal family look to become more environmentally friendly.

The Pope
OK, so he's not your typical politician, but he does some important work as a diplomat and ambassador. And Vatican City is its own country – of which the Pope is Head of State. So he qualifies for a special car. But has he chosen one? Well, there have been quite a few Popemobiles over the years, ranging from Leyland lorries through to a Fiat Panda, but the current Pope (Pope Francis) prefers a simple Fiat 500L, with a 1.6L engine. Not fast or glamorous, true, but it's thought to include bulletproof Plexiglas windows.

Although, at Desperateseller.co.uk, we've got a lot of used cars, we don't have anything that quite matches these luxurious limos. On the bright side, though, they're not quite as expensive, either. Why not check them out?