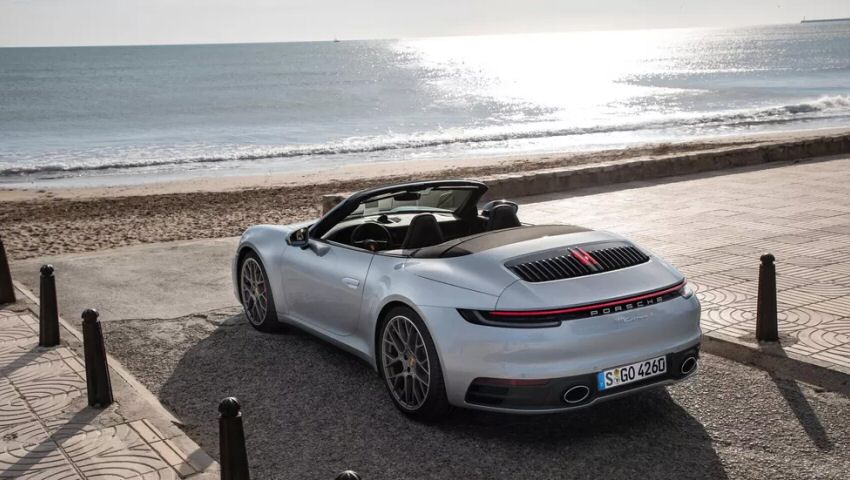 2020 Porsche 911 Cabriolet is now closer than ever
The announcement of any new Porsche 911 is massive news in the car world. Thereís a new 911 Cabriolet so itís something to get really excited about.
In our opinion the latest version of the 911 is arguably the best looking convertible on the market. For a long time the roofline of the convertible 911 never looked quite right. However, Porsche seems to have finally addressed this with a beautifully shaped fabric hood. The carís silhouette is now almost indistinguishable from that of the 911 Coupe.

In time there will be a full range of 911 Cabriolets available. Theyíll be different power outputs available, two and four-wheel versions, manual transmissions and PDK Ė in fact youíll get the entire range. The car we tested was the Carrera 4S which is the version with the more powerful engine and four-wheel-drive transmission. The engine comprises of a 3.0 litre flat six with 2 turbos and develops 440 brake horse power (bhp) and 391 pound foot of torque. The engine is connected to a rapid-fire dual clutch PDK gearbox which helps this particular car reach from 0 to 62 mph in only 3.6 seconds. Keep the pedal down and it will run on to 188 mph.

It very much used to be the case that if you loved driving then you simply opted for the 911 Coupe rather than the Cabriolet. However, thanks to the latest model itís not quite as clear cut a choice as before. It has to be said that this latest version has just about the stiffest body shell thatís ever been fitted to a drop-top 911. What this means is that the compromise in hacking the roof off is not what it once was. In fact, the biggest penalty is weight as like-for-like the Cabriolet actually weighs 70 kilograms more than the Coupe.

The hood on the 2020 911 can be raised or lowered in an impressive 12 seconds at speeds of up to 31 miles per hour (mph). Itís very well insulated and when itís stowed away it now takes up less space than before. What this all means is that if youíre absolutely certain you want the drop-top model then you have to make far fewer allowances than ever before. This is absolutely brilliant news if youíre one of those that loves the feeling of the wind in your hair.

The cabin in this 911 is just so impressive. Ok, youíd expect a high level of quality in here but Porsche seems to have really notched things up a few levels. Everything has a high quality feel to it making in here just a great place to be. The seating position, as youíd expect in a 911, is nothing short of perfect. You can put the driver seat right on the deck so you can feel really low with the steering wheel reaching out all the way to meet you. The touchscreen infotainment system is clear, intuitive and easy to use. Itís easy to find your way around the various menus. Traditionally Porsche 911s have had quite functional, almost plain, interiors. However, you only have to look at the switches under the infotainment screen to know that for first time this 922 version has got a bit of wow factor. The 3D central rev counter is stunning and even smaller elements such as the layering makes this interior distinctive and eye catching. Overall, the cabin is a complete triumph even though you still get a couple of very small rear seats. To make room for the hood the back seats are extremely upright which means they can only be used for really small children or as extra storage space. Though we very much doubt potential car buyers will be too concerned about this.

With the roof up the cabin is better insulated in this new 911 Cabriolet than that of any 911 Cabriolets before it. Yes, you still know that youíre driving a soft-top car as thereís generally a bit more road and wind noise but itís just so impressive. You could easily be doing around 50 mph with the windows up and youíll experience what can be described as really calm cabin. Itís not super blustery and even when you start going a bit faster the cabin remains almost serene. If it does get a bit too windy for you then thereís a wind-break that you can flip up to settle the wind in the cabin even further.

The 2020 911 is a very easy car to drive particularly with the automatic PDK gearbox. You really do slip through town effortlessly. It has an exceptionally comfortable ride quality despite the massive alloys. Ok, thereís a bit of heft to the steering but itís just such an easy car to drive. You could quite easily use it day-to-day without really thinking about it.

As well as being the most refined Porsche 911 Cabriolets ever this latest version is without doubt the best to drive. You can always tell when youíre driving a convertible car because thereís lots of flex in the body. Itís common to find that the windscreen will shake and shudder when you drive over a lumpy and bumpy road surface. You can just feel the entire structure flexing. You only have to look at the rear view mirror to see a fuzzy and blurry image to know youíre driving a soft-top. However, you just donít experience this in the 911. In fact, the image in the rear view mirror is perfectly crisp almost 4k like. This tells you that the structure is extremely ridged with no flexing or shaking. It just feels so much like the Coupe in this regard. In fact, when you drive and up the pace and start going a bit more quickly this car really does feel a lot like the Coupe.

Itís a pity that the 911ís distinctive rear engine feel has been lost. This has been gradually eroded away over the last decade or so. Whatís even more of a shame is that this latest model only really feels exciting to drive when you pedal it as far as you dare. Below that sort of level of attack this car can feel slightly numb and just a little bit muted. Itís just shame that you donít get much feedback from it until you really start flogging it hard. Saying this, technically the 911 is just so impressive. You get bundles of transparent grip that you can lean on. You can expect loads of traction due to the four-wheel-drive system and thereís loads of agility due to the sweet chassis design. You can just about tell that this car is still rear engine. One issue we do have with this car is the brake pedal. Thereís a good inch, maybe two, of dead travel right at the top of the pedal which does nothing at all. This is just so un-Porsche like but the powertrain, superb PDK gearbox and the engine is just so strong you soon forget this. You get bundles of power and torque, lots of energy all the way through and a really sharp throttle response too.

It has to be said that the 2020 Porsche 911 Cabriolet is closer than ever to the Coupe in terms of refinement, design and driving dynamics. We have to therefore go on record as saying that it has to be the best 911 Carrera Cabriolet yet. If youíre after a high performance drop-top sports car then this is a car that should be right at the top of your shortlist. Start your shortlist today by heading to DesperateSeller.co.uk where we have a wide selection of used Porsche 911 cars for sale. Other cars you should look at include the Audi R8 Spyder, Jaguarís F-Type and Mercedes-AMG GT Roadster.