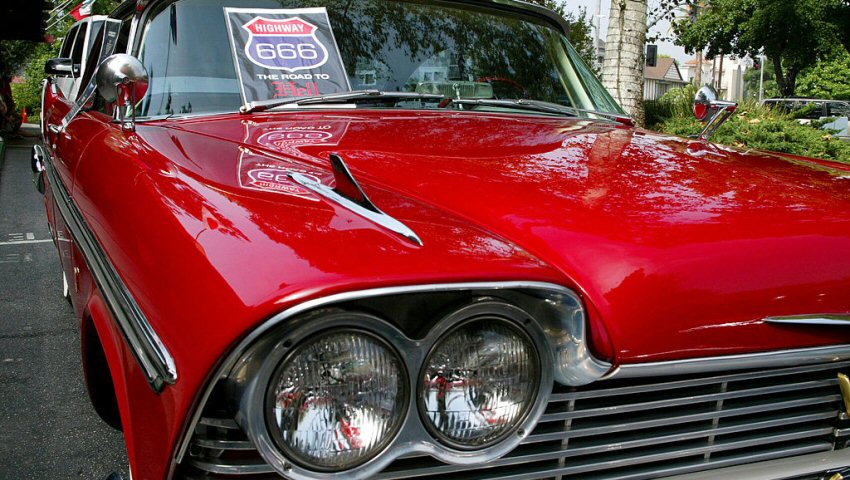 The most evil car in the world?
You've heard of haunted houses, right? Of course you have. Everyone has. They're part of our culture. In fact, ghost hunting and haunted house tours are now an extremely popular form of entertainment. So, yes, it's safe to assume you know all about haunted houses – you can probably even name a few of the better-known examples.
But what about haunted cars? Ah, now they're another story. Here at Desperateseller.co.uk, we'd be prepared to bet a large amount of money (up to 10p!) that you can't name any haunted cars. Indeed, there's a good chance that you didn't even realise that such things existed. But they do. There are quite a few pretty famous cars which are thought to be inhabited by ghosts – or, at least, have something weird and unexplained about them something widely thought the be in the sphere of the paranormal.

So, as Halloween has just passed, we thought it might be a good time to describe a few of them. You'll no doubt recognise one or two of the cars – but you probably didn't know they were haunted. So, if you're sitting suitably on the edge of your seat, we'll begin. And first up is…

Bonnie & Clyde
You'll know who they are, of course – they're the murderous duo from the 1930s. They met their end in 1934, after a police ambushed them in their 1932 Ford Model 18 V8. As more than 100 shots were fired during the incident, leaving the car bullet-ridden and bloodstained, and as photos of the two bloodied corpses were published, we know they're dead. Or are they?

You see, the car was neither destroyed or restored, but left in its post-ambush condition. It can today be found at Whiskey Pete's Casino in Primm, Nevada, where many visitors like to take photos. And here's the strange thing. There have been many instances where these photos have been found to include creepy objects. Experts can't explain these objects, and they're clearly not the result of photo-doctoring. Even more spookily, many people who stand close to this haunted automobile, report a strange presence. They just feel it something supernatural, beyond the grave, standing next to them. Could it be the dastardly duo themselves?

The possessed car of Cape Town.
Late one night in 2004, a Cape Town family were woken in the dead of night by a roaring and thumping in their front yard. Rushing outside, the startled family saw what can only be described as unbelievable: their Renault Megane was jumping around and revving wildly, with no driver and no keys in the ignition. Scared witless, the family called the police, who arrived promptly. But when the petrified witnesses explained what they'd seen, the officers refused to believe them. Until, that is, the car started doing it again – the Renault roared to life and started jumping around until it hit a tree. Later, the automotive company put the events down a rusty starter cable that short-circuited, but that doesn't really explain the car's revving without anyone pressing on the pedal. The police recorded the incident as 'unexplained'.

The Little Bastard
The iconic Hollywood actor, James Dean, was tragically killed when, back in 1955, he lost control of his Porsche 550 Spyder, causing it to flip into a gully. After the accident, Dean's friend, George Barris, took the remains of the Spyder (which Dean called 'Little Bastard') and sold parts to other drivers. Two of these drivers used these parts to build cars which they entered into the same race, in Pomona, CA. Both cars crashed horribly, and one of the drivers was killed. So Barris, now convinced that the car was cursed, gave the car to the California Highway Patrol, who displayed it as a warning to careless drivers. But the garage it was displayed in promptly burned down, leaving nothing but Little Bastard, unharmed among the smouldering debris. When the police moved it to a new location, Little Bastard broke free from the truck carrying it, and caused another fatal accident. So it was moved to yet again, but – during transit - it fell from its trailer a total of three times, crushing a truck driver. Finally, the police had had enough of Little Bastard and attempted to return the wreckage to Barris, but it vanished mysteriously truck en route and hasn't been seen since.

The A3 apparition
It's back to the UK for this one, a strange story if ever there was one! It happened on December 11, 2002, when police received multiple calls about a set of headlights veering off the road. They rushed to the scene, on the A3, fearing the worst, but when they arrived, there was no evidence of a crash. Finally, after a thorough search of the area, the police found a wrecked Vauxhall Astra, nose-down in a ditch, covered in undergrowth, with a decomposing human body inside. Experts estimated that the young man had crashed some five months earlier – and there was no evidence that any other car had been involved. Was the soul of this departed motorist drawing attention to his final resting place with ghostly headlights? Draw your own conclusions!

Serial killer
Let's finish with what came to be known as the most evil car in America – and possibly the world. Why? Well, this 1964 Dodge 330 allegedly killed more than a dozen people. Originally owned by a police unit, the first three officers who drove it ended up committing murder-suicides, first murdering their families, then killing themselves. When the car's next owner had a spooky experience with it, some members of a local church, who had heard about the car's reputation, vandalised it in an attempt to stop it being used. Many of these attackers were subsequently found decapitated by an 18-wheeler truck, and one, in a separate incident, was struck and killed by lightning.

We hope these scary stories filled a coffee break – we'll be back with more car confections soon!