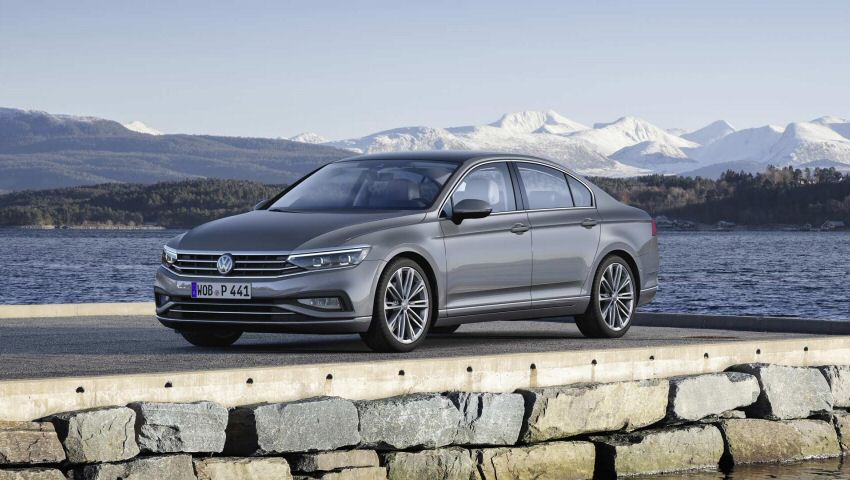 The 2019 VW Passat is still a star performer
The Volkswagen Passat might not get the adulation of other VW vehicles like the Campervan or Golf but it's been an absolute star performer for decades. First introduced in the 1970s the Passat is now in its eight generation and is still going strong despite the surge in the public's preference of other type of vehicles like SUVs.
With the latest version of the Passat saloon and estate now four years old VW have decided it's time for a refresh. The way they've done this is by updating the looks and providing some new tech inside too. Although the range has been streamlined there are still seven variants of the Passat including the Alltrack model, with its jacked up suspension for some off-road capability, and there's also a mix of petrol and diesel engines. There's also, after a short absence caused by various complicated industry reasons, the very popular GTE plug-in hybrid which is back too.

Step inside the 2019 Passat and you're presented by a plethora of new technology. You get Volkswagen's latest infotainment system which has all sorts of internet streaming capability including Apple Car Play and Android Auto. So, you can stream Apple Music and Tidal as well as utilising various web apps and internet radio. All in all it works very well though the lack of buttons to quickly jump between different screens can be a little bit frustrating. With the latest Passat you can also opt for a digital instrument panel that you can configure to your exact liking.

Volkswagen have positioned this Passat to give you a bit more of a premium feel than your average Ford Mondeos or Vauxhall Insignias but at a price considerably below your Audi A4s or BMW 3 Series models. The Ergo-comfort seats are extremely comfortable and have actually been given an award in Germany for their comfort. Not only are they comfortable but you can adjust them in every which way to get your ideal driving position. Sit in the back of the Passat and you'll find that there's plenty of room for three tall adults. The boot is also a good size although not quite as impressive as the one found in the Skoda Superb.

On the road the 2019 Passat has shown itself to be a very strong all-rounder. Although you may find that there's a little bit of bobbling from the suspension it's still a really comfortable drive on long distances. The suspension certainly helps to keep things nice and flat through the corners even on the Alltrack version. It's remarkably well behaved on bends too. The steering weights up really nicely too and really does help to give a sense of solidity to proceedings. The car we tested for the purpose of this review is the returning and improved GTE plug-in hybrid which has an improved electric-only range of 34 miles. You'd have to say that the GTE is really versatile. It's not only able to play the "Eco" card and keep the environment happy but if you push the GT button then it can come alive and harness the power of both the electric motor and petrol engine. If you combine it with the optional adaptive suspension it really does make the Passat a quick and agile car. In addition to this, because more of the Passats sold will be estates, it also makes for a great family car.

Travel-Assist, which is a partially autonomous feature, is standard across the range. It combines various assistance features which include adaptive cruise control and lane-keep assist. Such features almost drive the car for you at speeds of up to 130mph – although we wouldn't recommend doing this. The system works really well by guiding the steering and also adjusting the speed to whatever the speed limit is when it changes.

The 2019 Passat is specifically targeted at professionals who are going to be spending a lot of time on the road. This means that it's smart, well made and drives really nicely without being overly flashy. These attributes also make it a really decent vehicle for families and in estate form you really do have a car that's as practical as an SUV but with lower running costs. With this latest update the Passat remains one of the very best cars of its type that you can buy. If you're interested in viewing 2019 used Volkswagen Passat cars for sale then head to DesperateSeller.co.uk where we have one of the widest selections available.