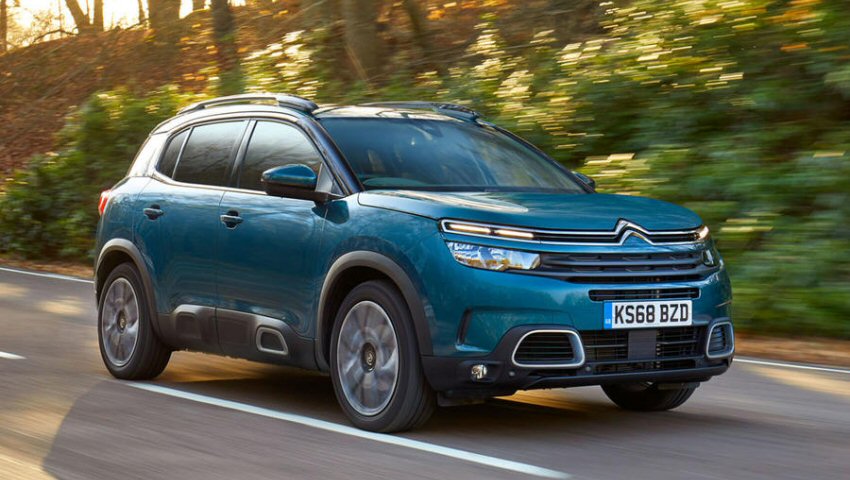 Does the Citroen C5 Aircross make the grade?
The car in our photo is the Citroen C5 Aircross. Itís the French firmís distinctive take on the medium size SUV. It was built as a sort of plush SUV thatís as comfortable as the Citroenís of yesteryear. Itís a car that competes in a hotly contested sector of the market but does it make the grade? To help find the answer weíre going to discuss itís best and worst bits.
Styling
Take a close look at the C5 Aircross and youíll spot a number of intricate design details that give it such a unique look. The two-tier headlights are nicely integrated with the front grille while Citroenís distinctive air bumps help to protect the car from parking dings. Towards the back the contrasting C-pillar comes together to give the car an added stylish look.

Interior & technology
Step inside the C5 and youíll find that the design details evident on the exterior also continue in a cabin thatís brimming with tech. Every model gets a 12.3 inch digital instrument cluster, an 8 inch infotainment touch screen and dual-zone climate control. All of this tech is nicely complemented by rich interior colour schemes and tactile materials throughout.

Safety
Hidden beneath the C5 Aircrossís stylish bodywork sits a wide array of safety tech that has earned the car a 5-star Euro NCAP safety rating. Every version has autonomous emergency braking, lane keeping assist and blind spot monitoring. The range-topping Fair Plus cars get highway driver assist and Citroenís ConnectedCAM system which can be used as a dashcam.

Economy
You can spec a C5 Aircross with a decent choice of petrol or diesel engines all of which should offer reasonable running costs. The 128 brake horse power (bhp) Blue HDI diesel is the economy champion of the range that claims a very impressive 56.3 miles to the gallon (mpg). For those of you that drive fewer miles there a fuel sipping PureTech 130 petrol engine offers a decent blend of power and efficiency with a claimed 44.2 mpg. Now you can even get a plug-in hybrid model.

Comfort
Citroenís progressive hydraulic cushion suspension is a much discussed feature but it doesnít quite live up to expectations on the C5 Aircross. Citroen claims it will cushion occupants from the various jolts and bumps but as soon as you get on a rough surface itís as prone to crashing over pothole as any other car.

Handling
After the disappointment of the ride quality comes the way that the C5 Aircross drives. Unlike some of its rivals it seems somewhat woolly in the corners and the steering is too vague and light. The body-roll through corners also make it hard to enjoy driving the car quickly while your passengers may not thank you either.

Cramped rear seats
While thereís plenty of space for front seat passengers and a large boot the space for rear passengers seems something of an afterthought. What you get are three individual but identical rear seats which sounds like a great idea in theory. However, what this means is that there isnít a great deal of space when youíre sitting in them particularly if the car is full.

So, there you have it the best and worst bits about the Citroen C5 Aircross. To conclude, itís a stylish and very well-equipped SUV with an array of hi-tech features and a plush interior. Sadly, itís a car that canít quite match the comfortable ride quality found in Citroenís of old and itís far behind some of its rivals when it comes to the driving experience. If youíre interested then make sure you head to DesperateSeller.co.uk where we have a wide selection of used Citroen C5 Aircross cars for sale.