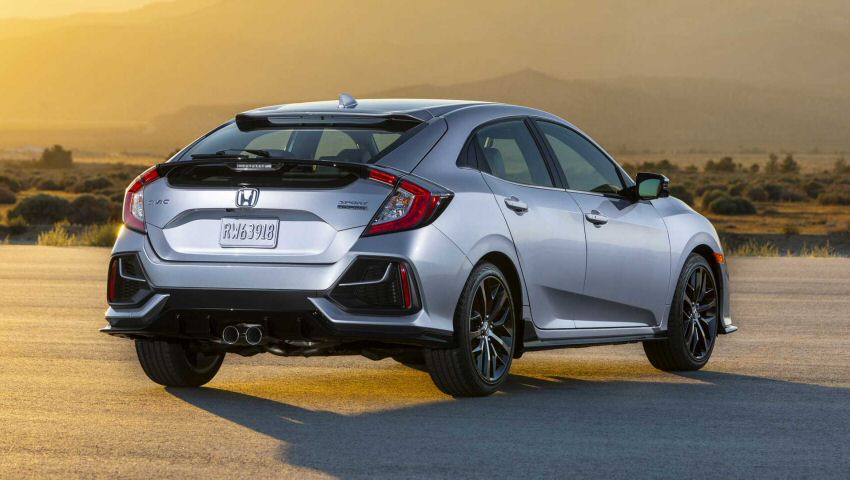 The 2020 Honda Civic has a job matching its rivals
Nearly every new Honda Civic brings with it an entire new overhaul and thereís no exception with the 10th generation model.
Honda always seem to make their flagship model stand out in a class thatís extremely competitive. So competitive that its rivals include giants such as the Volkswagen Golf, the Ford Focus and the Vauxhall Astra.

It has to be said that there just arenít that many cars in this class that have a particularly inspiring design. So, does the Civic now have the upper hand in this regard? Well, to start off the Civic has a pretty decent interior. It may not feel quite as plush as a Volkswagen Golf mainly because there just arenít as many soft-touch materials inside. What it does feel however is well screwed together so you definitely wonít feel short-changed. The driving position is fairly low but the gear lever is in easy reach as are the aircon and infotainment controls. The seats are comfortable and they give quite a lot of side and thigh support. Whatís particularly good about them is that they provide electrically adjustable lumbar support on SR trims and above as standard. The only slightly tricky thing is altering the back support because youíll need to use your entire back weight to adjust it. It does feel a little fiddly but you do get there in the end. Thereís also plenty of front and back movement so whether youíre tall or short you should be able to find a good place to sit. Visibility is slightly hampered by the cube-like styling so you may find it difficult to look our over your shoulder. However, you do get a reversing camera as standard on the SR trim and above while all trims levels come with front and rear parking sensors. This is something that a lot of rivals will charge you extra for. Even though you do sit quite low in this car seeing out at junctions or roundabouts isnít an issue. Unfortunately, the infotainment system in the Civic has to be one of the worst systems of any family hatchback. The 7 inch touchscreen has a disappointingly low resolution and itís inconveniently angled upwards so it tends to reflect the sun very easily. Worst still the menus are complicated, the system is often sluggish to respond and even tweaking the volume is frustratingly fiddly. Itís not all bad though because at least you do have Android Auto and Apple Car Play as part of the system and both come as standard on SR trim and above. From the outside the Honda Civic looks a pretty compact looking car. However, thereís plenty of leg and head room even if youíre on the tall side. In terms of storage there are average size door bins, a couple of cup holders some storage space in the central armrest and a decent size glovebox.

Itís a bit of a mixed bag when you sit in the back of the Civic. Itís not the leg room thatís the issue because you have more than enough of this. Itís more the sloping roofline that eats into your head space especially if youíre 6ft tall. Also, because the rear windows seem to pinch inwards it just makes it feel a little too claustrophobic in the back. The previous Civic had nifty seats that could fold up and be used for extra storage. However, in this latest model thereís no such practicality tricks which is a big shame.

So, the head room isnít brilliant in the Civic but at 478 litres the boot space is nothing short of impressive. Itís actually bigger than what youíd find in the Volkswagen Golf and similar to that of the Skoda Octavia. Itís also low to the ground and easy to access. You need to bear in mind that if youíre going to go for the Sport or Sport+ trims then these models come with a different exhaust and will eat into the boot space by about 10%.

6 Things you need to know about buying and owning a Honda Civic
1. The Civic is priced in line with the Volkswagen Golf which means itís cheaper to buy than an Audi A3 but more expensive than both the Skoda Scala and the Vauxhall Astra.
2. Honda is really competitive on their PCP finance deals
3. Out of all of the engines on offer itís the 1.0 litre turbocharged engine thatís the most fuel efficient and emits the least Co2. Therefore, this is the engine we think will be most popular amongst company car drivers and private buyers too. However, itís worth noting that engines in rival cars that are similar are more fuel efficient.
4. The SR trim is our pick of the line-up. It gets a 7 inch touchscreen, a leather bound steering wheel and gear knob, adjustable lumbar support and a reversing parking camera.
5. You get can a new Civic with a 3 year 90,000 mile warranty which is similar to rivals but with a higher mileage limit. This is because most of its rivals come with a 3 year 60,000 mile warranty.
6. Thereís an impressive amount of safety kit fitted as standard. Features include automatic emergency braking, adaptive cruise control, lane departure warning, lane keeping assistance, traffic sign recognition and intelligent speed assist.

The Civic may have a limited range of engines but thereís not a bad one among them. If weíre honest all you really need is the 1.0 litre turbocharged engine which provides 124 brake horse power (bhp). This unit gives you plenty of pull at low revs and does the 0-60 miles per hour (mph) dash in 10.7 seconds. To put this into perspective the equivalent engines that you find in the Volkswagen Golf and Audi A3 do perform a little bit better but this is because the Civic is a heavier car. Naturally, with 180 bhp the 1.5 litre petrol unit does have more low down pulling power but when driven on the road thereís not a huge amount of difference. The 1.6 litre diesel engine only provides 118 bhp and so itís not going to feel particularly fast though it does have good fuel economy. The 6-speed manual gearbox is light and has a positive action though the brake pedal does feel a little bit spongy.

The Honda Civic doesnít ride as smoothly as a Golf but itís pretty comfortable by class standards. All trims apart from EX, Sport+ and Prestige come with passive dampers which help offer a largely settled ride and donít get too caught up with potholes. The higher trim levels ride on adaptive dampers which means that you can stiffen or soften the suspension at the touch of a button. Youíll find that bumps are dealt with suitably well in the softer setting but if you switch to the firmer mode then you may feel a little too many of the roadís imperfections as they pass beneath the car. Broadly speaking the Civic handles reasonable well for a family car but some of its rivals do handle better. If you tackle a corner with any vigour then youíll wish the steering weighted up more consistently to help you gage how well the front tyres are gripping. This is one of the main reasons why the Civic just isnít as fun to drive as the Ford Focus. The Civic is also a bit noisier than the Golf or Audi A3 mainly due to the raucousness of the 1.0 litre engine when you rev it hard. When you get up to motorway speeds the wind and road noise is not particularly intrusive but again not quite as peaceful as in the Golf or A3. The 1.5 litre is a lot more refined and restrained though it will cost you more to buy and own.

So, what do we think about the Honda Civic? Well, it canít quite match the best cars in its class in terms of performance, handling or refinement. Itís also a shame the infotainment system is just so poor. However, it is a car with distinctive looks, a big boot and good to drive. If youíre thinking of buying one then head to our used Honda Civic cars for sale section on the DesperateSeller.co.uk website.