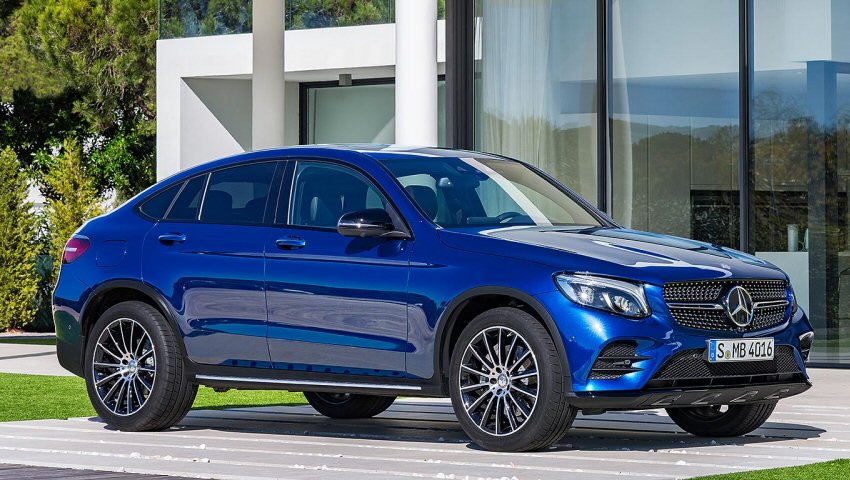 2017 Mercedes Benz GLC Coupe
Have you ever considered a car with the road presence and ground clearance of a mid-sized SUV but with the looks of a coupe? Well, if youíre in the market for one then we think you should really take a look at the Mercedes GLC Coupe.
The GLC Coupe is unsurprisingly based on the Mercedes GLC but adds a lower and more sloping roof-line and curved rear end to give it a really silky silhouette. It rivals the BMW X4 and Porsche Macan and just like these two cars youíll either think itís a more stylish SUV as a result or a more practical one.

Just like in the BMW X4 when you sit in the rear youíll find that space really does suffer. Ok, theoretically you could get three adults across the back but in reality itís best suited for a child in the middle seat. This is especially so due to the relatively large transmission tunnel that takes away from the leg room. You can quite easily argue that it feels quite claustrophobic in the back and this definitely isnít helped by the selection of black everywhere you look. Even the rear quarter windows donít really shed any additional light into the cabin. With regards to legroom youíll find itís adequate enough though this canít quite be said for the headroom. Anyone much taller than 5ft 5inches arenít really going to want to travel in this car on long journeys. When it comes to everything else though it pretty good. Youíve got two iSOFix child-seat points, an armrest that folds down, plenty of storage compartments, cup holders and a set of beautiful air-vents that youíll find replicated in the front. Overall, the back of the cabin certainly isnít the worst place to be but the reduction in space is the price you pay for coupe looks. If youíre really after more space then the standard GLC is probably the car for you.

There are just two trim levels available for the regular coupe. The Sport comes with 18inch alloys, sat nav, artificial leather seats, heated front seats, a reversing camera and ambient lighting. The AMG line gets larger wheels, sports suspension and sportier exterior styling. There are also a number of sportier option packs available while the Mercedes AMG 43 and 63 versions get their own racier specs.

Whilst in the back is very different to the standard GLC upfront itís pretty much identical. In fact, if were to blindfold you and sit you in the front cabin youíd be hard pressed to say whether youíre in the coupe or the standard version. Basically what you get is a really beautiful layout with a really nicely designed dashboard. Youíve also got a lovely tablet that sits right at the top and gorgeous air-vents. The whole thing just has a really nice high quality feel to it. Itís just a much nicer place to be than the BMW X4. Unfortunately the quality is a little bit lacking in places. For example, some of the buttons in the central console just feel a little too squeaky to touch. Itís on this front that the Porsche Macan beats it hands up. With regards to practicality thereís plenty of storage in the form of cup holders and good sized door bins and you also get a decent sized glovebox.

As youíd expect boot space is slightly compromised over the standard GLC but it still has a really good sized load area. Itís nice and wide and youíve got a relatively low lip to lift things over. There are also plenty of tether points along with buttons to help raise or lower the suspension or back seats. All models come with an electrically powered tailgate.

If youíre after petrol power then youíre going to have to pay for it. Only the performance minded AMG GLC Coupes are petrol. Thereís a 362 bhp (break horse power) 3.0 litre twin turbo V6 for the GLC 43 coupe and a pretty fabulous 4.0 litre twin turbo V6 with 469 bhp for the GLC 63 Coupe. Thereís also a 503 bhp unit for the GLC 63 S Coupe.

We think most buyers will go for a diesel and there are three to choose from. Opt for the GLC 220d and youíll get one of Mercedesís rather old rattily 2.1 litre diesels with 168 bhp. Or you can step up to the GLC 250d and you get the 2.1 litre with 201 bhp. If you want some extra pulling power then thereís then rather smooth 3.0 V6 diesel that really does pack that extra punch. With a peppy 253 bhp itís quick and packs a lot of punch. However, despite Mercedes saying that youíll get 47 miles to the gallon (mpg) in reality youíre going to be nudging 35 mpg. So, the smaller diesels with the more realistic mid-50 mpgs simply makes more sense for the majority of drivers.

Thereís also another benefit to opting for one of the smaller diesel units and thatís because although the V6 is a lovely engine it really does make the GLC feel like a tank. If you turn into corners at any kind of speed youíll find that the front end really pushes on and makes the car feel quite cumbersome. The 2.1 litre diesels are definitely lighter and this helps with the handling and overall agility. Even if you do go for one of the diesels the Coupe isnít what you call a sporty SUV Ė despite the silky lines. The steering is way too vague while the whole car feels a more relaxed grand tourer than a sports SUV like the BMW X4 and Porsche Macan. Well, we say relaxed but this is as long as youíve selected the adaptive air suspension in the options list which costs just under £1,500. This not only continually adapts the suspension as you drive but it also makes for the best ride comfort. It also raises up if you want to go off-road. Itís a lot of money but it really does make the GLC Coupe a really comfortable car to travel in.

The Coupe is going to add around £3,000 to the cost of the standard GLC so youíre really going to have to want that extra style and put up with rather less practically. However, this car really is stylish and has a lovely interior. Compared to the BMW X4 itís more powerful, more efficient and arguably better looking. If youíre in the market for a new or used Mercedes Benz GLC Coupe then feel free to take a look at the cars we have listed on DesperateSeller.co.uk!