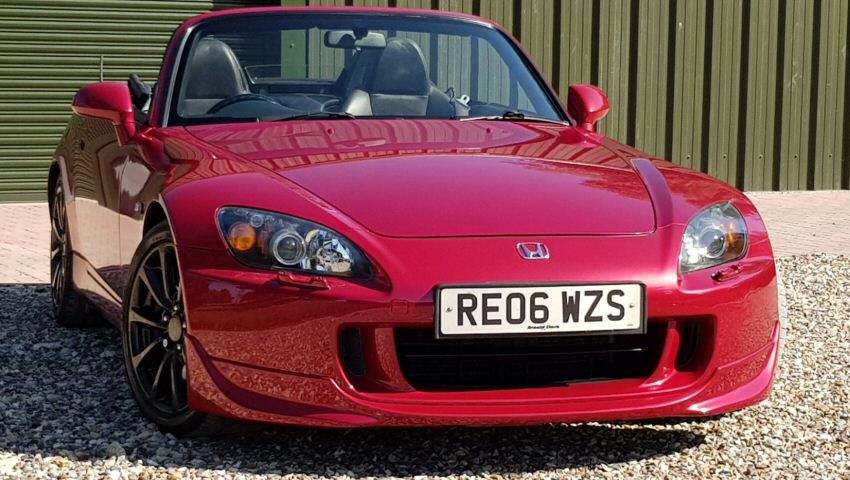 Caught in the classifieds: 2006 Honda S2000
In this weekís ďCaught In The ClassifiedsĒ section we have one of the most iconic Hondas ever made. No, itís not an NSX, but it is the next best thing: the S2000. Back in the late 1990s, Honda was on a mission to create a lightweight sportscar that would be fun to drive as well as affordable to own and maintain. What they came up with was a two-seater roadster that didnít have a massive amount of power, but on a twisty section of tarmac, it could show a clean pair of heels to Ferraris or Porsches if driven properly.
Even though it was relatively affordable back then, you can now scoop one up for as little as £6,000. This late model is the AP2 and it has a clean title along with just 86,000 miles, so itís a little bit pricier at £10,993. That said, however, the S2000 will demolish a brand-new Toyota GT86M and since prices have bottomed out, given how rare these cars are nowadays, theyíre even an excellent investment if you plan to hold on to it for a few years.

Exterior
On the road, the S2000 has a massive amount of presence. Itís not as imposing as a Ferrari or as wild as a Lamborghini, but nothing on the road looks like an S2000. Itís impossible to mistake it for something else. Dimensions-wise, itís actually rather compact. Itís roughly 8 inches shorter than the last generation 1-Series (F20), but because itís quite wide relative to how long it is, it has amazing proportions.

Itís also pretty low, some 5 inches shorter than an F20 and 2 inches shorter than a GT86. All S2000s are roadsters, and this might be the only car which looks equally good with the roof down as it does with the roof up. The styling is dominated by that long, sleek bonnet, hiding a Ďsmallí engine by todayís standards, which weíll get to in a bit.

The rear is easily distinguished by its clear JDM-style taillights and the twin exhaust outlets, one on either side. The AP2 features different lights, both front and rear (LED), as well as unique 17-inch wheels which came wrapped in Bridgestone RE-050 tyres.

Interior
Inside, the S2000 still looks modern today, and thatís mostly down to the fact that Honda chose to prioritize simplistic elegance over cluttering the cockpit with tons of buttons. The dashboard, for instance, is devoid of any sort of controls in the middle. There is a cockpit-like section wrapped around the steering wheel area, giving the driver immediate access to all the controls. The steering wheel itself is a great three-spoke design. Honda was so ahead of their time with the S2000 that weíve been seeing a lot of manufacturers switching to three-spoke designs only in the last couple of years.

Then thereís the digital cluster, which, again, was completely revolutionary at the time. The rev counter is at the top of the cluster and it stretches out from one side to the other. Right below it, you have a digital screen, relaying all the other information as well as the speed.

The driving position is spot on too. Because you sit so low in the car, you feel really connected to it in a way you donít in a lot of modern cars, including stuff like BMWís M3 or Audiís RS5. The seats are simply superb, it has to be said. In many ways, they feel better than a lot of sport seats youíll find in newer cars.

Okay, the materials arenít as plush or expensive as they are in brand-new cars, but for something thatís over a decade old, theyíre more than acceptable. In fact, Iíd say they were chosen with durability in mind because even after years spent on the road, most S2000s feel brand-new. Nothing squeaks or rattles inside, which is a remarkable feat given modern carsí tendencies to start rattling after a few months.

Engine and Performance
A lot of people will tell you the S2000 is slow, but a lot of people have no idea what theyíre talking about. Under the bonnet is a 2.0-litre naturally-aspirated four-cylinder, producing 237 horsepower and 153 lb-ft of torque. Power is sent to the rear wheels through a six-speed manual, and it has a Torsen limited-slip differential in the back. The S2000 embodies the essence of driving better than most supercars and sportscars, and anyone whoís ever driven one can confirm that.

On paper, the figures arenít impressive. The sprint to 60 mph takes 6 seconds, so itís about as quick as a Mark7 Golf GTI, and the top speed is a respectable 149 mph. What the figures canít tell you though is how the car makes you feel and the emotional response it provokes from its driver. The engine is a screamer, revving out to 9,000 rpm. If you want performance, you have to rev it out too, because under 6,000 rpm you have no power. At 6k the VTEC opens up and the car changes tune and character completely.

The gearbox is one of the best manuals currently on the market. It feels smooth and crisp, so itís a real joy to row through the gears yourself. The steering wheel is light and uncorrupted with massive amounts of feedback and response. You get where Iím going with this, donít you? The S2000 can be enjoyed on the public highway without breaking the speed limit or getting yourself in too much trouble.

Model: Honda S2000
Trim: AP2
Mileage: 86,000
Price: £10,993
Rating: 9.5 out of 10

Why you should buy one?
Itís about as visceral of a sportscar as you can currently get for not a whole lot of money. Forget that itís not a coupe, because I promise you the chassis is as stiff if not stiffer than a lot of modern Ďsportscarsí. If you want something you can throw around and thrash without worrying about breaking it, get an S2000. Theyíre reliable and cheap to run, and as time goes on, theyíll only start appreciating in value. Find your perfect one from our wide selected of used Honda S2000 cars for sale.