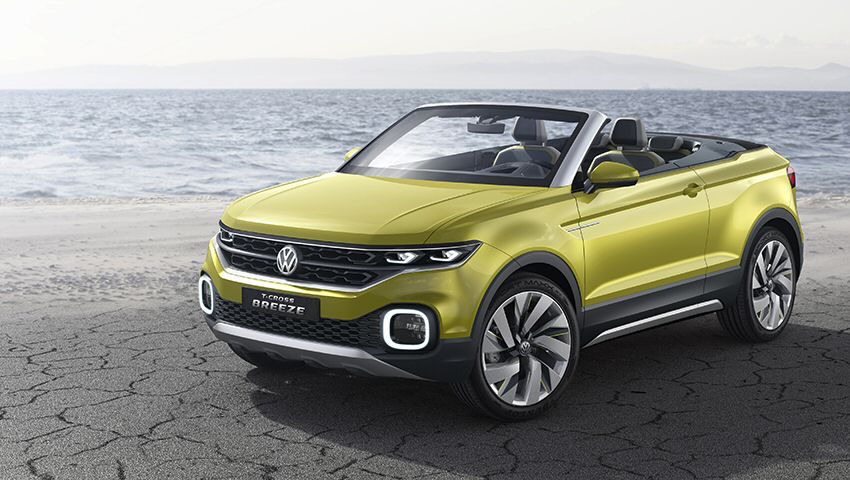 The 2020 VW T-Roc Cabriolet stands out from the crowd
Fans of the convertible Volkswagen might be feeling a little bit deflated at the moment. The Beetle Cabriolet is no more and there arenít any plans to build a soft-top Golf either. Fear not because thereís now something that can feed your open-air appetite and itís this, the VW T-Roc Cabriolet.
This car is what the name suggests, a drop-top version of Volkswagenís funky looking compact SUV crossover. Although this may sound like a bit of an add combination it actually makes perfect sense. VW reckons that 40% of its total output will soon be crossovers so why not mix the body styles together and bring the convertible into the 21st century? Especially when rivals are so thin on the ground. Ok the Range Rover Evoque convertible would have been the obvious alternative but itís now discontinued. Therefore, the T-Roc Cabriolet really is the only mainstream soft-top SUV on sale today - but is it any good?

To help answer this question letís start with the roof. It can be lowered in just nine seconds at speeds of up to 19mph (miles per hour). Meanwhile the windscreen frame has been reinforced for extra strength while in the case of an accident rollover protection is fitted as standard. There are just two trim levels on offer namely Design and R-Line. Standard equipment includes and 8-inch Discover Navigation infotainment system with Apple Car Play and Android Auto compatibility. You also get dual-zone climate control and adaptive cruise control. Whichever spec you go for the Cabriolet retains an almost identical cabin to the SUV. This means you get exceptionally laid out controls and clear instruments. Unfortunately, practicality has been impacted by the conversion from SUV to cabriolet but you can get two adults in the back. However, youíll need to be aware that itís a little tight on both head and knee room and the middle seat has been removed completely. Head around to the boot and youíll be greeted by a space thatís 161 litres smaller than the SUV version. However, the remaining space is more than useable at 284 litres.

On the move the T-Roc Cabrioletís lack of a permanent roof means that thereís extra flex and shakiness in the overall chassis. Because of this your ride comfort is somewhat compromised with the sportier R-line suspension feeling out of place in a car that prefers to be driven slowly. Wind buffeting with the roof down is acceptable although passengers in the back will undoubtedly bear the brunt.

As for engines itís petrol only in the Cabriolet. You either have a 1.0 litre three cylinder unit with 115 brake horse power (bhp) or a 1.5 litre four cylinder with 150 bhp. Both engines get a 6-speed manual gearbox as standard with a 7-speed DGG automatic optional on the larger engine. In our opinion itís the larger engine that makes the most sense. The extra power is certainly needed and the more relaxing auto add thatís little bit of polish.

All in all the VW T-Roc Cabriolet is perfect if you need a relatively spacious soft-top that stands out from the crowd. Otherwise there are a ton of other drop-top options that are certainly worth considering. If youíre looking to buy a T-Roc Cabriolet or just want to browse some used Volkswagen T-Roc cars for sale then be sure to head off to the DesperateSeller.co.uk website to take advantage of the excellent deals advertised on the site.