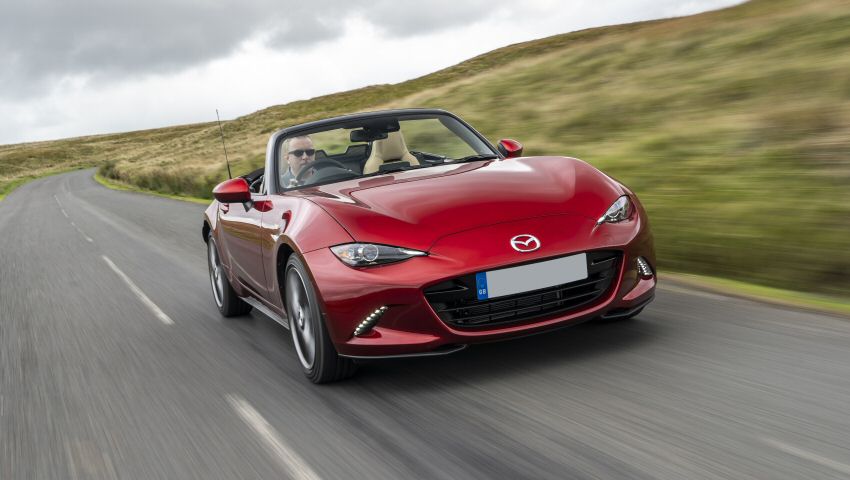 Is there a better budget sports car than the Mazda MX5?
Let's be honest, there are a lot of sports cars available on the used car market. There's also a kaleidoscope of options that you can turn into a hobby as well as a lifestyle. However, if you're after something that's truly affordable to buy, to live with and that really lives up to the promise of sports car ownership then that gets a lot trickier. That's unless you look to a certain little Mazda – the MX-5.
The Mazda MX-5 first came to our attention way back in 1989 and we have to say it's aging better than ever. Throughout this period we've seen the dainty pop-up headlight Mk1 morph into the wide-eyed Mk2, the chunkier Mk3 and finally the elegant and almost Italian-esk Mk4. What's always been consistent throughout is that the MX-5 has always been major on lightweight, low-power, affordability and prophetic Japanese proverbs like Jimba Ittai which translates to the oneness of horse and rider.

Simple, pure and uncomplicated driving is what the MX-5 is all about. The 1.6 Mk1 produces just 114 bhp (brake horse power) which was absolutely nothing by standards back then let alone today. However, for whatever reason it just seems like all you need in this car. It's just so sweet to drive. The MX-5 was never about pace and performance instead it was always about being fun.

There are a few things to note if you're considering an early edition MX-5. There are some available on the used car market without power steering but don't be fooled by thinking that these will provide an even purer experience. The MX-5 was built and designed to have power assisted steering and it's better for having it. Also, don't be afraid of the Eunos models either which are the Japanese market versions. A lot of them have been imported into the UK. They're virtually identical to the regular MX-5 other than they may have less rust thanks to Japan's salt free roads. It's because of this you may actually have to pay a premium price for them.

The car we used for this article was a 1990 1.6 Mk1. Again, it produces just 114 bhp but the car itself weighs less than a ton. Mazda did produce a 1.8 too which was introduced around 1994 but even this car only produced 126 bhp. Not long after that Mazda actually neutered the 1.6 unit to 100 bhp which sounds a bit weedy even by MX-5 standards.

Even though our car is 20 years old it just feels so perfect for British roads. The fact that you can use 100% of its performance just means it can do everything you want it to do so succinctly. The gearbox is lovely, then engine revs sweetly and although the suspension's a little bit soft you really won't mind it. It all just feels undramatic while giving you plenty of grip. We love the way that this car seems to sort of cushion the road as you go down it. Being just so easy to live with is so critical for the MX-5 and it's why it's such a success. It really doesn't matter what generation of MX-5 you look at it will always excel at being fun and easy to live with. There are cars on the market that are 4 or 5 times more expensive than the MX-5 and we'd guarantee you wouldn't have half as much fun as you do in the MX-5.

The second, third and fourth generation MX-5s all have their own distinct characters. The most recent two models even offer versions with retractable hard-tops. We particularly love the latest generation which may not be great for taller drivers but otherwise is a spectacular breath of fresh air in a world of endless variable drive modes and fake exhaust notes. Even the Mk3, which has a reputation for being the least desirable of all the MX-5s, is reliable and about as much fun as you can have for the super-cheap prices that you'll pay for a solid used example. They all stick to the ethos of joyously uncomplicated but east to live with two seat open air fun that's made the MX-5 such a huge success.

We could go on for hours about what kinds of MX-5 you could buy as there are just so many different types. You can get after-market turbo conversions, ones with limited slip diffs, hard-tops, soft-tops and you can even get ones with automatic gearboxes. However, we'd recommend avoiding the automatics as it would be akin to having a piece of art and then buying a blindfold to ensure you don't enjoy it! We'd also recommend that you check for rust on earlier examples, particularly on the Mk1 and Mk2 models because they tend to rust from the inside out. So, make sure you have a really good check under the wheels arches and the sills. Other than that the MX-5 promises to be about as reliable as a car can be and if they do go wrong they're cheap to repair. Whichever MX-5 suits your budget and lifestyle we'd say go for it as there really isn't a bad MX-5 out there. Start your search for used Mazda MX-5 cars for sale on DesperateSeller.co.uk today.