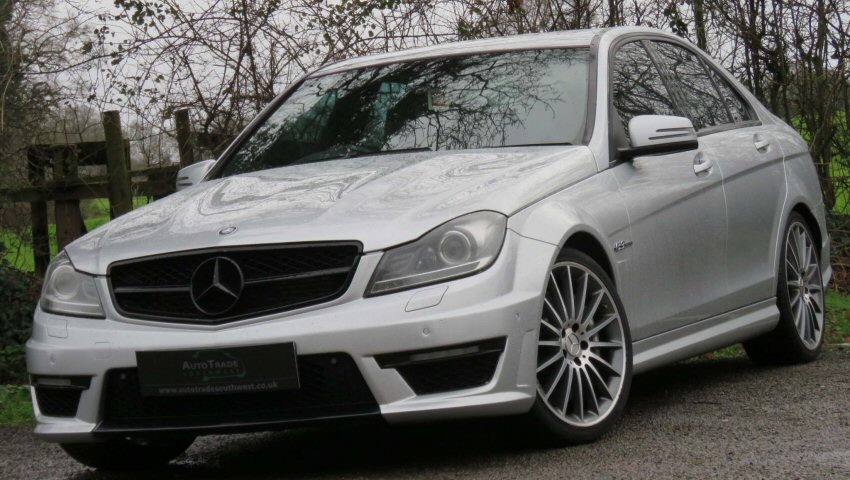 Caught in the classifieds: 2011 Mercedes Benz C63
In this weekís ďCaught in the ClassifiedsĒ section, Iím highlighting what is arguably the coolest Merc ever built: the original C63 AMG.
Heralded as the last naturally-aspirated AMG C-Class, the C63 is a car which oozes and drips with personality. Built to compete with Audiís RS4 and BMWís M3, the C63 is, in many ways, the most extreme car of the bunch.

It has the largest engine, the most amount of power and the most amount of torque, so if you want the ultimate bragging rights in front of your mates, this is definitely the right car for the job.

Fortunately, the C63 is a bit more than the best trump card of all time, because as it turns out, itís an exceptional motor vehicle to drive and own. This particular example I managed to find on our site is a 2011 model with just 60,000 miles on the clock.

Itís currently listed for just under £21k, but I have a sneaky suspicion these will go up in price heavily over the next few years. With EVs becoming the norm these days and the government suggesting a ban on all petrol and diesel-powered cars by 2035 at the latest, prices for used cars like the C63 and the M3 will skyrocket over the next decade.

Exterior
If youíre a fan of aggressive styling and extremely sporty design, youíre probably better off with an M3 in all honesty. The C63 is a great-looking car, but itís nowhere near as menacing as an E90 M3. The M3ís rear arches look like bubbles that are ready to explode at any minute. The C63 on the other hand is much more understated.

Avid car enthusiasts and petrolheads can immediately tell itís a real AMG and not an AMG-package diesel, but for most regular non-car people, it looks just like any other C-Class. Itís easy to mistake it for a normal W204, whereas thereís no denying an M3ís presence even from a mile away.

Understated performance is the name of the game here, which is fair enough really, since itís Mercedes sticking to their core brand strengths. The biggest tell-tales signalling this is a C63 are the quad exhaust outlets sticking out the back, the AMG-specific 18-inch wheels, and the revised front bumper with more aggressive air intakes. The car is slightly wider too compared to a regular C-Class, but it isnít as noticeable as it is on the M3.

Interior
This is a facelifted C63 AMG, which means it gets the updated infotainment display and the three-spoke design steering wheel as standard. The rest of the cabin is fairly standard and similar to a regular C-Class, apart from the seats which feature massive side bolsters to help keep you in place during hard cornering.

The quality of the cabin is superb and the materials used all feel premium. In many ways, the W204 feels better inside than the W205 which replaced it. It doesnít squeak or rattle nearly as much as the newer car does, and although it features less tech, itís still got all the necessities such as A/C, radio, a trip computer, etc.

Mercedes got the seating position down to a T in the W204. You sit nice and low in the car and the seat itself seems to adjust to your body and hug you snugly. I always thought you sit a tad too high in an M3, but not so in the Merc.

Elsewhere youíll find plenty of head and legroom in both rows of seats, and a decently-sized boot which is large enough for 4 medium-sized suitcases. Iím not saying you should daily drive a C63 since it guzzles fuel at an unholy rate, but if you do want to use one as your everyday driver, practicality certainly wouldnít be the thing stopping you from doing so.

Engine and Performance
Letís not kid ourselves, shall we? The reason why we all adore the C63 is because of its massive 6.2-litre engine which has been shoehorned inside the C-Classí engine bay. Itís a good 2.2-litres larger than the engine in the E92 BMW M3, and it sounds like it too.

The noises the C63 makes at any part of the rev range are simply out of this world. Jeremy Clarkson once famously said itís a hotrod thatís come out of Stuttgart, and having been in one previously, it certainly felt and sounded that way.

The Ďregularí C63 produced 457 horsepower, but optioned with the Performance Package Plus, it developed 487 horsepower and a staggering 443 lb-ft of torque, some 150 lb-ft more than the M3. One major issue with the base C63 is that it didnít come with a limited-slip differential, so traction was always an issue. You had to get the performance pack for the LSD.

This particular example Iím highlighting today is a facelifted model, so in addition to slightly different exterior panels and headlights, it also gets a new gearbox in the form of the AMG Speedshift MCT, effectively axing the old 7G-Tronic auto and sending it to the history books. Naturally, power is still sent to the ground through the rear wheels only, making it an extremely handy drift weapon, albeit one that has an insatiable appetite for rear tires.

Equipped with the optional AMG Performance package, the stats are as follows: 0-62 mph in 4.4 seconds and a limited top speed of 166 mph. Thatís ridiculously quick for any car, let alone a four-door saloon you can use to carry out your weekly shopping.

Model: Mercedes Benz C63 AMG
Year: 2011
Trim: W204 4dr 7G-Tronic
Mileage: 60,000
Price: £20,994
Rating: 9 out of 10

Why buy one
Itís one of the most bonkers cars ever built, but youíd be mad not to get one if you have the cash. Not only will you enjoy it and grin like an idiot every time you go out for a drive, but youíll also have something to bank on in the future when used C63 prices inevitably spike. Yes, itíll use enormous amounts of fuel and youíll spend a small fortune keeping it going, but the intoxicating soundtrack alone is a good reason to get one if you ask me. What are you waiting for? Head to DesperateSeller.co.uk where youíll find great deals on used Mercedes Benz C63 cars for sale.