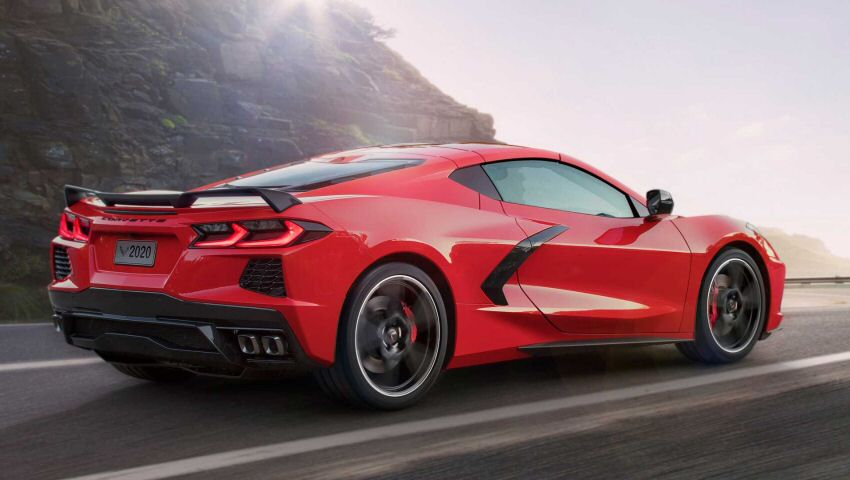 Why the C8 Corvette is such an important new car
Even if you only have little knowledge of American cars, you've probably heard of a Corvette. Like the Mustang and the Camaro, the Corvette is an absolute icon of the American car industry. Despite that, you might wonder why an all-new version of this legendary American sports car should have any importance to us here in the UK? Well, the all-new, mid-engine, rear-drive 2020 C8 Corvette Stingray has already made a big splash in its native USA, and it's also set to do the same over here.
Chevrolet has been producing the Corvette since as long ago as 1953, and one of the most famous characteristics of these American sports cars was the use of lightweight fiberglass for the body instead of steel or aluminium. Today's car doesn't exclusively use fiberglass anymore, but it still uses advanced lightweight composite materials instead of metal.

There are several figures and statistics associated with the all-new 2020 Corvette that are impressive, but the one that impresses most is one you probably wouldn't think of. The engine powering the entry-level models that arrive first is a 6.2-litre LT2 V-8 that develops 490 horsepower and 465 lb.-ft. of torque, which sends all that power to the rear wheels through an eight-speed automatic gearbox.

As for the performance, well, those numbers are even more impressive. The new Stingray can get from 0 to 60 mph in just 2.9 seconds, and the top speed is a reputed 194 mph. If the quarter-mile drag-race time means anything to you, this beauty can cover that iconic distance in just 11.2 seconds, which is an average speed of 121 mph. Keep in mind these figures are for the entry-level Stingray models, so much faster Z06 and ZR1 models will eclipse these numbers.

Something else will hit you in the face long before you ever get to experience the speed and performance of this fabulous new Corvette, and that's the way it looks. There's no such thing as a Corvette of any generation that doesn't look good, but this one is an entirely different level. If I said it gives a Ferrari a run for its money in the styling stakes, it wouldn't be an exaggeration by any means.

But if the looks, the power and the performance have impressed you, the most staggering fact about this car is yet to come, and that's the price. Instead of the quarter of a million pounds you might expect to pay for an exotic Italian supercar with this kind of performance, or even the £150k you might pay for a slower but still stunning Aston Martin, the starting price for the C8 in the USA is just $59,995.

At current exchange rates, that's around £46,000, which is about £9,000 less than an Audi RS4, or about the same price as a Mercedes C Class convertible. Just think about that for a moment Ferrari looks and performance for little more than a fifth of the price.

The good news is the 2020 C8 Corvette is going follow in the footsteps of the latest Ford Mustang and be sold in the UK in right-hand drive, probably next year.

Of course, there's bad news too. And the bad news is there's no way we're going to get our hands on one for that kind of money. Import duty, shipping and VAT will take care of that, just like it does with the Mustang. The cheapest Mustang in the UK costs from £37,645, but the same car in the US costs the equivalent of just £20,466. Imagine how many people would buy a Mustang here for that money?

Even so, the idea of getting a C8 Corvette for what will still be a bargain price for this level of performance and style is still something to look forward to. And if it's cars you're looking for then look no further than DesperateSeller.co.uk!