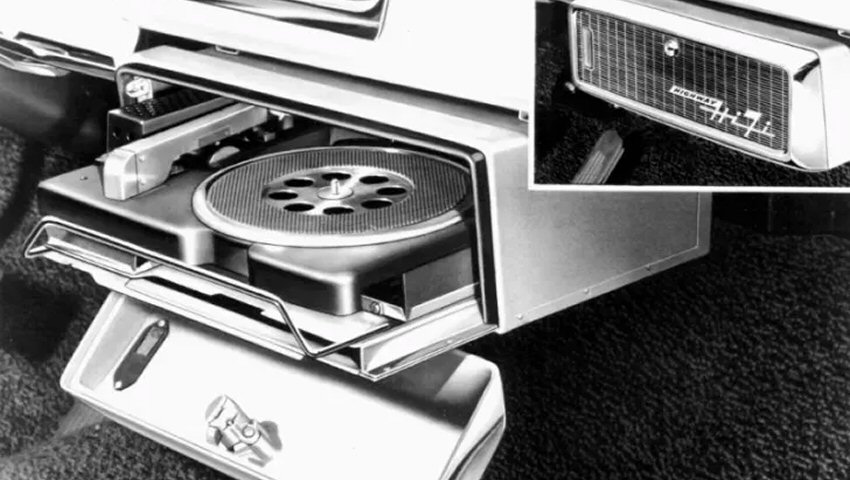 Under the dash record-player - why not?
New features. Ever since the automotive market became competitive, innovative features have been a key way of attracting interest to, and stimulating demand for, new models. Over the last century or so, there have been literally thousands of highly successful new features, from the cigarette lighter, first introduced in 1921 on the Lincoln L model, through the car radio (1930) and cruise control (1958), to the many digital wonders in today's vehicles.
The secret of success for a new feature lies, as with any consumer product, in the ability to predict social trends knowing what will catch on. And this isn't always straightforward. While, as we've just noted, there are plenty of now-famous examples where car manufacturers have been ahead of the curve, and got it right, there have also been many – less well-remembered - occasions when an idea that probably seemed a dead-cert winner in a smoke-filled boardroom was, in the event, given an unequivocal thumbs-down by the public.

Take, for example, Chrysler's Highway Hi-Fi, back in 1956. In those days, of course, vinyl represented the state-of-the-art in music technology, so the company decided to introduce an under-dash record-player, which took the form of a special long-playing system with a low-rotational speed (16.66 RPM). And, at its launch, Chrysler executives let the champagne flow freely it was, they considered, bound to be a chart-topper. After all, what could go wrong?

Well, plenty, actually. For a start, the system was limited to playing records produced by CBS only. Plus, it proved extremely tricky to flip the disc while on the move. And, to cap it all, despite the company's exaggerated confidence in the floaty smoothness of its vehicular suspension system, the needle on the record player was prone to skipping whenever the car hit a bump. The result? Highway Hi-Fi suffered a quick, and not very dignified, death.

Or take Mitsubishi in the late 1970s. Having recognised – not unreasonably – that having a reverse gear in a car is a good thing, the company's development team reasoned that having two reverse gears must, therefore, be even better! So they introduced the Super Shift, a Twin-Stick transmission which split each of its four forward ratios (as well as the reverse gear) in two. This allowed drivers to choose between 'Economy' mode and 'Power' mode. Unfortunately, however, they hadn't bothered with field trials, and using all 8 forward speeds in sequence turned out to be almost impossible without using both hands, so many owners drove only in 'Power' mode. Unsurprisingly, Super Shift didn't last long.

Of course, not all innovative in-car features are about convenience of efficiency. Some are about safety. Such as, for instance, the water-balloon bumpers designed by John Rich in the 1960s. Intended for low-impact accidents, these would burst if the car was hit, absorbing and diffusing energy by spraying water onto the ground. And, despite the pretty left-field nature of the concept, it wasn't such a bad idea. In fact, tests in the US showed that they worked so well that several states installed them on public transport, and some car manufacturers toyed with the idea of introducing them. But the idea never caught on. Why? Because it turned out that – small point - to get them replaced after an accident cost about £1100 – almost £10,000 today.

Talking of safety, here's a question: what's the most exhausting and intellectually challenging aspect of driving a car? Did you answer "Putting on the seat belt"? No, we thought not. That's because no-one – absolutely no-one – has ever found putting on a seat belt either tricky or tiring. Yet, in the early 1990s, several car manufacturers thought it would be a clever wheeze to automate the process, and cars such as the VW Passat and the Ford Escort began appearing with motorised seat belts. But they disappeared as quickly as they arrived. Not only were they prone to glitches that made them malfunction, but manufactures worked out – after spending a small fortune on design and production – that people find it faster and easier to just pull their seat belts out and secure them manually. Doh!

Still, making it easier to drive safely is a good idea in principle. Which was why, in the 1970s, manufacturers such as Buick and Ford introduced a feature called the 'rim blow' wheel. This was a steering wheel that had a band, running round its entire surface, that would sound the horn when gripped tightly. The idea was to take advantage of the human impulse to squeeze something when frightened or frustrated, making it quicker and easier for people to react in potentially dangerous situations. But, in practice, the materials used in production led to steering wheels that either hardened up to the point where the horn couldn't be used, or – worse - shrunk so that the horn bared pretty much constantly. Within five years, rim blow was a distant memory.

Finally, we can't leave without a quick mention of the fake air scoop – the toupee of the automotive world. Real air scoops were first introduced on racing cars, to cool engines and brakes, and – therefore - became a symbol of power and virility of macho writ large. And it wasn't long before you could add fake scoops to your car to show the world how cool you are. How long did they last – well, you can still buy them. But, for how long, we wouldn't like to guess.

One thing that definitely isn't a new feature is the used cars section of the DesperateSeller.co.uk website. It's been there for ages, and – if you're looking for great value – it's definitely worth checking out. Why not do it right now!