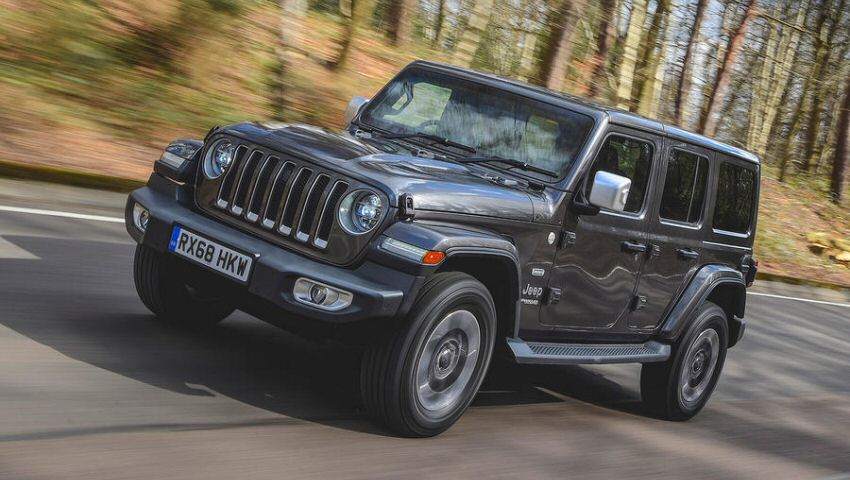 The 2020 Jeep Wrangler still has that unique retro appeal
There are few cars that quite carry the retro charisma as the Jeep Wrangler. With over 70 years under its belt this latest iteration of the 4x4 oozes both classic appeal and style by sticking close to its iconic roots. However, in doing this we have to ask is Wrangler simply living in the past and has the rugged off-roader class moved past it? Also, is there a good enough balance of old and new to attract modern buyers? In this short review weíre going to find out.
With design touches such as the round headlights and seven slot grille taken from the original 1944 Willys Jeep the Wrangler certainly looks the part. Ok, itís easy to mistake the 2020 model for an older one but thatís not necessarily a bad thing. It still looks purposeful and capable meaning that itís a car that will turn heads wherever it goes. Whatís more is that the doors are actually removable and so is the roof. Even the windscreen is able to fold down which adds to the things that your regular SUV is able to do. In additional to all of this the windscreen is able to fold down.

Step inside the 2020 Wrangler and it becomes a lot more obvious that this is a brand new car and not just one thatís undergone a facelift with a few upgrades. This is evident when you discover the use of new materials and Jeepís latest infotainment system. It all feels very bang up to date in here. It offers a good blend of quality materials and switchgear while still being tough enough to withstand any muck bought in from the outside. Depending on what trim you opt for thereís a 5, 7 and 8.4 inch touchscreen available and is situated in the centre of the dashboard. Itís both clear and intuitive enough to use and also comes with Apple Car Play and Android Auto on the two larger sized screens.

The Wrangler is available as either a 2-door or 4-door and itís especially in 4-door form the Wrangler is a thoroughly practical car. Thereís no shortage of cabin space meaning that both leg room and head room is plentiful. Itís also a car that has 533 litres of boot space. Ok, there are more practical rivals on the car market but whatís on offer here is more than ample. Naturally, the 2 door variant wonít be as practical in this department as itís significantly shorter than its 4-door counterpart. However, it does offer a pretty decent 197 litres of bot space behind the rear seats and a good 587 litres with the rear seats folded down.

Despite the Wranglerís focus on being more than capable off the beaten track it also performs admirably on the road. It really does feel both remarkably stable and predictable for such a large car while the ride is also more comfortable than ever before. Buyers planning on taking their Wrangler off road wonít be disappointed as thereís not many places this machine canít go. Itís a very capable car and thereís no doubt that it lives up to the legacy of its predecessors created all those years ago. Another thing to note is its maximum towing capacity which stands at 1588 kilograms.

There are currently two engines to choose from. First thereís a 197 brake horse power (bhp) 2.2 litre diesel and then thereís a 268 bhp 2.0 litre petrol unit. Thereís just one transmission available that being an 8-speed automatic. Both motors are reasonably potent with the petrol unit offering the most performance. When the Wrangler is fitted with the petrol powerplant itís able to achieve a 0-60 miles per hour (mph) time of 7.2 seconds. The diesel on the other hand is better suited to the car itself. While itís less powerful itís still relatively quick with a 0 to 60 mph time of 9.8 seconds and will also be the cheapest to run.

As the Wrangler is a tough all-roader and so you shouldnít expect it to be the most economical car in its class. That being said it shouldnít break the bank as in diesel form the model is said to achieve 37.78 miles to the gallon (mpg) while emitting 197 g/km of Co2. For the type of car this is this isnít too bad at all. Unfortunately, the petrol engine will be a tad thirstier at the pumps achieving an acclaimed 31.4 mpg and emitting 98 g/km of Co2.

The Jeep Wrangler has always been a legend in the 4x4 world and the 2020 version is better than ever. It retains its lovable old-school design while implementing modern technology and features. This all helps to create what is almost a perfect blend of classic style and 21st century equipment. Itís a car that certainly stands out in its segment with not much aside from the ultra-expensive Mercedes Benz G Class and tiny Suzuki Jimny to rival it. Yes, itís a little on the expensive side but we feel itís well worth the price simply because thereís nothing quite like it on the market. Thereís certainly nothing out there that can offer the extreme level of retro appeal, off-road capability and practicality. This car is sure to turn heads on the road as its unique and rugged design is surely not to be missed. If you want to take a look at some used Jeep Wrangler cars for sale then we have them plentiful on DesperateSeller.co.uk.