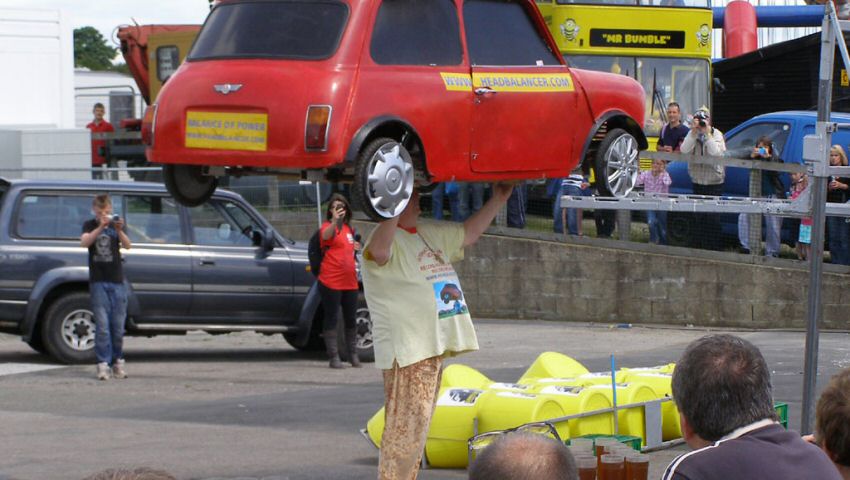 How long could you balance a car on your head?
Pretty much everyone wants to be the best in the world at something. In fact, some people want it so badly that they do things which make you question their sanity. Did you know, for example, that there's a world record for the longest distance run while holding a table with your teeth? Well, there is. And it's held by Georges Christen from Luxembourg, who (in 2008) ran 38 feet and 8 inches while carrying a 12Kg table (with a 50Kg woman sitting on it!) in his mouth. Talk about strong choppers! And were you aware that there's a world record for the largest collection of garden gnomes and pixies? Again, crazy as it sounds, there is: Ann Atkin has 2,042 gnomes and pixies scattered across her 4-acre "Gnome Reserve" in West Putford, England. It's a strange world.
And, of course, it's a strangeness that doesn't discriminate. It affects car owners just as it does anyone else. And that's the subject of this post. We thought it might be fun to list some of the odder world records set by car owners/drivers. Here are six which you might enjoy.

1. Balancing a car on your head
This one has shades of the 'holding a table in your teeth record' mentioned in our introduction - it's just as difficult and every bit as weird. True, at the time of the record attempt, the car itself had been gutted, and therefore weighed 'only' 357 pounds, but when the record was set. But it's still a pretty jaw-dropping 'achievement'. In fact, it was the third time that this man (John Evans) had broken his own record. Maybe he should get out more.

2. Longest time driving on a roundabout
Most of us know that feeling of missing a turning on a roundabout and having to go round again. Some of us may even have been round three times. But it's a safe bet that few of us have been round more than three - and certainly not hundreds of times, in one go. Well, a man called Oran Sands has – he drove around a roundabout in Carmel, Indiana, for 3 hrs, 34 minutes, 33.24 seconds, doing a total of almost 65 miles. Admittedly it's a record that wouldn't be particularly difficult to break if you wanted to. The question is: who would want to?!

3. Most consecutive parking tickets by one car
Talking of records you'd want to break, here's one you almost certainly wouldn't. A single parking ticket is enough to ruin most people's day, and getting more is no fun at all. So imagine being Jennifer Fitzgerald, who accumulated 678 tickets, totalling over $100K, at an airport car park in Chicago. Not that she was directly to blame - her angry ex-boyfriend had registered a car under her name and dumped it there without her knowing. For some reason, the vehicle never got clamped or towed.

4. Highest mileage car still on the road
This one isn't particularly weird, just downright incredible. After all, we've all heard about the engines - impressive enough - that do 300,000 or 400,000 miles before departing for car heaven, but Irvin Gordon managed to squeeze an amazing 3 MILLION miles from his 1966 Volvo P1800. True, the record was set in 2012, but his car was still on the road in 2018, when Mr Gordon sadly died. And the record still stands.

5. Most deadlifts of a Toyota Corolla
Here's a question for you: when was the last time you passed Toyota Corolla sitting idly on the kerbside, and thought to yourself, ˜You know what? I really fancy seeing how many times I could lift that!" If that's a thought you've never had, fear not – you're quite normal. Unlike (clearly!) Cliff Poore, who not only had the thought, but who managed to deadlift a Toyota Corolla twelve times. It's impressive, true, but only in the same way that being able to wiggle your earlobes is impressive.

6. Farthest distance pulling a car with a beard while on skates
If you thought some of the records above are a bit odd, we have news for you: they're each a model of sanity compared with this one. Here, we're not so much talking odd, as completely bizarre. Let's face it, it's unusual enough to try to pull a car - and to do so while on roller skates is just weird. But to pull a car on rollerskates with your beard is, frankly, beyond strange. Still, a record is a record, and a man named Kapil Gehlot holds this one – he used his beard to pull a car 226 feet. We imagine his beard was sore afterwards. If, that is, beards can get sore. One thing's for sure: we don't intend to find out.

This is just half a dozen of many more car related records, all equally strange. We hope they raised smile in these dark Coronavirus-coloured days. However, one thing which certainly isn't strange is the Desperateseller.co.uk used car section. In fact it's the perfect place to start if you're looking for great value used cars. Why not check it out right now!