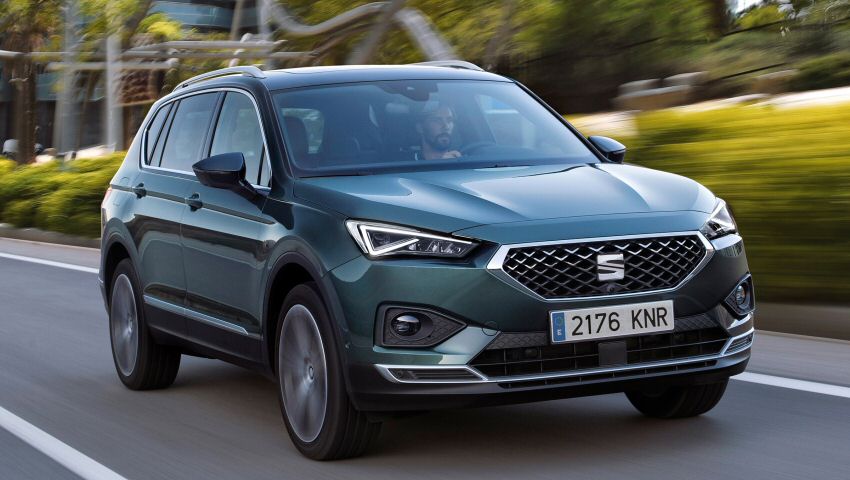 Is the 2019 SEAT Tarraco daring enough?
SEAT was once more known for producing small hatchbacks like the Leon and Ibiza but just like every other car manufacturer these days theyíve firmly leapt on the SUV bandwagon with its Arona and Ateca models. Itís proving to be a wise decision as theyíve been pretty big hits here in the UK. In fact, theyíre so popular that one in every three SEATs sold in the UK is an SUV. This is exactly why SEAT have decided to give us a new and bigger one Ė the Tarraco.
As of typing, the Tarraco is the largest SUV that SEAT plans to offer. Itís a seven-seater and is SEATís own version of the Skoda Kodiaq and the VW Tiguan. You can really see that this car is the sister to these other models by looking at our photo. Itís really only the SEAT face and the reflector strip right along the back that makes it obviously different. If you look at the middle section itís got more than a hint of the Tiguan about it. We just wish the designers at SEAT were a little bit more daring as it comes across as just a pretty standardised SUV. You only have to look at other SUVs such as the Peugeot 5008 or the Citroen C5 Aircross as examples of SUVs that are different from the crowd.

When you step inside the Tarraco youíll find a similar theme in here as thereís just nothing particularly daring in here either. It feels well-built and solid with all of the VW Group controls exactly where youíd expect to find them. So, expect to find the air conditioning exactly where it usually is and just above that you get your infotainment screen. The screen itself is bright, crisp and within easy reach even if the touch sensitive controls are a little bit difficult to use on the road. It comes with both Android Auto and Apple Car Play and can be paired with a digital display for the dials. A digital cockpit is standard on every model which we find pretty surprising. With regards to practicality thereís really good storage. The door-bins are massive and are flock-lined, again in keeping with the VW Group style. You get a good size glove box and a storage compartment in the central console too. You also get two cup holders and the usual array of power outlets and USB ports conveniently placed just in front of the gear lever. The big surprise in here is the build quality. The Arona, SEATís small SUV, has acres of scratchy plastics around its cabin. However, the Tarracoís dashboard is covered in soft plastics. The seat material is nice to touch and there are bits of fabric lining on the doors too. We especially love the material on the doors as it really helps to elevate the cabin and give it a more luxurious feel.

Sit in the back and youíll find yourself very comfortable indeed. Itís a spacious place to be with significant headroom while the leg room isnít bad either. The only issue is that the middle passenger might find themselves getting a slightly raw deal because of the transmission tunnel. Just like up front you get good storage and good size door-bins. Thereís also handy power points and popup tables with cup holders at the side Ė itís just a shame theyíre a little on the flimsy side. The Tarraco is SEATís large SUV so you also get an extra row of seats but theyíre only really suitable for kids. When these seats are down you get masses of space. Theyíre really easy to flick down and whatís even better is that you get and compartment hidden underneath the floor to store the parcel shelf. The whole setup back here is just really well thought out. Itís all very practical with its wide opening and quite low lip. This makes lifting heavy items in and out nice and easy.

Apart from a small handful of Special Edition models the Tarraco range is pretty simple to choose from. Thereís the SE, SE Technology, Xcellence and finally the Xcellence Lux trim. Every Tarraco comes with triple zone climate control, digital dials, an 8 inch touchscreen with Apple Car Play and Android Auto, metallic paint, parking sensors and LED headlights. The car we looked at for this review was the Xcellence and comes with 19 inch alloys, a reversing camera, adaptive cruise control and keyless entry.

Our car has a 1.5 litre turbo petrol engine which produces 148 brake horse power (bhp). The engine itself is the standard VW Group small petrol engine so itís generally pretty smooth and fairly punchy. You can get yourself from 0 to 60 miles per hour (mph) in just under 10 seconds. Itís a relatively quiet engine but if you do rev it high then things can get a little bit raucous. We think that if you have this car fully loaded up with seven seats and a bit of luggage then it may struggle a little bit. Itís for this reason that we think the diesel will make better sense for a lot of buyers. With regards to fuel economy expect to average around 36 miles to the gallon. However, if you were to fill the car up with added weight then this figure is really going to plummet. Whatís surprising is that the Tarraco is a very refined car. For example, if you opt for the 148 bhp 2.0 litre diesel engine youíll find it a lot less noisy than you would in the Skoda Kodiaq which uses the very same engine. There seems to be better sound absorption in the Tarraco. This isnít the only thing this car is better at than the Kodiaq. It has much better body control and somehow feels more tied down when you push it through corners. Consequently, the Kodiaq does have a slightly softer ride but even though the Tarracoís ride is firmer itís never uncomfortable. While the body control may be better in this car thereís nothing remotely sporty about the way it drives. While steering is light and a bit imprecise itís still better to drive than the Kodiaq, Volkswagen Tiguan and Peugeot 5008.

At the end of the day the Tarraco is a comfortable SUV for family duties and thereís absolutely nothing wrong with that. This pretty much sums the car up. Whilst it might be a little bit too generic for some with its VW Group DNA itís still a good family car thatís good to drive, comfortable, quiet and practical. Factor in that high level of standard equipment and a well-made interior and itís easy to see why SEAT now sells so many SUVs. If you feel that this might be the car for you then check out some of the used SEAT Tarraco cars for sale with have on DesperateSeller.co.uk.