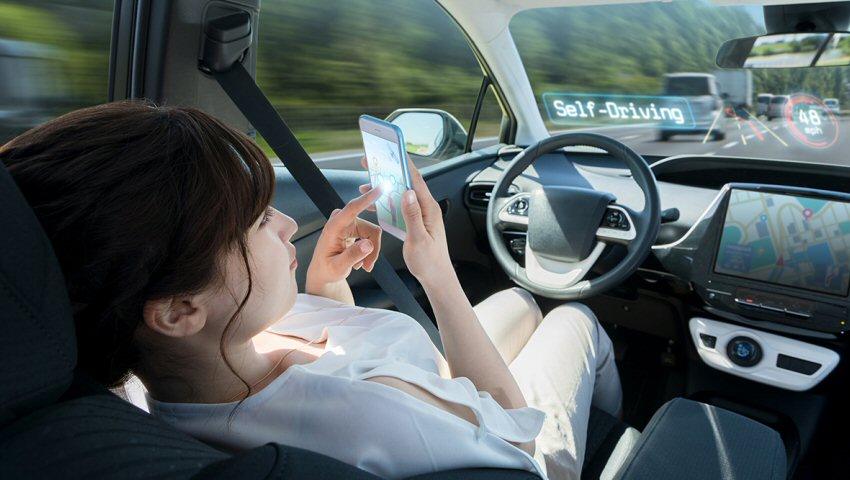 When will the future arrive?
The future, according to many leading authorities, should already be here. Take, for example, The Guardian. At the beginning of 2015, the newspaper confidently predicted that "…by 2020, you'll be a permanent back seat driver", while - just a year - later a Business Insider headline told us: "10 million self-driving cars will be on the road by 2020." These Nostradamian assertions were accompanied, at various times between 2016 and 2018, by announcements from General Motors, Toyota, and Honda that they'd be making self-driving cars by 2020. And that notable future-forger, Elon Musk, predicted that his company, Tesla would be delivering them by 2018!
But 2020 has come and (almost) gone — and self-driving cars are nowhere to be seen. In fact, fully autonomous cars are still way out of reach, except in special trial programs. True, you can buy a car that will automatically brake for you when it anticipates a collision, or one that helps keep you in your lane, but that's about the extent of autopiloting capabilities just now. Let's face it – it's hardly Knight Rider.

So: where are we at now? When, exactly, will SDCs become a reality? Well, opinions vary. Here are the views of some of the leading players in the automotive market – after all, if anyone knows, it should be them. They all say something different, but one thing seems to be certain – it's not going to be in 2020!

GM
In early 2017, Reuters reported that GM expected, by 2018, to be deploying thousands of self-driving electric cars with its ride-sharing affiliate, Lyft. However, GM didn't meet this goal, due to safety concerns. In 2019, GM's CEO, Mary Barra, said "In order to reach the level of performance and safety validation required to deploy a fully driverless service, we will be significantly increasing our testing and validation, which will carry the timing of fully driverless deployment beyond the end of the year." There is no commitment by GM to a new date for introducing SDCs.

Toyota
Historically, Toyota was among the most sceptical companies on the topic of autonomous vehicles. But, in 2015, it made a big effort to catch up, by investing $1 billion over five years in the Toyota Research Institute (TRI). This was dedicated to the development of robotics and AI technology. Has it worked? Not yet. In 2018, Gill Pratt, the CEO of the TRI, said "none of us in the automobile or IT industries are close to achieving full autonomy. We are not even close." He does believe, however, that autonomous cars will be used by ride-sharing companies "within a decade".

Renault-Nissan
In 2016, Renault-Nissan planned to release 10 different self-driving cars by 2020. But, as we know, it never happened. So where is the company at now? According to CEO, Carlos Ghosn, there's a way to go yet. "First, they'll be deployed on one-lane highways," he said, "then you're going to have multi-lane highways, and then urban driving. All of these steps have to come before we're there." Which will be when. Probably not until around 2025, thinks Ghosn.

Volvo
The Top Brass at Volvo is a tad more positive than those at Renault. Having, in 2016, entered into a $300 million joint venture with Uber to develop next-generation autonomous cars, Volvo was, by 2019, providing the physical vehicles for Uber's self-driving tests. And the companies are still working together. According to Hakan Samuelsson, Volvo's CEO, "It's our ambition to have a car that can drive fully autonomously on the highway by 2021." Sounds encouraging – but he's running out of time.

Daimler and BMW
In 2017, Daimler announced a high-profile development agreement with Bosch, one of the largest parts suppliers. The goal was to bring fully autonomous vehicles to urban areas "by the beginning of the next decade." When this failed to transpire as planned, BMW and Daimler's Mercedes got together to work on creating fully self-driving cars. Ola Källenius, Chairman of the Board at Daimler, predicted large-scale commercial production of SDCs to become a reality between 2020 and 2025.

Hyundai
Hyundai is also working on self-driving vehicles, but with a slight difference in focus to other leading manufacturers. At Hyundai, the emphasis is on affordability. In 2016, Hyundai claimed it was, "developing its own autonomous vehicle operating system, with the goal of using a lot less computing power. This will result in a low-cost platform, which can be installed in future Hyundai models the average consumer can afford." That sounds great – but the Big Question is: when can we expect these low-cost Wonder Cars? "We are targeting for the highway within a few of years, and urban driving in 2030," said a Senior Hyundai Research Engineer. So, don't hold your breath, then.

To sum up. . .
Although, in 2016, many industry leaders expected autonomous vehicles to be commonplace on highways in the early 2020s, this now seems far from likely. As the conversation around the role and realities of key technologies (AI) has become more informed, executives are rowing back on their initial predictions. This is probably because they they now understand better the difficulties in using machine learning for even the simplest of projects, let alone self-driving cars. So, when will be 'back seat drivers'? Your guess is good as ours.

We may not be able to tell you when we'll have SDCs, but we can tell you one thing for sure – if you're looking for a used car, there's no better place to start than our used car section. Whatever you're looking for, from a used Vauxhall Astra to an used Audi A8, you'll find the perfect deal!