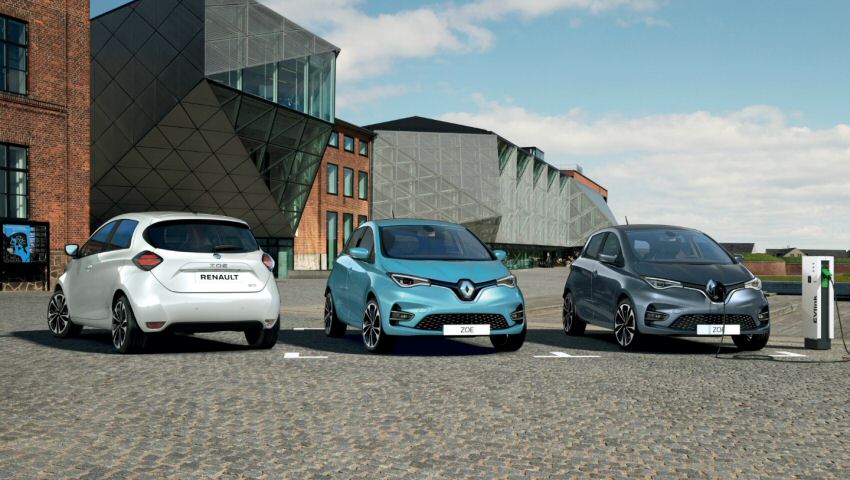 The 2020 Renault Zoe makes excellent progress
The Porsche Taycan is one of the fastest and most expensive electric cars on the market. However, in this short article weíre going to talk about a car thatís arguably as innovative though altogether more affordable - the 2020 Renault Zoe.
Since it first launched back in 2012 the Renault Zoe has been given periodic updates designed to improve its practicality, make it faster to charge and give it more range. It initially arrived offering a pitiful 130 mile range though the 2020 version, depending on spec and wheel size, can do between 238 and 245 miles on a single charge. Although the Zoe is based on the same architecture as before the revised version gets a fresh look as well as new batteries and new motors. The styling is more evolutionary than revolutionary with a gently tweaked nose, more chrome and full LED lights both at the front and rear. There are also new wheel designs and new colours to choose from too.

There are two models to choose from. Firstly, thereís the older R110 which is carried over from the previous generation car and then thereís the R135. The R135 provides you with around 135 brake horse power (bhp) and 245 newton meters of torque. This means that itís quick enough to get you from 0 to 62 miles per hour (mph) in less than 10 seconds. Naturally, the Zoe is best suited to town driving but even if you find yourself driving up and down the mountains of Sardinia youíll still find that itís perfectly quick enough. Renault says that the extra shove makes it more than 2 seconds quicker from 55 to 75 mph and you can really tell this when overtaking.

Itís range where the 2020 Renault Zoe is most improved. For such a small car it really does offer an unbeatable 245 miles of range. Renault says it will do around 150 miles in winter but up to 230 real-world miles in the summer. When you compare this to the Peugeot 208, which Peugeot themselves say will do around 205 miles, then it looks particularly impressive.

Provided you have off-road parking every Zoe owner will get a fully installed 7 kilowatt (kw) wallbox home charger. Using one of these make it extremely easy to charge the car overnight and will take around 9.5 hours. If you use a 22 kw public charge point it should top up the batteries to 100% in around 3 hours. The Zoe is now available with DC fast-charging so, from a 50 kw public charge point you should be able to charge your Zoe from 0 to 80% in around an hour and 10 minutes.

One thing we particularly like about this Zoe is its interior. You get some really cool fabric on the dash, central console and both doors and the top spec models get a 9.3 inch touchscreen. The touchscreen itself is really easy to use with lots of functionality. The touch operation is also very responsive and you can configure the system exactly how you want it. So, for example, you could have the sat nav along with media or phone information or just have the sat nav hog the entire screen. The only frustration we met was the fact that you donít get a physical volume button but you can still use the buttons behind the steering wheel.

Nothing much has changed in the back of the 2020 Zoe. So, itís still not one of the biggest superminis in its class. However, you still get three seats along the rear and the outside two chairs do get IsoFix points for kids. Thereís a small transmission tunnel down on the floor but itís not too intrusive which means you can sit three adults relatively comfortably across. There are even two charge ports for charging your phone for added practicality.

As of typing, there are currently three trims available and they all have LED lights, air conditioning and a 7 inch touchscreen with Apple Car Play and Android Auto. The Iconic is the mid-spec model and itís this version that we think will be the UKís biggest seller. Along with a choice of motors the Iconic gets climate control, wireless charging, rear parking sensors and 16 inch alloy wheels. Safety kit gets a boost too - with lane departure warning, lane keep assist and traffic sign recognition all as standard. The GT line sits at the top of the range and adds a larger 9.3 inch touchscreen, a parking camera and different upholstery.

One cool feature of this Renault Zoe is the B mode which can be accessed by a new gear-lever. It effectively works just like Nissanís E-Pedal which can be found in the Nissan Leaf. What this means is that if youíre driving along and you lift off the throttle then the car will slow automatically. It works really nicely on twisty roads and when youíre going downhill as it slows the car progressively without you ever needing to touch the brakes. Our experience with it would suggest that itís not quite as aggressive as the Nissan system or even the BMW i3. This means that around town itís perhaps not quite as easy to drive on just the one pedal.

So, what is the 2020 Renault Zoe like to drive? Well, with 135 bhp you could consider it a warm hatch. And with all of that torque available from zero revs it feels plenty quick enough on hilly roads. Itís perfectly adequate and will suit people that tend to buy these cars down to the ground. The body control is good and it doesnít actually feel like itís running on super-skinny eco tyres which was the feeling you got with the old car. However, the steering is light and while this may help with around town manoeuvring it doesnít make it all that much fun in the corners. Renault has added a load of extra sound deadening so itís actually quite a quiet and refined car on the move. Of course, being an electric car you do get a lot more background noise that you wouldnít necessarily get in a petrol or diesel car. Tyre noise is kept to a minimum and there isnít much in the way of wind noise either. All in all the Zoe does feel like quite a grown up car and a massive step on from the early cars that came out in 2012. When you consider the added range then it could realistically become your only car.

In conclusion, the 2020 Renault has improved incrementally since it launched back in 2012. However, this third generation model arguably represents the carís biggest step change to date. It dramatically trumps rivals for useable range, interior quality and outright value for money. Depending on how you buy your Zoe it could become the cheapest car youíll ever own. Take a peek at the used Renault Zoe cars for sale we have available right now on DesperateSeller.co.uk.