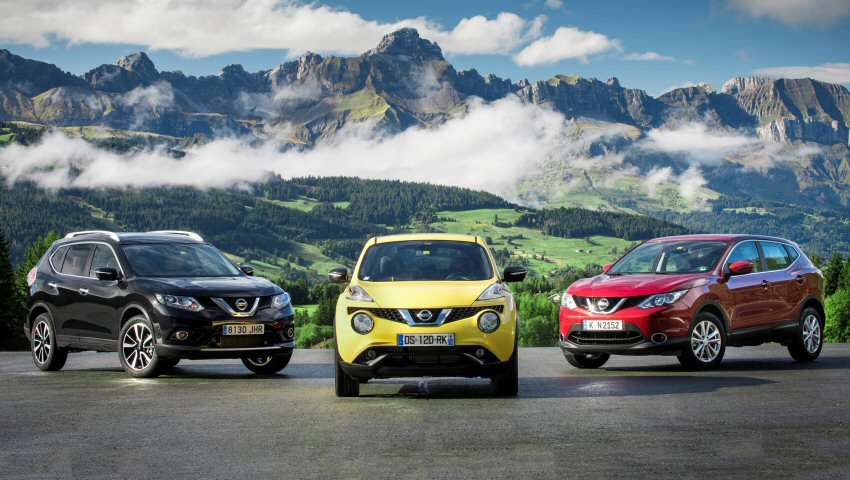 4X4 or Crossover: What's the Difference?
It's impossible to ignore that our roads, car parks and car dealerships are full of high-riding vehicles these days that we call by a few different names. Here in the UK, most people call then four-by-fours (4X4s), but it's probably more accurate to refer to them as SUVs, which stands for Sport Utility Vehicle. However, not all SUVs are created equal, and they now tend to fall into two very different camps the SUV and the crossover.
Aren't they all SUVs?
This is where it starts to get a little confusing I'm afraid. It is correct to say that all these high-riding vehicles are technically SUVs, but although crossovers and true SUVs can look the same, it's what's going on underneath that makes all the difference.

SUVs – or what we call 4X4s – have been around since the end of WW2 in the shape of the Willys Jeep and the Land Rover that was pretty much a copy of the Jeep. Crossovers are a much newer concept, and it's thought the very first example only appeared as recently as 1979.

What is a ˜proper˜ SUV?
An SUV is basically what you probably think it is, which is a high-riding vehicle equipped with four-wheel-drive so it's designed to be as capable off-road as it is on the road. What sets an SUV apart from a crossover is the platform it's built upon. Traditional SUVs use a ladder-frame chassis that's separate to the body, which is the original way of building cars that's now used mostly for pickup trucks.

Most of the time, what we think of as ˜proper˜ SUVs will be four-wheel-drive, whereas crossovers are increasingly being produced in two-wheel-drive form to keep prices down and because many of them will never be called upon to go off-road.

What's a crossover then?
Although a crossover might look like any other SUV on the outside, it's actually made in a completely different way. Crossovers are a unibody or monocoque construction, which means a single shell with panels within the body that support the car on its suspension instead of a separate ladder-frame chassis. This all results in a vehicle that drives a lot more like a car than a truck, which is what the majority of buyers prefer these days. However, the two vehicles have very different strengths.

Advantages of ladder-frame SUVs
The traditional ladder-frame construction method is cheaper to produce than the unibody design that's now so prevalent, and they're also generally cheaper to repair after an accident. True SUVs are also much better off-road, and the ladder-frame also makes them capable of towing much heavier trailers than a crossover of a similar size. You might begin to wonder why we bother with unibody crossovers at all then?

Advantages of crossovers
Despite the traditional method of building 4X4s being better suited to the job they were designed to do, few people ever use these vehicles for what they were designed for these days. Most SUVs never venture off-road, so buyers want them to drive more like a car than a truck, which is why the unibody crossover is now king.

Crossovers are also lighter and therefore more fuel-efficient, they have less ground clearance than an old-school SUV so the lower centre of gravity delivers less body roll, and the crumple zones incorporated into unibody crossovers means they can be safer for occupants in a crash.

Examples of crossovers and SUVs
Very few modern cars are now built with a separate body and frame design, and it's hard to think of many other than the BMW i3 being sold in the UK right now. It's a similar story with SUVs now too. One of the last ladder-frame SUVs in the UK was the Land Rover Defender, but even the new version of the Defender is now a monocoque design. Nowadays, only the likes of the Toyota Land Cruiser and pickups like the Nissan Navara use a ladder-frame construction.

Although a lot of 4X4 enthusiasts still swear by the old-school ladder-frame format for hardcore off-roading, crossovers are now seriously good for this too. Legendary off-road giants like the Range Rover and the Jeep Grand Cherokee are now crossovers, so the old way may soon have had its day for anything other than trucks. Find your perfect 4x4 or Crossover by heading to DesperateSeller.co.uk today.