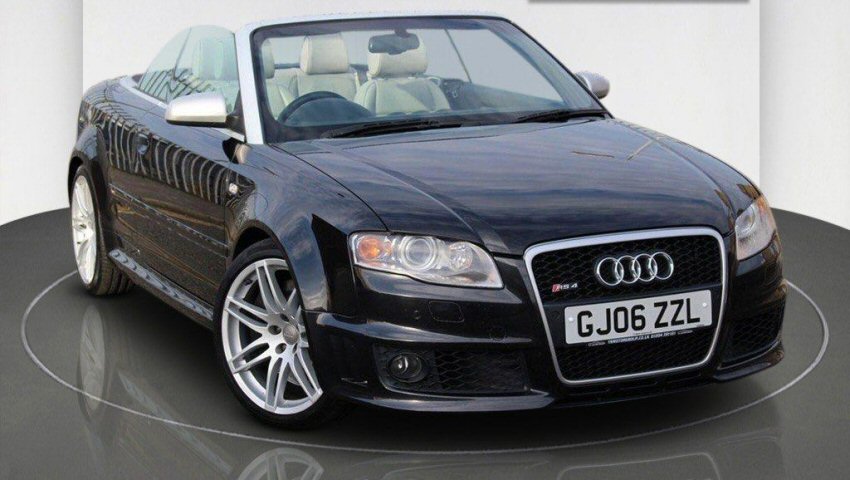 Caught in the classifieds: 2006 Audi RS4
I'll be honest in saying that I'm not the biggest fan of convertibles. I think that they lack the structural integrity of their coupe counterparts, and they usually don't look as good because they have to deal with a foldable metal roof or a soft-top made out of fabric. Having driven a few convertibles in the past couple of months though, I have to say that I'm starting to see the appeal of them. They're a completely different driving experience to anything else you can imagine because you've got access to millions of miles of open sky and the unprecedented feeling of the wind blowing in your hair.
That being said, I still think that some convertibles are better than others. Although the whole point of a convertible is to experience open-top motoring, high-performance convertibles which have a much stiffer chassis and a more powerful engine than regular convertibles are much better in my opinion. For this week's 'Caught in the classifieds' section, I'm highlighting a car which I don't particularly like in saloon variant, I especially adore in an estate version, but one which I find the convertible body type suits best.

Prices for the B7 Audi RS4 have basically bottomed out at this point. You can pick up a reasonably well-looked after RS4 for practically a seventh of what it would cost you to buy a brand new RS4 right now. That makes it one of the best value for money performance cars currently out there. If I was looking to buy a coupe, I'd definitely go for an M3. Likewise, if I was in the market for a performance estate, I'd most likely go for the C63 AMG. If, however, I was to buy a performance convertible today, I'd go for the RS4 for without hesitation.

This particular example I've managed to find on our site is a 2006 example with 84,000 miles on the clock. Considering most cars of similar age have well over 100,000 miles, there's still plenty of life left in this car. With regular maintenance, the RS4, especially the B7 generation, is an incredibly stout and reliable platform. As the world is increasingly turning to electric cars, performance cars such as the RS4 might even go up in price in the years to come.

Exterior
Even if you're not the biggest fan of Audis in general, you have to agree that they know how to design a car which looks great. Audi's design is always aggressive and sharp, making their cars stand out from the likes of BMW and Mercedes. Visual appeal and brand image have always been a crucial component of Audi and their marketing department. The B7 RS4 is no exception to that rule.

You can tell it's an RS4 from most angles because of its distinct features. At the front, you've got a completely different bumper from the regular A4, with much larger air openings and a bigger grille surrounded by a chrome shroud. The headlights are different too, featuring projectors inside and xenons.

From the side, the first thing you notice are the side skirts and those gorgeous Audi RS4 bespoke wheels. At the back, the Audi RS4 keeps things nice and simple without overstating its performance but discretely showing off its true intentions. It has two rather large exhaust outlets mounted inside a diffuser like element, but it doesn't have any silly wings or unnecessary fake vents and shrouds (I'm looking at you modern Audi RS cars).

Interior
Inside, the RS4 is identical to a regular Audi A4 convertible, but it does have a few special features. Apart from RS badging everywhere, it has a slightly different instrument cluster and different seats (along with a different wheel). The driving position is amazing because the seats are superbly comfortable and supportive, but do note that rear legroom and headroom are abysmal. Unless you move the front seats uncomfortably forward, rear seating should be reserved for children or really short adults.

On the plus side, you do get a rather large boot, making this an ideal weekend getaway car and the perfect summer road trip vehicle. The RS4 eats up the miles with ease, and thanks to modern features such as air conditioning and radio (which can be modernized to have an AUX cable), you get out of the RS4 feeling just as relaxed and fresh as when you first got in it.

Performance
The Audi RS4 is powered by a 4.2-litre naturally aspirated V8 which produces 420 horsepower and 317 lb-ft of torque. This means it'll sprint to 62 mph in 4.8 seconds and it'll hit 124 mph in just 16.5 seconds. The top speed is electronically limited to 155 mph, but most Audi owners know that the actual governing speed limit is somewhere around 168 mph. Power is sent to all four wheels through a six-speed manual transmission using Audi's Quattro AWD system, but most of the time it sends its power to the front wheels for better efficiency.

The best part about the Audi RS4 is the noise it makes. That glorious V8 has a red line of 8,000 RPM but the actual rev limiter kicks in at 8,250 RPM. Because it doesn't have a ton of torque low down, you actually have to rev it and use the entire range, resulting in an intoxicating noise which could easily get you in trouble if you're not careful.

Model: Audi RS4
Trim: Manual Convertible
Mileage: 84,000
Price: £12,990
Rating: 8.5 out of 10

Why buy one?
The Audi RS4 is an excellent car in any variant, but I find that the convertible suits it best. I'm a massive fan of estate cars, so given the choice, I'd still go for the Avant, but I can see the appeal of an RS4 convertible. They're fun, great looking, and provide an excellent motoring experience. If the big V8 didn't drink as much fuel as it does, I'd even say it makes for an awesome daily driver.