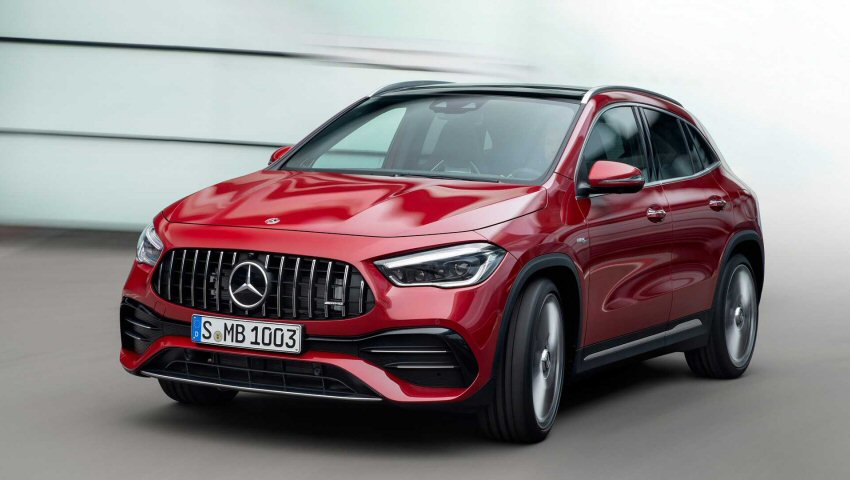 A short and sharp review on the 2020 Mercedes Benz GLA
What you're looking at in our picture is the smallest and cheapest SUV that Mercedes Benz produce. It's the 2020 GLA and it's been designed to rival cars such as the Audi Q2, BMW X2 and the Volvo XC40. In this short article we're going to tell you how it fares.
Interior
We'll start with the interior. We'd have to say because the GLA is based on the same platform as the Mercedes Benz A Class the cabin design is very pretty much the same albeit with a higher driving position. The upshot is a high-tech environment culminated by two infotainment screens that can be up to 10.52 inches across. The MB-UX infotainment software is a vast improvement over what came in the old GLA and can be easily customised. Meanwhile, the build quality looks good on the surface but can feel cheap in places.

Rear seat space is decent in the GLA as long as you don't opt for the panoramic sunroof. The boot space measures up at 495 litres with the rear seats up and 1430 litres with them down which is around about average for this type of car. Sliding rear seats with a 40/20 split are also available.

Driving
The GLA is available with a number of different engine choices. This includes 1.3 litre turbo-charged petrols and 2.0 litre diesels with a plugin hybrid variant also on the way. The latter delivers up to 36 miles of pure electric range with charging times coming in at less than two hours from a dedicated wall box. Car buyers that want more performance from a GLA should take a look at the 35 and 45 S AMG variants. The punchiest of these delivers 416 brake horse power (bhp) and a 4.3 second 0 to 62 miles per hour time.

The handling in the GLA is certainly not as sharp as the drive you'd experience in a BMW X2 but it's nevertheless respectable. The comfort levels in the GLA are an improvement over the previous car even with larger wheels fitted.

Various drive modes allow you to change how the car behaves on the road but these are most effective on performance AMG models.

Overall the GLA is a welcome step up over its predecessor and offers buyers and SUV alternative to the popular A Class hatchback. It's not as practical or sharp to drive as some of its rivals but the impressive comfort, tech and engine range are reason enough to buy one. If you're on the lookout for one then be sure to check out the used Mercedes Benz GLA cars for sale we have available right now on the DesperateSeller.co.uk website.