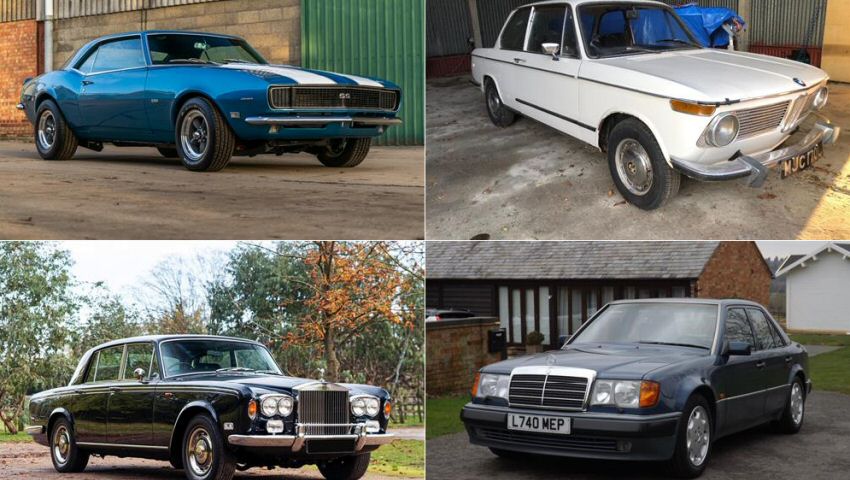 Virtual Car Sale Goes Ahead with Celebrity Specials
On Saturday 28th March, Classic Car Auctions are going to be holding their first-ever virtual car sale. There will be all sorts of classic cars going under the hammer on the day, but a number that have been owned by celebrities are sure to draw the most attention.
One of the cars is coming directly from legendary funny man Rowan Atkinson, and it's a 1993 Mercedes-Benz 500E that's being offered with no reserve. This will be the fourth of these Atkinson has owned and sold, and this one is a particularly fine example in Nautic Blue with leather upholstery.

Atkinson says of his car, ˜I've never seen another in blue. I have owned four different 500Es over the years and this colour scheme is, to me, by far the most attractive.˜

If a mid-nineties Mercedes isn't your style, how about 1972 BMW 1602 that has been owned twice by Jamiroquai frontman Jay Kay instead? Jay bought the car with 22,000 miles on the clock as his first car to learn to drive in. While touring and writing he covered around 30k miles in the car before selling it to a bandmate. Around ten years ago he bought the car back intending to restore it but never got around to it, so now it's going up for sale without reserve.

Another lot that isn't coming directly from Jay, but was previously owned by him, is a 1976 Rolls-Royce Silver Shadow that's thought to have features in one of Jay's music videos in the past.

I'm saving the best of the quartet until last though, and the highlight for me is a simply stunning 1968 Chevrolet Camaro SS that has been rebuilt, refurbished and upgraded by TV car-buyer Mike Brewer.

To get the car to its current stunning Les Mans Blue condition, Mike has spent around £40,000. This extremely rare 410bhp muscle car is very reasonably guided at between £50,000 and £60,000, and it has to be one of the best examples of a genuine American muscle car legend in the UK right now.

If I had the money, you'd have to fight me for that one, and even in these uncertain times, I wouldn't be surprised to see the Camaro go for a little more than the high estimate.

There's no getting away from the fact the country being put into lockdown in the battle against the coronavirus is going to hurt the car industry almost as much as any business. Like restaurants and cafes adapting to the new reality by going takeaway or delivery-only, or companies like JCB looking at switching to production of ventilators instead of earthmovers, car dealers are going to have to adapt too.

You may already have seen a move to more car dealing being done entirely online, and that's only going to get more prevalent. While buying a brand new car entirely online isn't too great a risk, and I've done it myself on two of the last three occasions, buying used cars online is going to be harder for people to get used to.

Classic Car Auctions Manager, Gary Dunne, says of the sale, ˜These are very tough times for everyone and we are delighted that these cars are being offered in our virtual sale. The trust our vendors have placed in us as we have developed our sale over the last seven days is amazing.˜

The sale kicks off online on Saturday 28th March at 10am, so get your wallets out guys!