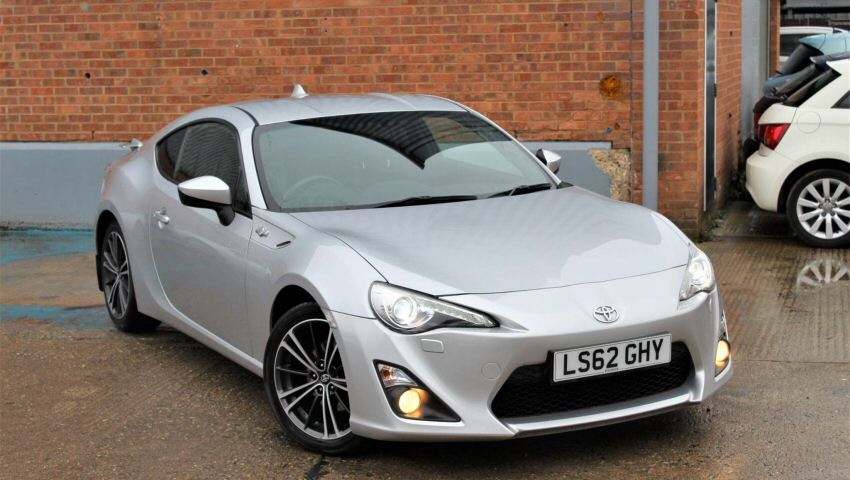 Caught in the classifieds: 2012 Toyota GT86 20 D-4S
In this weekís ďCaught In The ClassifiedsĒ we spotted a stunning 2012 Toyota GT86 on sale for under &pound10k. Itís done under 65k miles and had two owners from new. It has a plethora of features such as rear parking sensors, front heated seats, USB connectivity and electric folding mirrors. Here's why its worth a look.


If youíre at all familiar with the sport of drifting or motorsports in general, youíve probably heard of the Toyota AE86. Introduced as a lightweight hatchback in the early 1980s, it had one crucial feature which made it a lot more special than contemporary hatchbacks of the time: it was rear-wheel driven. Toyotaís concept of making a lightweight car with just enough power to be fun was revolutionary at the time. The car was praised massively by petrolheads and journalists the world over, but after just a few years Toyota decided to pull the plug.

In 2012, they decided the world was ready for a new lightweight, affordable sportscar, so they gave us the GT86. Although it wasnít as well-received as the original AE86, the GT86 showcased just how fun an affordable sportscar can be. Itís won numerous awards throughout the years, including Top Gearís infamous Car of the Year in 2012. Jeremy Clarkson once famously stated that the new GT86 is one of the best cars heís ever driven.

Exterior
Visually, the GT86 is what youíd call a striking car. Itís not too aggressive like a Ferrari F12 is, but itís not understated either. People know itís a sportscar from the moment they lay their eyes on it. It looks special and exotic, even if itís practically the same price as a Ford Mondeo.

The front fascia is unique to the GT86, as Toyota hasnít tried to copy any of its other models. The nose is low and sharp, with a long, sweeping bonnet, backed up by stylish headlights with 3-inch projectors and HIDs. It legitimately makes you turn around and stare every time you park it, which is the mark of a great car.

The rear end is arguably not as good-looking, but itís still a great piece of design. The lower bumper houses two exhaust pipes and a small diffuser section in the middle. The spoiler mounted on the boot isnít too in-your-face, but it does compliment the carís sporty character. Most people criticize the lights for being boy-racer-ish, but if you donít like them, thereís always plenty of aftermarket solutions to fix that issue.

Interior
The cabin is where the GT86 disappoints a lot of people, but if you come in expecting an S-Class experience, or even a Porsche Cayman for that matter, youíre not going to enjoy it. The GT86ís cabin is spartan and relatively feature-free, but this isnít a big luxury GT car. Itís a lightweight sportscar design to be as fun as possible, and in that regard, Toyota has definitely hit the nail on the head when it comes to the driving experience.

The seats are wonderfully supportive and comfortable, but the second row is best reserved for small kids or bags full of groceries. The seating position is amazing because you can get the seat to sit almost flush with the floor. The steering wheel is devoid of any buttons but itís the perfect size and shape, especially for spirited driving on a twisty B-road. The dashboard sits nice and high, giving you this wonderful feeling that youíre isolated in the cabin, almost like youíre in a fighter jet.

Are the materials a little rough around the edges? Yes, definitely, but thatís to be expected. This is still a lovely place to spend time in because you have the necessities such as a radio and A/C. I doubt some cheap plastics are going to spoil your driving experience, especially when this thing feels like it was built to last. There are a few squeaks and rattles here and there, but overall, the build quality is up to the usual Toyota standards.

Engine and Performance
When it comes to performance, the GT86 disappoints on paper, but raw numbers only tell half the story. The 2.0-liter Boxer four-cylinder is naturally-aspirated, and as such, it develops just 197 bhp and 151 lb-ft of torque. That last figure is particularly underwhelming, given that a diesel Focus develops 100 lb-ft of torque more. The sprint to 60 takes 6 seconds and itíll top out at 145 mph. Nothing to write home about then, but hereís where things get interesting.

Because you donít have a lot of torque, you really have to rev it out and work for the power. The engine is eager to rev and the six-speed manual is a joy to use. You can have it with an auto, but why would you? This car was built with a manual in mind, you can sense that from the moment you set off. The best thing is that itís very difficult to get into trouble with a GT86. Because you can enjoy it at relatively normal speeds, you can have fun without breaking the speed limit every two seconds like you would in a Porsche or a Ferrari.

The chassis is brilliant too. It doesnít have a lot of understeer, but even though itís only got 197 bhp, because the rear tires are so narrow, you can genuinely drive it on the throttle. If you bury the loud pedal on corner exit, the rear will squirm around and step out, but only enough to let you have fun and not hurt yourself. It feels super predictable and enjoyable, so much so that Iíd say itís as fun as a Cayman if not more.

If you turn the systems off you can get the rear wheels to spin in second gear, but that works best if the tarmac is wet or itís snowing outside. The GT86 isnít a hooligan by nature, but it loves to be driven hard. If you like rear-wheel-driven cars with uncorrupted steering and an enjoyable chassis, this is right up there.

Model: Toyota GT86
Year 2012
Trim: 2.0 Standard D-4S
Mileage: 65k
Target price: £9,500 - £11,500
Rating: 9.5 out of 10

Why you should consider one
In the GT86, you constantly find yourself grinning from ear to ear because the car is just so enjoyable. You donít care that youíre not as fast as most BMWs and Audis, because youíre having twice the fun they are. To me, thatís what a driverís car is all about. This car wonít compliment you as a driver like other cars would, but itís a car that will teach you how to be a better driver every time you get in it. At the price used Toyota GT86 cars for sale are going for these days, you really wonít find a better sportscar proposition on the market.
View the car here: 2012 Toyota Gt86 - £9,450