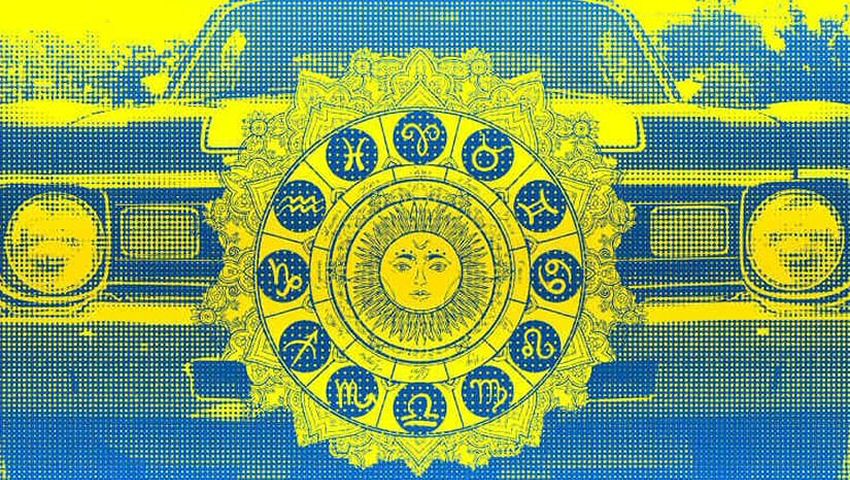 Carstrology
Astrology. You know what it is, of course. It's the study of the relationship between heavenly bodies and events on Earth. It can be traced back as far as the Babylonian empire in the 4th century BCE, and has been practiced, in one form or another, ever since. Today, it has a mixed reception. Some consider it the very last word in predictive science others, at the opposite end of the spectrum, think it's a good example of the Barnum Effect in psychology, more technically known as 'cognitive bias'. This is the tendency of people to believe that broad and vague generalisations apply specifically to them. If you're at this end of the spectrum, you basically think astrology is 100% hokum.
Well, wherever you stand on the issue, you probably won't be all that surprised to learn that there's a form of the subject called Auto Astrology – the influence a person's star sign has on their choice of car. So, just for fun, we thought we'd look at it here. You might enjoy seeing whether your own car choice, and those of your friends and family, are accurately framed by Auto Astrology – or whether it's light years off the mark.

Aries
Aries is all about being a pioneer. Setting the pace. Aries (Arians?) love to be ahead of the pack, and want the latest models. Because Mars, the war god, is their ruler, they go for force and speed, and put power before style - forget practicality! Their favourite colour is red, and they often choose feisty SUVs, like the Ford Edge.

Taurus
Taurus is the ultimate in practicality, so they go for something practical yet comfy. Taureans like the tried and true, and prefer classic styles rather than flashy new models. When you see sedate saloons of the likes of those made by Volvo, Volkswagen and good old Ford – think Mondeo, of course!

Gemini
Geminis are all about fun, fashion and flash they get bored easily. If you're a Gemini, you prefer your car to look sleek, and you'll go for a smaller, faster model over some clunking brute of a vehicle. Geminis also love colour, and can be relied upon to pick wild and wacky hues such a chartreuse VW Beetle, for example.

Cancer
Security-oriented and traditional – that's Cancer. They're likely to go for a car that fits in with their neighbours, rather than one that stands out from the crowd. They also – like their Taurean cousins, like comfort and want something that cuddles them as they drive. For a Cancer, the Volvo XC90 or Lexus GS 300 is a good choice.

Leo
As they're lions, Leos demands the very best in everything they own – especially their car. They love cars which scream "Look at me!" But, while style is important to them, so is colour – shades which reflect wealth and status, such as deep burgundy and rich golds appeal to them. Basically, Leos wouldn't be caught dead in a car that was not up to their idea of class.

Virgo
Virgos are interested in class and style, too – but their concept of class is different from that of Leos. Virgos want their vehicle to be refined and understated like a BMW 3 Series. But Virgos are also thrifty and utilitarian, so wouldn't object to a good-looking truck or van if they need it for their work.

Libra
Librans are all about culture. Venus, the goddess of love, is their ruler, so they can literally fall in love with a new car. But they demand grace from their vehicle, both interior and exterior. They refuse to own anything ugly, far less an important possession like a car. But Librans also want a balance between luxury and practicality - an Audi TT would be a great choice.

Scorpio
We're talking power here. Scorpios demand a vehicle that oozes wealth and control. But they're not gauche – they want to be noticed, but they prefer subtlety and understatement to a heavy-handed, 'look at me' approach. That's why they almost always go for black or darker colours.

Sagittarius
Sagittarians are travellers: born with a rucksack on their back, always ready to leave at a moment's notice! For these half-horses (the centaur is their symbol), style is less important than functionality, so they'll opt for a vehicle sturdy enough to handle rugged terrain, and spacious enough to carry all their gear. SUVs, like the Subaru Outback or Jeep Liberty, appeal to them.

Capricorn
Capricorns are natural bosses, and important-looking, yet understated cars. A Merc, for example, or top-of-the-range Audi. For Capricorns, design is important, but it must fulfil a purpose, and not just be for whimsy or show-off reasons. As to colour, your Capricorn prefer sober hue – you'll never see them driving around in a hot pink Kia!

Aquarius
Find an Aquarian, and you'll find someone fascinated by cutting-edge and futuristic machines - it's a fair bet that more Aquarians own an EV than any other star sign. And the shinier the better – if they could buy a car made from crystal, they would! And Aquarians love being known for having unusual stuff – if you see a neon-glow VW Bug with a strange looking antenna on the roof, you'll know what star sign is at the wheel.

Pisces
Ah, Pisces. The most romantic and spiritual of all the star signs! They also love to be creative and artistic, so will spend their last penny to get a good sound system for their car, and are the ones most likely to be seen with crystals, feathers and dream catchers hanging from their rear-view mirror. Famous Aquarians include Elizabeth Taylor, Jon Bon Jovi, Drew Barrymore and Queen Latifah.

At Desperateseller.co.uk, we're Car-pricorn. You may not have heard of it, but Carpricornians pride themselves on offering great value and choice. And we live up to our star sign, as you can see from our used cars section!