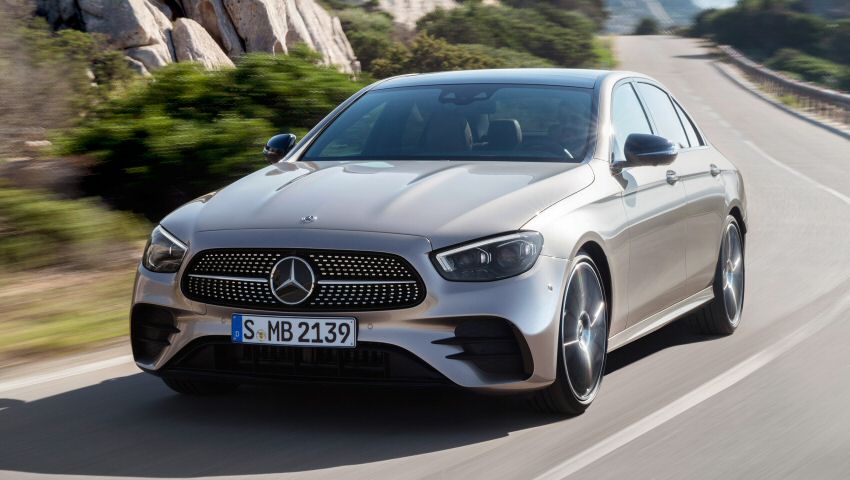 A few things to know about the 2020 Mercedes Benz E Class
The new facelifted Mercedes Benz E Class has now been revealed in saloon, estate, coupe and cabriolet forms. Here's a few things you need to know.
The fifth generation model has been given a recent facelift with revised styling, new electrified engines and more technology inside. If you didn't already know, the E Class is a rival to other executive cars such as the Audi A6 and the BMW 5 Series. This generation of E Class was launched back in 2016 but the styling changes for this facelift are pretty subtle across all models. You can see some slight changes to the front and rear lights, bumpers and the grille. There are also some new paint colours to choose from too. There's also some new alloy wheels designs some of which are said to have a more aerodynamic focus in mind to help fuel efficiency. The cabriolet and coupe versions still have their usual three-door, four-seat designs while the cabriolet retains its fabric folding top. All in all the changes are pretty minor on the outside.

Inside there's no great leap away from what there's been before. There's no more analogue dials so everything is digital. As standard the E Class now comes with two 10.25 inch screens for the MB-UX infotainment and the digital driver display. You can upgrade the sizes of the screens to 12.3 inches as an option. Mercedes have gotten rid of the rotary dial to help control the infotainment system and replaced it with a touchpad instead. This only reinforces our belief that BMW's iDrive infotainment system, with its own rotary dial, will continue to be the class leader for tech. There's new steering wheel designs offered in three varieties and is something that will be introduced across Mercedes' entire line-up. The E Class's seats have also become pretty smart as well. If you tell the car your height then the driver's seats will actually morph around you to a position that should be close to ideal leaving you to only make minimal final adjustments. There have been other tech tweaks too. This updated E Class is much better at recognising your hands on the wheel when you're using adaptive cruise control with lane keeping assistance. Previously drivers needed to make steering inputs to keep the system happy and let it know that you were still holding the wheel. However, now sensors in the wheel detect even the slightest of touches. Mercedes is also offering options geared specifically towards security under the name of Urban Guard. The new system can send notifications to your smart phone if the car is moved, if it detects a break-in attempt or if it is knocked while it's parked up. It can even tell you which area of the car was hit and how hard.

Car buyers wanting to go green now have more options than ever with both mild hybrid and plug-in hybrid options available. Alongside these units you get conventional petrol and diesel engines. The mild hybrid petrol option for example can coast using a small amount of electric power to save fuel while the plug-in hybrids can officially travel for around 34 miles on electric power alone. Four-wheel-drive will be available on some versions too.

The Mercedes AMG E53 has also been revealed with the hot version of the revamped E Class available in all body styles. It gains more aggressive styling though its power source is unchanged so it still gets its 420 brake horse power (bhp) mild hybrid 3.0 litre twin turbo petrol engine from before. The new version of the four-wheel-drive performance car features a bolder bespoke AMG grille, revamped lights and a restyled aerodynamic diffuser along with two exhausts. Inside the E53 also gets its own steering wheel design which is finished in a choice of different fabrics. The MB-UX software features some AMG-only display options. There are a few exciting packs you can add to it too which will give you a Race mode and also a Drift mode. These were things you could only have on 8-cylinder AMG models.

The refreshed E Class saloon and Estate versions are due to go on sale in the UK soon with the coupe and cabriolet following later this year. Pricing and specifications are yet to be confirmed as time of typing. However, a small rise over the current starting price of £38,550 is expected. If your budget can't quite stretch then be sure to check out the cracking deals we have on used Mercedes Benz E Class cars for sale on the DesperateSeller.co.uk website right now.