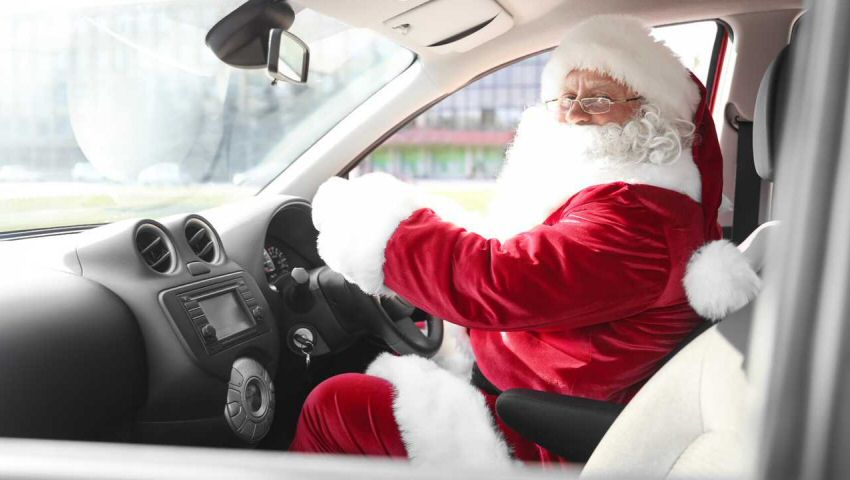 Christmas Car-ackers
A man walks into a parts store and says to the service assistant: "I'd like a pair of wiper blades for my Kia." The assistant pauses for a moment and says: "Okay, it sounds like a fair trade."
OK, so it's an old joke. But a good one – it always makes us, here at Desperateseller.co.uk, smile. And, as it's Christmas, smiling is a great thing to be doing. That's why we're devoting this post to the mission of making you laugh, even if only slightly. Below are a few car-related jokes which, we hope, will put a smile on your face. You may have heard some - perhaps even all - of them before, but they're the very best that our long period (almost 15 minutes!) of Internet research could come up with, so we hope you'll enjoy reading them one more time.

Duck truck
A policeman pulls over an old man in an open-backed truck which is choc-full of ducks. The officer says, "Sir, it's dangerous to be driving this amount of ducks around – please take them to the zoo immediately." The old man agrees to do so and drives off. The next day, the officer sees the same man in the same truck - still full of ducks, only this time they're wearing sunglasses. The officer pulls him over again and says: "You said you would take these ducks to the zoo!" "I did," replies the old man, "but now the little buggers want to go to the beach!"

Strange excuse
A man buys a sports car and is really beginning to enjoy it when he sees flashing lights in the rear view mirror. He guns the engine and hits 100mph within seconds. Then, realising he's acting stupidly, he slows down and pulls over. The cop pulls up behind him, gets out of the police car, and comes up to his window. "What were you thinking, taking off like that?" he says. "Well," said the man, after a few seconds, "a few years ago, a policeman ran off with my wife." The policeman looked puzzled. "What does that have to do with anything?" he asked. "I thought you were bringing her back."

Grooooan
So there's this snail, and he's really tired of being slow, so he goes to the nearest Renault dealer and buys a car. He asks the dealership to paint a big red S on the side (for Snail). From then on, when people saw him speeding by, they would exclaim, "Wow! Look at that S-car-go!"

Giving directions
A woman was walking down the street when a lorry driver pulled up alongside her and said, "Excuse me, I'm looking for the accident site involving a van carrying a load of cutlery." "No problem," said the woman, "just carry on down this road about a mile, and when you get to a fork in the road you're there."

Warning: politically incorrect. But funny.
One day a blonde comes up to a man's door and asks him if he has any odd jobs. The man says, "Sure - I'll give you £50 to paint the porch at the back of the house." So the blonde goes to work and, after 30 minutes, she comes back, and tells the man she's finished. "Wow, that was fast," the man says. "Yes," says the blonde' "I know. And, by the way, that's not a porch. It's a Ferrari."

Mistaken identity
Jim was driving down a country lane, when he met a car coming the other way, quite fast and driven by a woman. As the other car passed, Jim wound down his window and shouted 'cow!' The woman responded by giving Jim a V-sign. Then her car hit the cow.

What a knit!
While on routine motorway patrol, a policewoman passed another car doing 60mph. She glanced to her left, and was astonished to see a woman knitting instead of holding the wheel. The policewoman switched on her lights and siren but the other driver didn't seem to notice. Finally, by gesturing wildly, the policewoman caught the woman's attention and got her to wind down the window. "Pull over!" the policewoman shouted at the other driver. "Pull over?" she shouted back. "No, silly - it's a SCARF!"

Just a little misunderstanding
A man was driving his car down the motorway when his mobile rang. Putting it on hands-free, he heard his wife's frantic voice. "Please be careful. I just heard on the news that a car is going the wrong way down the M1!" "It's not just the one," he shouted back, "it's hundreds of them!"

And that's it. Joke, as they say, over. But remember, there's one thing that's definitely not a joke – our great range of used cars. In fact, they're seriously good value! Why not have a browse. But, just before you do, we'd like to take this opportunity to say - thanks for reading, and HAPPY CHRISTMAS!