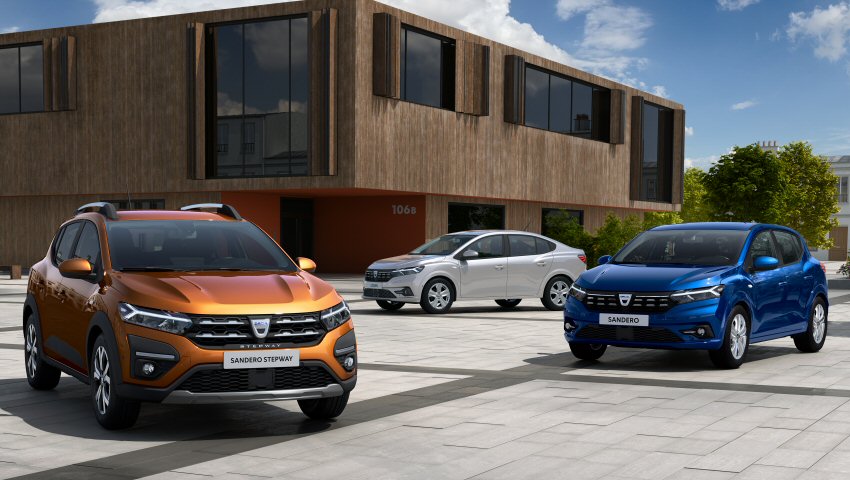 Dacia Unveils All-New Line Up
Dacia has just unveiled all-new versions of its Sandero, Sandero Stepway and Logan models, and this is a pretty big deal for the manufacturer of some of the most affordable models in the UK market.
It wasn't all that long ago when the cheapest new car brands were often the butt of jokes, but those days are certainly behind us. Things probably started to change when Skoda was bought out by Volkswagen. It no longer seemed appropriate to say the essential option for a Skoda was a heated rear window to keep your hands warm while you were pushing it in the snow.

As far as Dacia is concerned, the last few people who may have laughed at them for their ludicrously low recommended retail prices soon stopped laughing when they started winning all sorts of industry awards for quality as well as value for money.

Building on success
The UK public has taken to Dacia in a way it never used to embrace budget brands a decade or so ago. We could probably compile some sort of thesis on the economy and how it's changed our attitude towards a manufacturer like Dacia in recent years, but it would probably be easier to just say they build really good vehicles and sell them at incredibly low prices.

It also sounds like a bold move for a budget manufacturer to unveil three new models all at once, but the Dacia Logan and Stepway are really just variations on the Sandero theme. Even so, you only have to take a quick glance at the new designs to know these new versions of the three popular Dacia models are going to be a big hit with UK buyers, and further cement the company's growing reputation.

Styling
If you're not aware, the Sandero is a five-door compact hatchback, the Sandero Stepway is a crossover, and the Logan is basically the Sandero with a boot. It's blatantly obvious all three vehicles are just variations on the same theme, but it has to be said the new look is hard to criticise. The three new Dacias look modern, stylish and attractive, with front fascias that are particularly impressive and make these new models look as though they'd be considerably more expensive than they really are.

Although we now know what the all-new Sandero, Sandero Stepway and Logan look like, we'll have to wait until the end of the month before we get full details of what to expect from these intriguing new models from Dacia. It will be interesting to see if there are new powertrains and new features included in the standard specifications. And of course, the prices will be the first thing many observers will look for to see if there's any evidence of ˜mission creep˜ in that all-important direction for Dacia.

The brand
Since it first came to our attention in 2005, the rise and rise of the Dacia brand has been pretty remarkable. In 15 years Dacia has gone from being a fledgling brand with a single model in its range to a company with a staggering 6.5million customers and counting. If you have any doubts about claims of the company's success in that time, you only need pointing to the fact the Dacia Sandero has actually been the best-selling new car in Europe since 2017.

Of course, all this success could come crashing down around Dacia's ears if the new models are revealed to have significantly increased prices to go with the new look when full details are released on September 29th but that doesn't seem likely as Dacia really does appear to know exactly what it's doing and it's definitely doing it right.