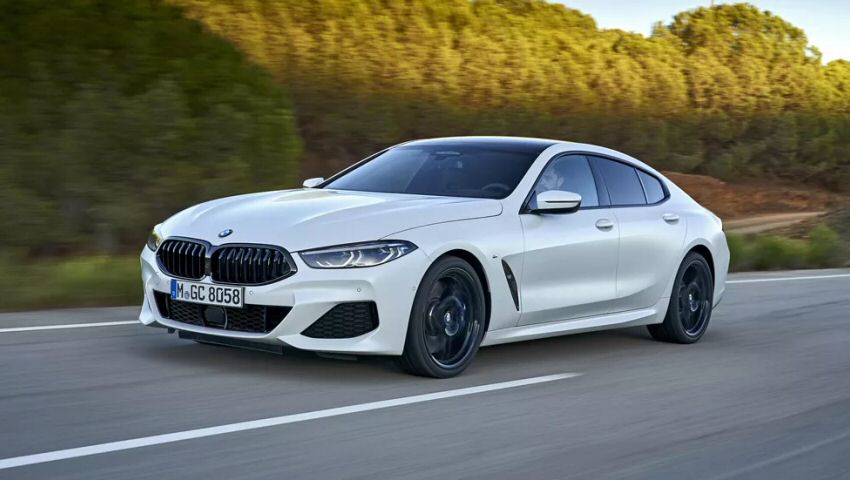 The 2020 BMW 8 Series Gran Coupe is the finest yet
The stunning car in the photo is the seriously good looking 2020 BMW 8 Series Gran Coupe. What we're going to do in this short article is to see if its glamorous appeal is as good as its glamorous styling.
Rather than get bogged down as to whether the 8 Series Gran Coupe is indeed a coupe at all we think the biggest talking point is the sheer size of this thing. There's no doubt that this is an absolutely enormous car. In fact it's a full 23cm longer than the regular 2-door 8 Series Coupe and that's already a very big car. It's about the same length, or if we're being picky 2cm shorter, as BMW's flagship 7 Series. Not only this but it has the widest track of any BMW currently on sale. So, it's pretty safe to say that it's not a car for nervous parkers. What we have with this car isn't just a larger and more practical version of the 8 Series Coupe but a more handsome alternative to the 7 Series. We're not just talking a little more handsome either we're talking far more handsome. You only have to take a look at how the latest 7 Series looks it's hard to argue this fact.

If you were to only concentrate on the rear of this car then you may question whether it's an 8 Series at all. Although, at the front from the front pillar onwards it's exactly the same as the 8 Series Coupe. Therefore, you won't be at all surprised that the view from the driver's seat is also the same. This is a very good thing indeed as the interior inside this car is simply gorgeous. You only have to look at the infotainment and gear selectors which ooze so much quality that they look like ornaments. It's no secret that BMW do very good interiors but the quality and design in this Gran Coupe surpasses anything they've done before and is simply outstanding. The trim levels on the 8 Series Gran Coupe start with M-Sport so you get leather seats, leather on the dashboard, electrically adjustable seats, four zone climate control and a heads up display. Unfortunately, we still aren't quite convinced that the digital dial display is as uncluttered as it should be but BMW's infotainment system, with its 10.25 inch screen, continues to be amongst the best in the business. As part of the infotainment system you also get BMW's Intelligent Personal Assistant which is designed to respond to your every whim.

The reason why BMW stretched this car out so much and gave it a much longer wheelbase is in order to create more room in the back while making it a lot easier to access. It's certainly not as spacious as the BMW 7 Series but you won't be short on space. The roof at the rear is higher than in the 8 Series Coupe but because of the elegant sloping roof it does eat into your head room slightly. Saying that the rear seats are slightly angled which minimises the impact this has. You'll also feel very cocooned in the back of the 8 Series. It really does have the feel of a coupe about it, albeit one with extra doors. BMW say this car has a 4+1 seating layout which means you can use the middle seat if it's needed. The only problem is that it's not particularly comfortable and you have a massive transmission tunnel to straddle if you want to have your legs either side of it. We'd say it's more for occasional use but useful to have anyway. You get an extra 20 litres of boot space in the Gran Coupe than you get in the 2-door version. In fact, with its 440 litre luggage capacity the 8 Series Gran Coupe can easily carry three sets of golf clubs in the boot. The ability to fold the seats in a 40/20/20 split means you can also transport longer loads if needed.

It's on the move that you'll really start to fall in love with the 8 Series Gran Coupe. This is because this is a car which is so well balanced. It's got the perfect blend of GT and sports car. In fact, you could describe it as a stiffer Rolls Royce. It's cocooned and refined so you never really feel as though you're in a rush yet if you need to be then you can put your foot down and the car responds brilliantly.

Then engine line-up consists of the 840i and 840d which are both six cylinder petrol and diesel engines. There's also a twin-turbo V8 badged the 850i and finally a M8 Gran Coupe which sits at the very top of the range. The car we tested was the 840i which is essentially the entry-level model. However, we'd have to say that there's nothing entry-like about its performance. It goes from 0 to 62 miles per hour (mph) in just 5.2 seconds! If you select Sport mode then it will stiffen the suspension further and instruct the gearbox to hold on to the ratios for just a little bit longer to give a real sense of urgency to its performance. With 340 brake horse power (bhp), 369 pound foot of torque and six cylinders this turbocharged engine has the performance and the soundtrack to truly entertain. Also, its dual character is amazing. You get smooth and effortless one minute and then urgent and exciting the next.

Most Gran Coupes have all-wheel-drive but the 840i is also available with just rear wheel drive. It handles brilliantly despite it being 170 kilos heavier than then 2-door Coupe. This is because BMW has tuned this car so that it still feels agile when you want it to. There's no getting around that fact that this is a very heavy car so you can't throw it around with abandonment. However, if you're smooth with the controls and you're on a wide flowing road then this car really is a pleasure to drive. Just as in the 8 Series Coupe the steering is well weighed but lacks that little bit of feel.

If you're seriously considering buying the 8 Series Gran Coupe then we'd recommend you take a test drive in a Porsche Panamera which is another fine 4-door GT/Sports car. In terms of BMW's current portfolio of luxury saloons and SUVs the BMW 8 Series Gran Coupe is probably the finest. If you like what you've read then take a look at the used BMW 8 series cars for sale we have on DesperateSeller.co.uk.