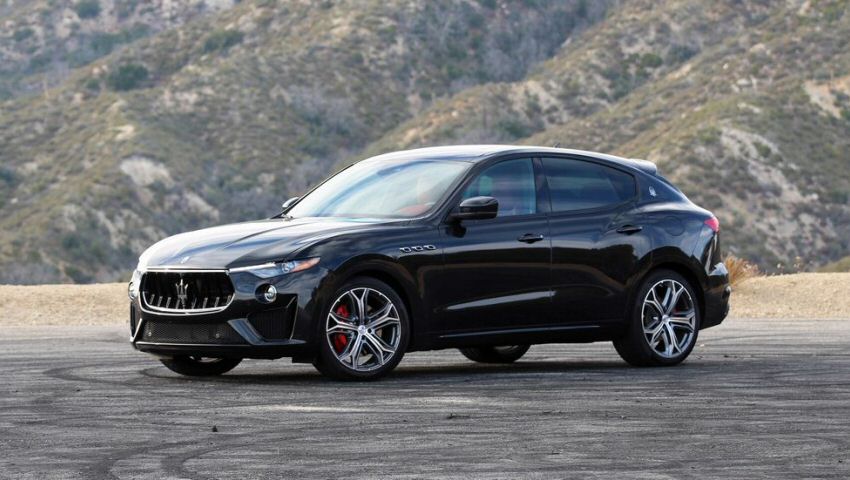 The 2019 Maserati Levante
Maserati joined the prestigious SUV market a couple of years back with the Levante and it has to be said that they did a pretty good job with it too. However, there were a few quibbles not least the fact that it wasnít all that engaging to drive and the engines wouldnít exactly set your world on fire. So, Maserati seems to have taken any criticism on board and stuck a huge V8 unit into it. However, is this enough to appease the critics?
The new V8 powers two versions of the Levante. First thereís the GTS and then thereís the Trofeo. As well as having a bucket load of power under the bonnet the suspension has been retuned, which will hopefully make it more responsive, and fun to drive. There have also been some visual upgrades too. The GTS has had its bodywork beefed up a bit while the Trofeo goes even further by adding carbon fibre parts and massive 22 inch alloy wheels.

Step inside and youíll find both carbon fibre and leather all over the place. There are also sports seats that are designed to keep you firmly in place if things get a little enthusiastic. Unfortunately, theyíre not quite as huggy as they look. Some of the materials used in here are really nice. You can also choose from a variety of lovely soft leathers or interesting carbon fibre weaves. However, some of the plastics do let it down a bit. When youíre spending such a significant amount of money on a car you donít expect the buttons to move around in their seats. Overall though itís still very nice and premium in here.

Both cars are Levanteís for the driving enthusiast but ultimately they are still family SUVs. Therefore, they still need to be able to do family SUV things such as ferrying your children and being able to carry a decent amount of shopping. It also needs to do all of this while being comfortable for both drivers and passengers. Practicality-wise this car isnít bad at all. Thereís decent space for two adults in the back though youíll need to forget about using the middle seats as thereís no legroom at all. The boot is ok too and should carry those family essentials or a very satisfying days shopping. There are cup holders and cubby holes and so on to keep odds and sods so it will do the school run or the trip to see the grandparents with no trouble at all.

Maserati has positioned itself as a manufacturer of grand tourers. Itís true that its heritage started way back in the day with pure motorsport but these days it wants to create cars that you can cross continents in and not just hard-core sports cars. Because of this a hard-core Levante has to tread quite a fine line. It has to be able to give you that hard-core adrenaline run but it also has to be comfortable and practical. Weíre very pleased to say that Maserati has pretty much nailed this. Even on rough roads the balance of sharp handling and a comfortable ride is really good. Even in Sport mode with the suspension all stiffened up itís really pliable and soaks up cracked and rutted roads really nicely. The handling is really impressive, in Sports mode the steering weights up nicely and the throttle sharpens to give you a car thatís really engaging when you hit the right road. The Levante feels really composed and solid through bends. The drive is biased towards the rear wheels which have a limited slip differential on them. However, the fronts can get involved too if theyíre needed which basically means you get lots of grip and traction. If we were being negative then this car maybe lacks that final edge of sharpness that you get in a Porsche Cayenne but it makes up for this with a glorious soundtrack which promotes a somewhat thick and rasping trumpety sound from the exhaust. Itís great in the GTS but even better in the Trofeo if you select Corsa mode which is exclusive to the Trofeo.

Both Levantes have a 3.8 litre twin-turbocharged V8 engine under the bonnet. In the GTS itís got 530 brake horse power (bhp) and most of the time this feels like a very decent amount. That said, if you floor it going up a steep hill youíll suddenly realise that the Levante is rather heavy. If you part with some more of your hard earned cash then the Trofeo models gives you 580 bhp and a few extra toys including Corsa mode and launch control. This extra power lowers the 0-62 miles per hour (mpg) time from 4.3 seconds to 4.1 seconds. 95% of the time itís very difficult to notice any difference between the driving experience you get in the GTS and the one you get in the Trofeo. The real differences only comes if you get the opportunity to push both cars to their limits. Both versions of the V8 Levante get an 8-speed automatic gearbox which is nice and fast on the upshifts. While thereís a short delay on the downshifts you soon get used to it and it doesnít get in the way of your enjoyment.

So, why would you want to buy Maseratiís fast SUVs rather than one of its rivals? Well, the GTS is around the same price as the Porsche Cayenne Turbo and itís hard to tell without driving them back-to-back which is the best. However, we suspect that the German car is slightly more technically capable and is definitely better well-made inside. However, the Porsche just doesnít have the exclusivity or romance of the Maserati brand. Also, if youíre into your exhaust noise then the Levante wins this battle here as well. The Trofeo is considerably more expensive than the Cayenne but itís cheaper than some other luxury SUVs such as the Bentley Bentayga. While itís not a million miles ahead of other SUVs it does add a layer of performance and prestige. Ultimately, what car you end up buying will very much depend on your priorities. However, whatever luxury SUV you go for just make sure you check out the Levante V8s before you make your purchase. Check out the used Maserati Levante cars for sale we have available on DesperateSeller.co.uk as a great starting point.