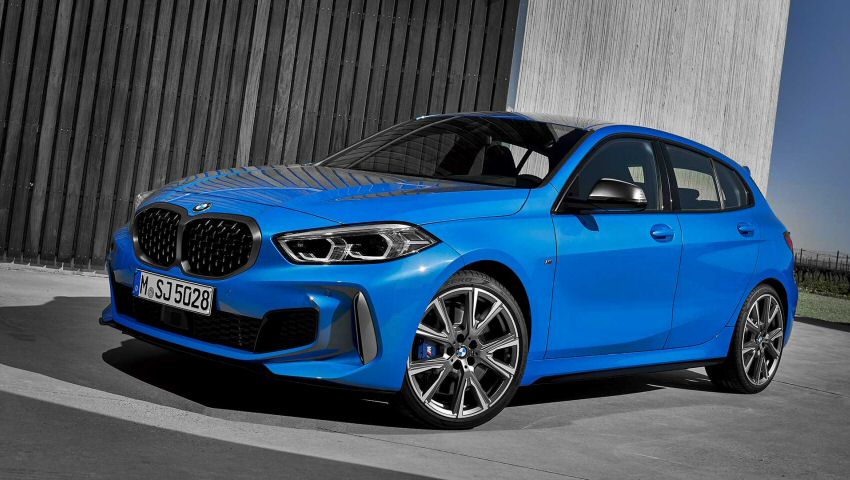 All new 2020 BMW 1 Series - Worth the risk?
When a car manufacturer discovers a winning formula that has helped establish one of their cars becoming arguably the best small premium hatchbacks on the market itís always going to be a risk when it needs to be refreshed. Itís an even bigger risk when you decide to completely change the car from top to bottom. This is exactly the risk BMW have taken with the 2020 BMW 1 Series. Not only has BMW created an entirely new 1 Series but theyíve even got rid of the much beloved rear-wheel-drive setup. It therefore has to be askedÖ.was the risk worth it?
Just by looking at our photo you can appreciate that this article has quite a bit to get through. Ignoring the massive grille, and instead focussing on the carís proportions, itís roughly the same as the outgoing 1 Series though slightly wider and taller. The bonnet is a little bit shorter due to the fact that the engine is now transversely mounted. For those of you that donít know, a transverse engine is an engine thatís mounted in a way so that its crankshaft axis is perpendicular to the direction of travel Ė now you know. The overall stance of the 1 Series can be described as squat which is particularly the case with the M Sport pictured in our photo. This is mainly because it has 10 millimetre lower suspension and whopping great 19 inch alloy wheels.

One of the main reasons BMW have made their 1 Series front-wheel-drive is to free up some boot space. Itís now very much comparable to a Volkswagen Golf with its impressive 380 litres on offer. It also has an excellent folding floor which you can simply move out of the way to give you even more space. Itís no surprise to find that the rear seats split and fold but whatís really good is that when you do fold them down thereís only a small loading lip to negotiate when youíre loading in your shopping. For the first time the 1 Series can also be ordered with a power tailgate which is extremely useful. Itís not just the boot thatís grown in the 1 Series. BMW say that the new platform gives passengers an extra 3.5 centimetres of legroom. Youíll definitely believe this when you sit in the back as it feels much roomier than the old car.

If youíre buying a BMW expecting a premium feel then then 1 Series does not disappoint you just have to look at the quality and layout of the dashboard. Itís quite easy to see that it gets the majority of its inspiration from its older brother the BMW 3 Series. It does feel more compact up front than the 3 Series but itís far from cramped. As youíd expect from BMW the driving position is excellent and even if itís not to your immediate liking then youíll find that thereís plenty of adjustment in the seat and steering wheel. Unfortunately, weíre still not 100% convinced by BMWís digital dial display. The ones found in the Audi A3 and the Mercedes Benz A Class are much more configurable. We have no such criticisms of the infotainment system though. As standard you get a slightly smaller screen but the car we tested was fitted with the larger Live Cockpit Professional system which is part of the Tech 2 package. You can control the system via touch, gesture or BMWís iDrive buttons down by the transmission. It also comes with BMWís Personal Assistant which allows you to control some of the carís systems such as the heating controls. All of the buttons and controls have a real quality feel to them as does everything else in here Ė itís what youíd expect from a BMW. As for storage itís really good. You get a couple of cup holders, a good size glovebox, storage under the central armrest and large enough doorbins. It has to be said that sitting in the 1 Series is not as striking as when you sit in the Mercedes Benz A Class with its dual screen itís nevertheless a cut above everything else in its class.

The car we tested gives the appearance of a hot hatch but itís actually the entry-level 118i. Itís about as far from the flagship 2.0 litre turbo M135i as you can get. Itís a 3-cylinder 1.5 litre petrol which is super quiet, smooth, responsive and surprisingly brisk. Itís only really when you want to go from 60 miles per hour (mph) to 70 mph that youíll find yourself craving more power. That aside itís a fantastic setup for motorway driving. BMWís official stats say that this engine produces 138 brake horse power (bhp) and 160 pound foot of torque. This may not sound like loads but itís enough to get the 118 from 0-62 mph in 8.5 seconds. You can get the 1 Series with an automatic gearbox but the car we drove was fitted with a 6-speed manual. It has a very direct shift and a clear biting point on the clutch making it really intuitive to drive. Considering this car is on 19inch alloy wheels the ride is actually pretty good. If you opt for smaller rims and BMWís adaptive suspension then itís even better. For this you can thank the tireless work BMW have put into getting the suspension of this new 1 Series just right. A good example of all of this is the use of a multi-link setup on the rear instead of a torsion bar. BMW say that this improves the sophistication of the ride and improves the handling because it makes the car stiffer. Whilst some competitors will do this on more expensive versions of their cars BMW have decided to fit it to every single one of their 1 Series models. At the same time BMW has forgone a variable ratio steering rack in favour of a quicker constant ratio system. This has all been done in order to make the 1 Series as great to drive as it can possibly be. This really is a satisfying car to drive. It steers well, thereís plenty of grip and somehow it always feels keen. The only thing you donít get is that wonderful balance that really only comes with having rear-wheel-drive and even though the car we drove was the lowest powered 1 Series you still get occasions where the front wheels are trying to place the power down on the road.

Overall, the BMW 1 Series is a really polished car and arguably better to drive than its competitors. However, in terms of pure driver appeal it just doesnít quite stand out when compared to its predecessor. Itís precisely this thatís the calculated risk that BMW have taken with this car. BMWís own research has shown that most 1 Series drivers didnít even know that their car was actually rear-wheel-drive. This then begs the question as to whether itís all that important particularly when the firmís desire is to optimise the packaging. When looking through the lens itís no surprise that BMW have made this latest version front-wheel-drive. Given its heritage of building driver-focussed cars itís probably also not a surprise that in terms of dynamics this is probably the best front-wheel-drive a family car can be. It may have lost a little of its individuality but in ways that matter to most car buyers BMWís risk looks to have paid off. Interested? Then take a look at the used BMW 1 Series cars for sale we have available on DesperateSeller.co.uk.