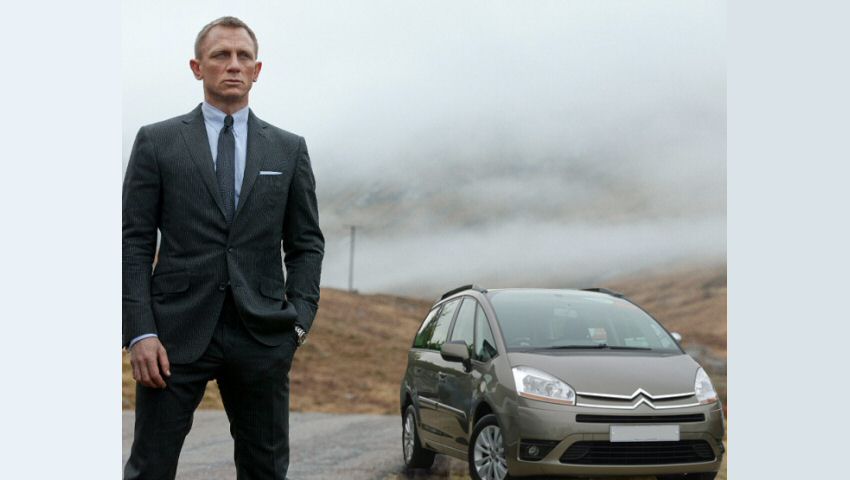 Could 007 drive a Citroen C4 Grand Picasso?
Do you love literature? Here at Desperateseller.co.uk, we certainly do, although – call us sad – we must admit to preferring our fiction to feature a car or two. In fact, we've just finished reading 'Christine', Stephen King's super-scary story of a car (a 1958 Plymouth Fury) apparently possessed by supernatural forces. If you haven't read it (or seen the movie) we definitely recommend it!
But it made us think: how many other novels are there in which a car plays a central – or, at least, important - role? There turns out to be lots - which isn't surprising, really. After all, cars make very effective plot and character development devices. Imagine, for example, James Bond stepping out of, say, a Citroen C4 Grand Picasso, rather than an Aston Martin. His character would take on a very different form, no?

In fact, the usefulness of vehicles as a status symbol has been realised for many years, even from before the arrival of the motorised vehicle. Take Charlotte Brontë's Jane Eyre, for instance: after deciding to find a bride, Rochester (the owner of the estate where Jane works as a tutor) wants to be seen as a man with money. How does he do it? He decides to buy a (for the time) swish and sporty carriage. Seeking Jane's help in choosing one, he says: "You must see the carriage, Jane, and tell me if you don't think it will suit Mrs. Rochester exactly."

But the role of the car in storytelling goes beyond acting as a signal to character type. It can be integral to narrative development, too. In fact, some academics, such as Dr. Paul Ryder have described automobiles as 'narrative engines' that not only define characters but also '…foreshadow events and reinforce themes.' Thus, when cars crash, or are destroyed, in novels, other aspects of the storyline crash alongside it. One of the first modern (motor) cars to feature in American literature was (in 1908) the classic Ford Model T in Kenneth Grahame's The Wind in the Willows. Since then, cars have been a constant presence in literature across the world.

Here are our top 5 books (excluding 'Christine', mentioned above) which feature cars in a big way.

The Great Gatsby (F. Scott Fitzgerald)
In this classic novel, we see a character captivated by love and extravagance, following a life of parties and euphoria, destruction and downfalls. True, the book doesn't focus on Gatsby's car (a 1928 Rolls Royce Tourer), but it plays as essential role as a symbol of conspicuous consumption the epitome of excess and showiness. If you haven't read it, put it on your bucket list!

On The Road (Jack Kerouac)
In this cult classic that shaped literature in a number of ways, Kerouac's characters drive across the USA on a journey of self-discovery. The cars used, such as a 1949 Hudson Commodore, are perfect for defining the mood of the post-war Beat and Counterculture generations, with its protagonists living life against a backdrop of jazz, poetry, and drug use. Brilliantly evocative of the period!

Chitty Chitty Bang Bang (Ian Fleming)
OK, so it's kids' stuff. But this novel, featuring a magical, crime-fighting car that takes a family on adventure after adventure, is incredibly imaginative and fun. Fleming (better known for his James Bond books) took his inspiration from a series of racing cars built by Count Louis Zborowski in the 1920s, featuring aero-engines called "Chitty Bang Bang". In Fleming's book, Chitty Chitty Bang Bang is a souped-up Paragon Panther.

The Number of the Beast (Robert A. Heinlein)
This sci-fi novel published in 1980 follows a group of four friends as they travel through six-dimensional spacetime in their souped-up modified air car Gay Deceiver. Equipped with the 'continua' device, which allows travel into various fictional universes, such as the Land of Oz, the group have some pretty weird experiences. In fact the whole book is pretty weird. It's also pretty wonderful.

Casino Royale (Ian Fleming)
We offer no apologies for listing two Fleming books. After all, how could we leave out a character who has become pretty much synonymous with Aston Martin - so much so that the tyres created especially for the new DB11 are designated 'S007'. However, the first Bond novel, published in 1953, saw 007 tooling around in a 1931 Bentley 4.5 Litre Blower, which was known as one of the finest and fastest cars of its day. In fact, it wasn't until 1959's Goldfinger that 007 began driving an Aston Martin – this was after a fan wrote a letter to Fleming begging him to "have the decency to fix him up with a decent bit of machinery". The rest, as they say, is history.

There's no doubt about it – cars in books can be useful and fun. Burt they're even more useful and fun in real life – and we've got lots of them. Why not pop over to our used cars section and browse through our great deals!