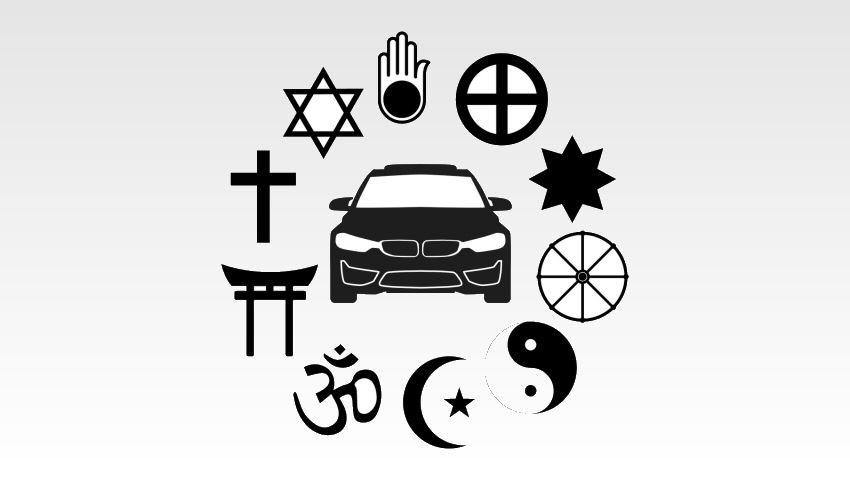 Are cars really a religion?
The other day, while paying for some goods in a local store, we overheard a snippet of conversation between a man and a woman.
It went something like this:

Man: So your husbandís serious about cars then?
Woman: Serious! Iíll say. Cars are literally a religion to him.
Man: Literally a religion? Wow.
Woman: Well, OK, so not literally. Cars canít actually be a religion, can they? But you know what I mean. Letís just say he worships them.

And thatís all we heard. But it made us think. Was she right? Is it true that cars canít be a religion? Now, letís be clear: at Desperateseller.co.uk we donít consider ourselves to be experts on theology. Cars, yes. Theology, no. And we wouldnít be comfortable trying to define what actually constitutes a religion. Thatís a tricky job. All the same, though, it struck us that there is at least a good case to be made for the contention that cars are actually an unofficial religion. Consider, for example some of the parallels between the world of the automobile and the world of religious faith.

Automotive apostles
Just like the deities of conventional religion, cars have passionate followers. They may be advocates of Audi, disciples of Daimler, missionaries of Mercedes, or a devotee of any other brand, but they are all blinded by the light of that incredible invention we call a car.

The link of leadership
All religions have influential leaders who guide, instruct, and inspire their flock, helping to interpret the scriptures and give worshippers direction and instruction. The automotive world, too, has its fair share of iconic and inspirational figures, such as racing drivers, who display their skills and preach wisdom so that other can emulate them, and thus feel closer to the focus of their worship.

The common factor of commandments
Just as in the world of religion, car worshippers have lots of things they must, and must not, do. For example, they must never race a car without adding performance upgrades first. They must also honour their neighbourís car, and never touch it unless permitted. Another well-known car commandment is that you should always keep it clean and in good repair.

The moving power of music
Most people accept that religion has produced some of the most stirring, soul-piercing music ever heard. Itís music that has an emotional impact, even if you donít know the words. Itís not unlike a chorus of revving four, six, eight, or twelve-cylinder engines Ė sounds which somehow boosts the frame of mind and pacifies the souls of car lovers everywhere.

The beauty of books
All religions have holy texts, and all devotees read them for guidance and reassurance. The world of cars has a wide range of similarly powerful texts, ranging from workshop manuals and online forums to magazines and new-vehicle spec sheets. Car lovers read all these to gain fulfilment from an enriched knowledge and understanding of the car.

The wonders of worship
Togetherness and socialising are also important parts of religions across the world. They bring like-minded people together, and create a bond between strangers with different backgrounds. Car meets do a very similar thing, bringing together people with a shared purpose, allowing them to share stories, showcase their latest car modifications and appreciate those of other enthusiasts. The result is a kinship which helps people encourage and support each other.

So. Was the lady in the shop right or wrong? Are cars a religion? Even if we havenít convinced you (and weíre not convinced ourselves, to tell the truth), itís worth popping over to our used cars section Ė weíll be surprised if you canít find something worth worshipping, especially at our great prices!