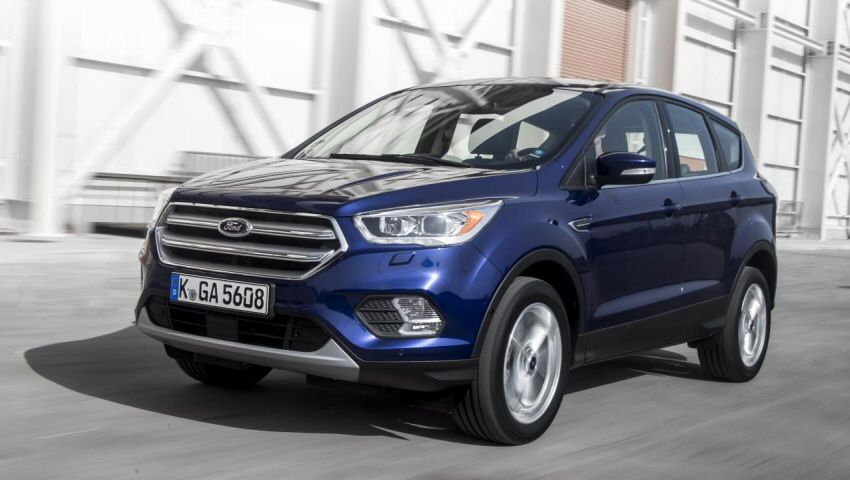 The 2019 Ford Kuga is still a well rounded crossover
The car in our photo is the 2019 Ford Kuga and is currently the manufacturerís mid-sized crossover. With the 2020 revised model around the corner it still remains a stylish, practical and appealing crossover but it this still enough for it to cut the mustard next to newer opposition thatís available in what is a booming crossover market?
When the original Kuga debuted way back in 2008 even Ford probably couldnít have predicted just how successful it would become. Fast forward more than a decade and the Kuga is now Fordís best-selling model in the UK, just behind the Ford Focus and Fiesta. Itís also the second most popular crossover after the hugely impressive Nissan Qashqai with sales showing no signs of slowing. The latest update of the Kuga ushered in revised styling and incorporated a much larger grille. You also got a sporty ST Line trim which now makes up a large proportion of overall sales. It also saw more efficient engines brought in, in particular a frugal 1.5 litre diesel engine.

The larger front grille, a new range of alloy wheels and LED daytime running lights as standard all helped to give the Kuga increased presence on the road ensuring it didnít go unnoticed. If youíre particularly keen on making your Kuga look even more stylish then we would recommend choosing the ST Line trim. With its glossy black styling, body kit and 18 inch alloys wheels it really does help add some additional flair to the model.

Take a step inside the Kuga and youíre immediately greeted by and airy and spacious cabin. This is mainly due to the large windows that let in plenty of light. The layout itself has a few more buttons than youíll find in newer rivals but it still features a clear and ergonomic design and so everything is easy to locate. Ford also revised the interior to incorporate more soft-touch plastics while the leather wrapped steering wheels and gear stick came fitted as standard. The updated 8 inch touchscreen and Sync3 infotainment system now allows for even further connectivity. Highlights of this connectivity include a more advanced voice control recognition system alongside Apple Car Play and Android Auto smartphone connectivity.

Take a seat in the back and youíll soon see why itís one of the most spacious cars in its class. Thereís not only plenty of head and leg room but thereís also ample space for two child seats too. Itís the same story with the boot as itís also a fantastic size for a crossover. With 5 seats in place it boasts a 456 litre load capacity but dropping the rear seats increases this even further to an impressive 1653 litres. The Titanium X and Vignale models also boast a hands-free electric boot which we feel is worth adding as an optional extra anyway.

Ford is known for producing some of the best driving cars in its class. You only have to take a look at both the Ford Fiesta and Focus for good examples of this. The great thing is that this excellent trait also continues with the Kuga. Ok, itís not as sharp behind the wheel as the Focus even though it shares the underpinnings. However, this is because Ford instead decided to tailor the Kuga around comfort rather than outright agility. Providing you stay well away from the 19 inch alloy wheels the ride remains comfortable and does a great job of absorbing potholes and bumps along the road. Despite the steering lacking in feel the Kuga really does deserve high praise for its minimal body-roll through the corners like you experience in many of its rivals. Due to the fact that the ST Line model is primarily focussed around its sportier styling this version features a slightly firmer setup and sharper steering which helps to improve the experience behind the wheel.

The Kuga is offered with a broad choice of engines for both petrol and diesel buyers. First thereís the entry level 1.5 litre EcoBoost petrol engine which produced 118 brake horse power (bhp). Then thereís a very efficient 118 bhp 1.5 litre diesel which was a new powerplant for this facelifted version. Across the range most engines come as standard with a 6-speed manual gearbox while a 6-speed automatic transmission is available as an optional extra on most engines, other than the more powerful units where it comes fitted as standard. Itís worth noting that the Kuga is also available with either front or all-wheel drive.

The Zetec model comes with 17 inch alloy wheels, air conditioning, DAB radio and keyless start and is therefore not short of standard kit. Other equipment grades available include the Titanium Edition, Titanium X Edition, ST Line, ST Line Edition and the flagship Vignale model. Itís only when you reach the top level trims that the Kuga can start to feel a little too expensive to what you get especially when compared to rivals. Therefore, we would recommend that the mid-spec Titanium Edition and ST Line versions are the best options.

Even though the 2019 Kuga is starting to show its age in certain areas it remains an appealing, stylish and affordable compact SUV. Thereís no doubt that itís clearly doing something right for buyers given its proven track record when it comes to sales. If youíre looking for a well-rounded crossover that will be cheap to run and very spacious for the family then the Kuga is a model you should definitely consider. If you want to take a look at used Ford Kuga cars for sale then head to DesperateSeller.co.uk where we have one of the largest selections available. Look out for our review on the 2020 Ford Kuga!