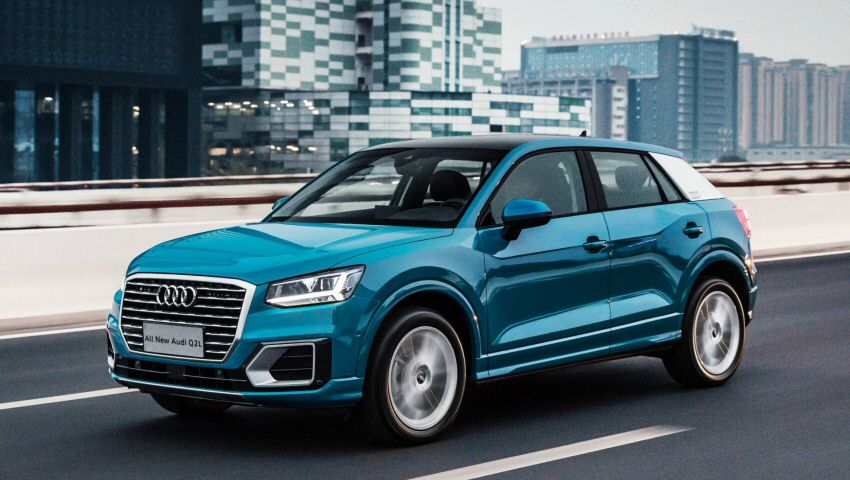 The 2019 Audi Q2 is not without merit
The Q2 is something of a gateway car for Audi. For them itís a great way of getting younger customers into its network. Eventually theyíll look to sell them a Q5, if they decide to have kids, or an A7 if they decide they want to become golfers (or whatever it is that A7 drivers do).
Audi are looking to offer buyers the dream combination of value for money and arguably the most fashionable of all body styles Ė a hatchback with SUV styling. However, we have to ask the question, is this actually a dream combination? If you take away the massive wheel arch gap then the Q2ís bodywork looks pretty much close to a standard hatchback. Also, no matter how much Audi tells us how much of a challenge it was to design this car, weíre just not that convinced that the Q2 is a particularly good looking car. Itís also not a particularly cheap car with brand new ones tapping on the shoulder of £30k. It therefore begs the questionÖat this price range, why not just get an Audi Q3?

The engine range in the Q2 is pretty easy to navigate thatís once youíve decoded Audiís notorious badging structure. The 30 and 35 TFSi petrol and TDi diesel engines offer 116 brake horse power (bhp) or 150 bhp. Then thereís the 40 TFSi which has 190 bhp and the SQ2 with 300bhp. Thereís a mix of 6-speed manual and 7-speed DSG gearboxes to choose from plus Quattro All Wheel Drive on the more powerful versions. The trim line up is super simple with SE, Sport, S Line and finally the Black Edition.

The car weíre using for this review is Audiís cheapest SUV and you do sort of get a feel for this as soon as you step in. All you have to do is listen to the way the doors close and you can feel the inferior level of quality compared to Audiís other SUVs. Saying that this car is still an Audi and so while there are some cheaper scratchy plastics on the door and lower dash there are some much nicer quality-feel materials up top. As youíd expect with an Audi everything feels nicely nailed down and all of the buttons and switches are incredibly satisfying to use. The infotainment screen that sits neatly in the middle of the dash gives the impression that it will magically fold away - but doesnít. The screen in our test car is fitted with the optional larger screen and comes complete with its intuitive menus and crisp graphics. Our car is also fitted with the optional Virtual Cockpit which is simply fantastic. With regards to practicality, you get some pretty capacious door bins and space under the central armrest with a place to charge your phone. Models without the optional climate control style get a rather retro looking panel that houses some dials which are again nice to use. The seats in the Q2 are nothing to shout about but they are quite comfortable and nicely trimmed. The only downside to them is that thereís no extendable thigh-pad which is a little annoying if youíve got longer legs.

You may have noticed a theme running through this review in that thereís quite a lot to pay extra for. The issue here is that you wouldnít have pay for any of this if you just went ahead and bought a Q3. Speaking of the Q3 itís quite a lot bigger in the back than the Q2. Not only do you not get quite as much head space in the Q2 but there hardly any leg room at all. With regards to practicality in the back, just like up front you do get spacious door bins. You also get little plastic tunnels to help you locate the ISOFix points. Itís just a shame that thereís no central armrest. Sitting in the back will probably be ok for two adults on a fairly short journey but we wouldnít recommend trying to get anyone to sit in the middle as itís just awful. Whatís even more annoying is the big seat pillar which makes opening your door a bit of a guessing game because you just canít see around it. Somewhere that the Audi Q2 does trump the Q3 is around at the boot as it has a bigger size. It has 405 or 1050 litres of space with the seats up or down. You can also choose between ultimate space or a flat load bay by simply moving the floor shelf.

Three things you need to know before buying the Audi Q2
1. The Q2 is based on the Audi A3 Sportback and sits between this and the Q3 in terms of size.
2. Style is the biggest difference between trims. Thereís a 3 inch variation in wheels size between the base model and the most expensive version.
3. The SQ2 model offers performance and traction to rival and Audi S3 or VW Golf R but with the added benefit of a raised driving position.

Unfortunately, Iím not the Audi Q2ís target market because I donít live in the city, Iím not very young and a high driving position isnít exactly a high priority for me. However, if I take all of this away then I have to say that I find this car utterly inoffensive to drive. This is especially so if you opt for the 1.0 litre petrol engine which has more than enough punch and hardly makes any noise unless you rev it extremely hard. Even when you do rev it hard it just sounds eager rather than strained. The steering and clutch in the Q2 are both very light while the manual gearbox fitted in this car has a nice positive action. Thereís an automatic gearbox available but Iíd say why bother when driving is this easy? You have to expect more body-roll than youíd get in a standard hatchback but in the Q2 itís well controlled. While you can get quite a lot of lean it never really feels willowy or unsafe. Actually, as a trade-off this car rides pretty well thanks to its standard non-lowered suspension and big-tyre side walls on the sport trim alloys.

We drove around in the 30 TFSi petrol for the purpose of this review and we think that this car is a really solid choice if youíre on a budget. Itís great on fuel economy but if youíre a company car driver then youíll probably want to opt for something like the 30 TDi diesel. However, you need to bear in mind that the 35 TDi diesel comes with Quattro All Wheel Drive and an automatic gearbox as standard. If itís performance that youríre after then youíre going to want to head straight for the Audi SQ2 which is best described as an Audi S3 on stilts offering you all the same performance and grip.

The Audi Q2 overwhelmingly feels that itís purposely in the market to fit a niche. Its aim is to stop you from buying another SUV such as a BMW X2 or Mercedes Benz GLA. This tends to make car enthusiasts quite sad but it also tends to make Audi quite a lot of money. Thereís also the belief that this car exists solely for those that canít afford a Q3. However, this doesnít mean that itís not without merit. The Q2 is smaller and therefore easier to park without sacrificing a larger carís higher driving position. The Q2 isnít a car that youíre going to look for an excuse to drive or one that youíll want to use to take the long way home. However, for all other intents and purposes itís 100% fine for everything else you need. If you think that this is the right car for you then head to DesperateSeller.co.uk and take a look at some of the used Audi Q2 cars for sale we have available today.