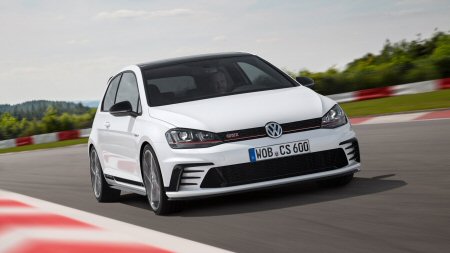 Volkswagen Golf GTI Clubsport Edition 40 Hot Hatch
On first inspection the VW Gold GTI Clubsport Edition 40 looks really good until you find out that itís only &pound745 less than the equivalent Golf R which has an extra 35hp and all-wheel drive. But donít right this car off just yet, because depending on your point of view, the Clubsport could actually be your idea of a performance machine.
So being front wheel drive only means that this car is actually 100kg lighter than the Golf R and as a result that just means itís more agile. You have different suspension settings though than the standard GTI they are more aggressive, just makes the car feel more responsive, more lively and a bit more playful. As standard the car comes with limited slip differential which is electronically controlled. You can send up to 100% of the power to the outer wheel to really rocket you out of corners. If you get on the gas quite early it does still grip and go quite well for a front wheel drive car, though one of the problems I have with this is that the standard tyres do mean that they start to steer a little bit earlier than Iíd like. However you can get this car with optional cup tyres which are super sticky and they should improve the front end traction. Having said that though itís still never going to rocket out of a corner quite as well as an all-wheel drive Golf R.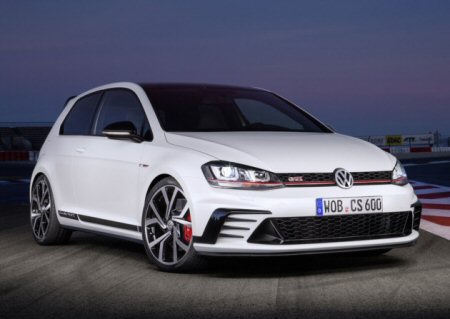 That brings us on to the 2 litre charged turbo engine shared with the Golf R and the normal Golf GTI but how it works is a little bit confusing. This car is normally rated to 265hp, but if youíre in third gear or above and you feel the throttle, you actually get 290hp but you only have it for 10 seconds. You then have to wait for another 10 seconds and then you can floor it again and be back to 290. You could do this on and off all day, however you canít really tell the difference between 265 and 290hp so itís not worth all the effort.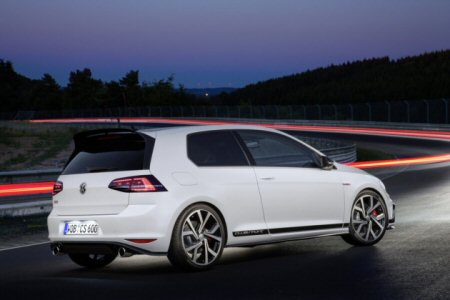 Really you get this feel this whole extra temporary performance thing is just some compromise to protect the powers of privacy of the Golf R. Itís almost as if the engineers have gone Iíll give you a bit of power but you canít have it for too long in case the marketing department find out. Itís all a bit ridiculous really because while some people will be buying this as a 265hp car with an occasional power boost, glass half empty people will see it as not running at full power for most of the time. Thatís a shame as there are some interesting things about the Clubsport such as the upgraded design. At the front you have a whole new bumper design with some big intakes to help cool the brakes. At the sides youíve got some black gloss door mirrors and a black decal along the side which is reminiscent of the original GTI. At the back you have a very unusual spoiler, bigger than normal and with side skirts and when you combine that with the back rear diffuser apparently you get real down force on the back end of this car above 75mph. It all looks a bit stupid though. The interior is all good though, itís like a normal GTI however you get alcantara steering wheel, a cool plaque to show your friends and upgraded seats with hard back buckets available as an option.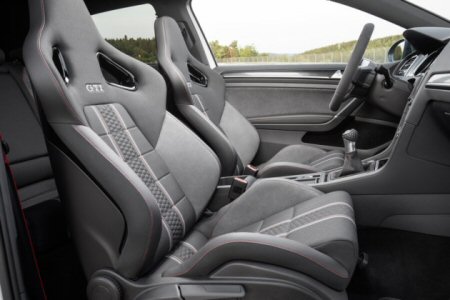 This 5 door Clubsport starts from £31,595 but really if you want a hot hatch thatís front wheel drive with crazy aero then well a Honda Civic Type R starts from £30K and that really does feel like a race car for the road.

Still this is a Golf GTI after all which means itís got more class and 40 years of heritage. As with any Golf you get a decent boot, roomy back seats, plenty of practicality, an excellent infotainment system and a car which is really comfy and easy to live with everyday especially if you go for the optional adaptive dampeners. Still for £32,340 you can have a Golf R and it pretty much does exactly the same thing, only it has 300 horse power and it has it all the time and itís got the benefit of all wheel drive.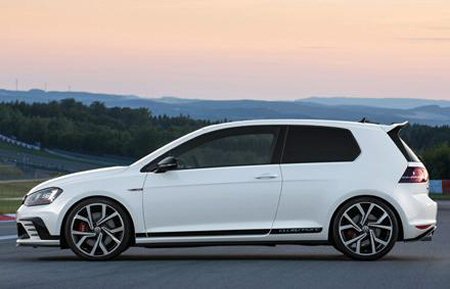 So then what really is the point of this car? Well actually itís quite simple. The Clubsport is rarer than the normal GTI Golf R which is therefore why it is a collectorsí edition. Itís a car for people who think heritage give it a uniqueness which is as outright important as performance and all weather grip.