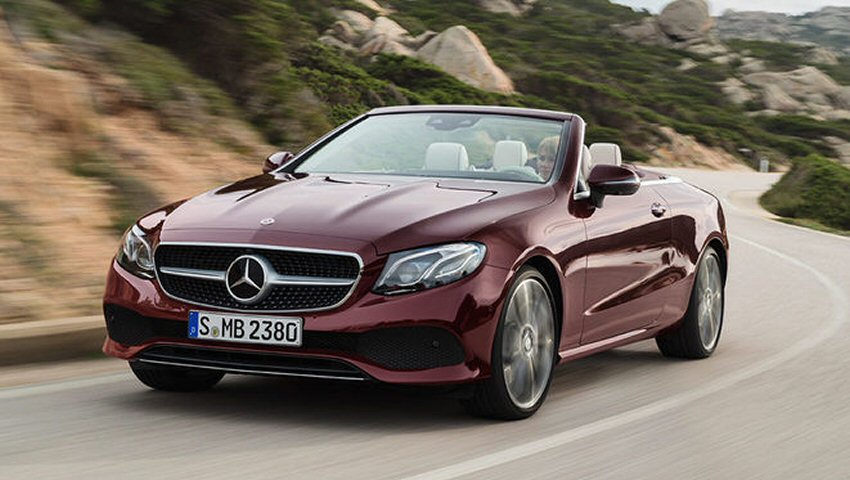 2018 Mercedes E-Class Cabriolet review
This is the Mercedes E-Class Cabriolet and is the 2 door version of the E-Class Coupe. Itís all about Luxury and Elegance all thanks to a large engine range it can count everything from an Audi A5 Cabriolet to a BMW 6 Series convertible as a rival.
Mercedes has really upped the design and quality of its interiors in recent years and the E-Class is probably one of the best examples of it. Now unsurprisingly in the cabriolet version of the E-Class you get the same interior as you do in the saloon, the estate and the coupe. Just like the coupe you get turbine style air vents but the design is just so classy inside. The quality of everything is top notch and everything you touch feels really well screwed together. Now in the E-Class there is a really strong focus on technology. In this car you have two 12.3 inch screens which is a £495 option but it really is an option worth going for. It is controlled by a rotary wheel, a touch pad above it and little touch pads on the steering wheel as well.

Storage wise there is quite a lot of it. In the centre there is storage for your mobile phone with some charging cables. The glove box is large enough for a large packet of crisps and the door bins do easily pass the large bottle of water test.

Happily thereís only one trim level. AMG line gives 19 inch alloys, LED headlights and heated leather seats. Thereís a number of option packs available including the premium pack which brings electrically adjustable seats, keyless entry and a rather pointless hands free boot lid. Getting in the back if you pull on the lever of the driverís seat it electrically slides forward which is very nice. There is plenty of knee room in the back however if you have a 6 foot driver and you are a 6 foot passenger behind in the back you are going to struggle for knee room and youíll definitely struggle for head room as well. This makes me think itís only really suitable for children in the back not only because of the knee and head room but also because of the back rests. They are virtually upright so you do sit quite uncomfortably. Mercedes obviously agrees with me because there are easily reachable ISOFIX points in the back for those child seats.

Itís not just space in the back you have to compromise with really in the E-Class Cabriolet but also boot room. When you have the roof down and the boot guard down to protect all of your luggage, youíve got virtually no boot room whatsoever. You canít fit a large suitcase in there whatsoever and itís probably only suitable for some soft bags. However if you know you are going to be carrying a large load and you have the roof up, you can raise that boot guard up by the touch of an electric button and boot room increases just a little bit. It does have quite an awkward opening space and really you are only going to be fitting some weekend bags in there. It is a convertible after all and you do have to put up with some compromises.

Under the bonnet you will find a choice of four engines the E220d 2 litre diesel available with rear or four wheel drive or the E350d gets a 3 litre V6 engine and four wheel drive. For petrol thereís 2 litre E300 or the 3 litre V6 four wheel drive E400. All models come with a 9 speed automatic gear box. We drove the E400 the fastest and most powerful E-Class Cabriolet you can buy. Now if you can put up with the expense and the 33.6mpg fuel economy this is the one to go for because that V6 engine delivers so much power and so much torque youíre never in any need for anymore. Thereís plenty of power and shove at any point in the rev range you just put your foot on the throttle and away you go. The only thing I do wish is that there was some more noise coming from that V6. Thereís not a particularly tuneful engine, itís just a bit of a groan which is a bit of a shame really.

While the E400 is expensive to run, other engines are better. The E300 officially returns 40.4mpg while the E220d is probably the one you should go for as this gets an impressive 61.4mpg with rear wheel drive and the 4 wheel drive E350 manages 42.8mpg.

The best thing about the E-Class Cabriolet is how refined it is. Now when the roof is up it is so quiet inside, it is almost as quiet as the coupe. Now the E350d and the E400 come as standard with air suspension. Now if you go for a model other than those two make sure you specify the air suspension because it is in perfect harmony with the rest of the E-Class Cabriolet because letís face it, it isnít a sports car, itís a grand tourer. The air suspension just has this lovely wallowing, lolloping feeling. It feels like an ocean liner to drive, but itís so comfortable and so refined itís a serious treat to drive a car like this.

Now normally in a convertible when you lop off the roof you lose a lot of the structural rigidity so the car tends to wobble around but Mercedes have done a good job with this. If you turn it into a corner at speed it really doesnít wobble around that much, but the rest of the driving experience is more cruiser than thrilling. The steering is particularly numb and you never get the sense that the E-Class wants to be thrown around corners. But really, do you really want that from a big four-seater convertible? No, the E-Class is a seriously comfortable refined car.

A sports car this is not, the suspension is too soft and the steering too light, but if you want a stiff sporting convertible perhaps you should be looking at the BMW 4 Series or the 6 Series convertibles. The E-Class Cabriolet has a whiff of junior Rolls Royce about it and if thatís what youíre after then this could be the car for you. Find used Mercedes E Class cars for sale under a budget with DesperateSeller.co.uk.