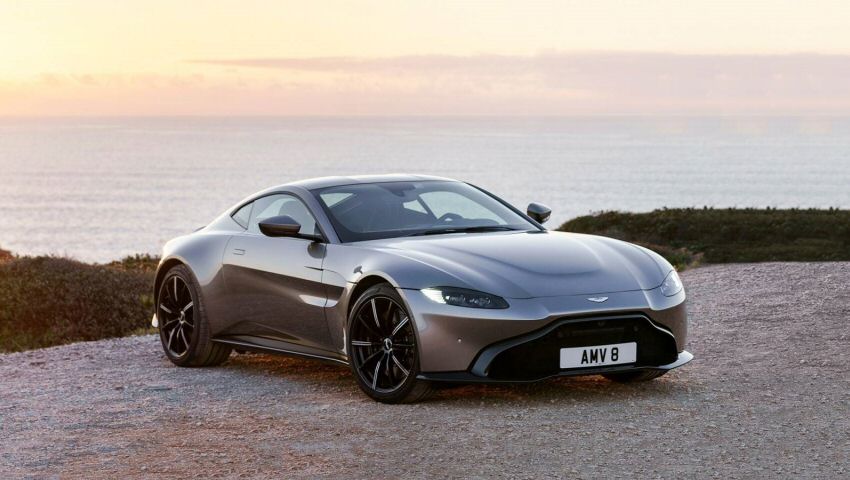 Can the Vantage finally challenge its rivals?
Aston Martin made a good job of making us wait for the new Vantage as it was a colossal 13 years since the last one was launched. In this period is has easily become the companyís best-selling model of all time. Has it got enough in the locker to challenge its rivals?
The latest incarnation has had a performance and price hike that has taken it directly into the firing line of some serious competition. The competition we speak of are the likes of the Audi R8 the McLaren 540c and the Porsche 911. This is seen as a bold move but one that has been universally welcomed. The larger Aston Martin DB11 answered a lot of questions about the new generation of Aston Martin cars yet the issue of how they would tackle the smaller yet dedicated sports cars was still to be addressed.

Step inside the Vantageís cabin and youíre treated to a wonderfully low driving position that makes you feel as though youíre in a car from Aston Martinís GT programme. You get endless reach and a chunky Alcantara bound steering wheel. Everything in here is a massive improvement on what was on offer in the old Vantage and itís not all for show either. The first clue we got that Aston Martin intended the Vantage to be a genuine sports car was in the Drive mode selector. Youíll find two of these on the steering wheel, one that dictates the suspension and the other that controls the engine and gearbox. However, neither of them have a Comfort or GT mode as you see in the DB11, instead they just have Track, Sport and Sport+ modes. What this means for drivers is that the Vantage always feels somewhat primed. The Vantage is not highly strung apart from a bit of tyre noise and is actually a comfortable cruiser. However, it just feels constantly alert and almost like a guard dog that always keeps one eye open while it sleeps. Itís primed and ready to turn from cruiser to killer at just a momentís notice.

The engine on the old Vantage was always one of its best features and itís not all that different on the latest model. What you get now is an AMG derived 4.0 litre twin turbocharged V8 engine producing 510 bhp (break horse power). Taking all of this into account, thankfully the Vantage still retains all of its own character and not least in the way that it sounds. The AMG GT has always had a fairly loud but straight forward engine sound. However, the Vantage has a more cultured repertoire of engine notes. What you get is a deep racy rumble at low revs but if you redline it then you get what can be described as a sort of machine-gun shatter.

Thereís a high level of flexibility in the way that you can drive the Vantage too, unlike the non-turbocharged Aston Martins of old. With this Vantage you can quite easily leave it in fourth gear and blatt around from A to B or, if you choose, you can absolutely ring the nuts out of every gear. The throttle response somehow gives you the feeling that this car isnít a turbocharged engine due to it being so razor sharp. Whatever way you choose to drive this car youíre going to be going ballistically quick as 0 to 62 mile per hour (mph) takes just 3.5 seconds and you can get to 100 mph in just over 7 seconds. Although the top speed of the Vantage is 195 mph it hasnít quite got the devastating pace of a McLaren 540c or an Audi R8 but itís certainly fast enough for most.

Speed is all very well and good but as we all know itís not that hard to make a car go fast in a straight line and sound good too. For this Aston Martin to be a proper sports car and one to rival the Porsche 911, the McLaren 540c and the Audi R8 itís got to handle well too. Obviously, the Vantage isnít the smallest sports car in the world as itís longer, wider and taller than then model it replaced - which is hardly a recipe for handling nirvana. However, this should be no means put you off. This car may be based on the same aluminium sub-structure as the DB11 but itís far stiffer, lighter and has a much smaller wheelbase. At the back youíll find an E-Differential which can switch from being 100% open to fully locked in a blink of an eye. You also get a brand new multi-linked suspension system that uses skyhook adaptive dampers to make sure you donít waste any power on an imperfect road surface.

The steering in this car is actually the same ratio as the DB11 yet it just feels quicker and more precise and crucially not nervous either. The beauty of all of this is that you can actually pile into corners and just lean on the immense front-end grip. You can then just get on the power incredibly early while the tort rear end just bites down and finds traction. It really is a beautifully balanced setup. For a big V8 bruiser this car is remarkably tidy. Ok, you could quite easily use the E-Differential to do big smokey slides but it almost seems a bit of a waste of the perfect 50-50 weight distribution and immaculate balance if you do. Weíll be honest in saying that the handling of the Vantage is not quite as razor sharp or as fearsome as a Porsche 911 or McLaren 540c but itís incredibly confidence inspiring when you really lean it into a corner. It really is the kind of car that once you start driving it you donít really ever want to stop.

Anyone who doubts the recent resurgence of Aston Martin simply needs to drive this Vantage. It really has got enough capability to compete with all of its rivals yet it still has that wonderful old-school charm that we come to expect from an Aston Martin. Our only concern is that this is the entry-level model in the range and we just hope that Aston Martin havenít set a bar too high for itself. Take a look at some used Aston Martin Vantage cars for sale on DesperateSeller.co.uk.