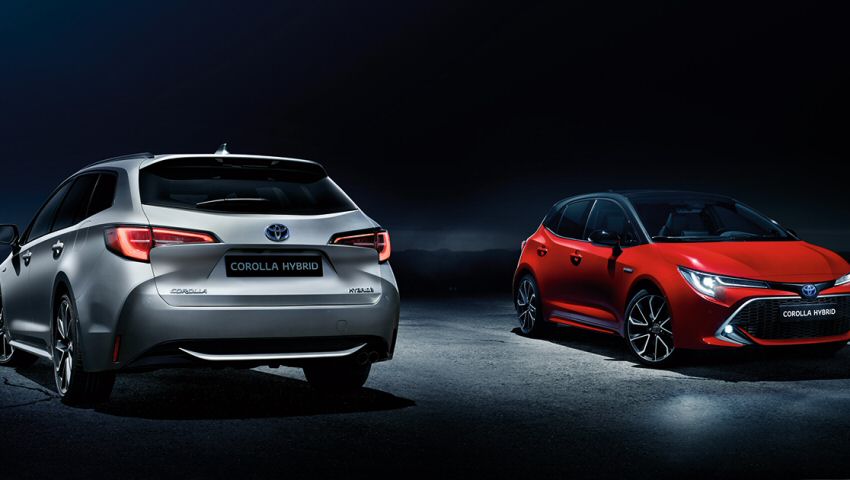 2019 Toyota Corolla
If youíre in the market for a small 5-door hatchback then youíre certainly not spoiled for choice. The most obvious choices are models such as the Volkswagen Golf or the Ford Focus or even the excellent Kia Ceed. However, thereís one hatchback that has seemingly come back from the dead and one that has the heritage to beat the Golf and the running costs to shame almost all of its rivals Ė it is the Toyota Corolla.
Amazingly, the Corolla name has been around since 1966 and has appeared on over 45 million cars that have been sold. However, believe it or not it hasnít actually been seen in the UK for over a decade. The new Corolla comes as a hatchback, a saloon and finally an estate. Not only does it use the same platform as the Toyota Prius and the Toyota C HR SUV but itís also much bolder than the car it replaces Ė the rather uninspiring Toyota Auris.

Letís start things off with the interior and itís probably best to start with the positives. Toyota have used some very nice materials in the cabin and the whole thing feels really well put together. We like the interesting lines of the dash layout coupled with the red stitching. Thereís also some very good storage available even if the door bins are a little on the lean side. You get lots of handy compartments and also a decent size glovebox. However, you canít help but feel that the cabin, as a whole, just feels a little bit dated and just feels like a car from a past era. One way of describing the interior is that itís trying to be something that it isnít and whatever itís trying to be it just hasnít quite managed to pull it off. For example, the chrome door trims look hopelessly out of place and the least said about the infotainment system the better Ė but we will anyway! The infotainment has been used in Toyota cars for years and although in this car it is slightly crisper on the screen the system as a whole is just very clunky to use and really isnít nice to look at. Thereís not even Apple Car Play or Android Auto to make your life easier because theyíre just not available even as an option. For a new car in this day and age this just seems such an odd decision from Toyota.

Moving on to trim, the Icon kicks off the range and comes with an 8-inch touchscreen, automatic LED headlights, 16 inch alloys, heated front seats and a parking camera. You get sat-nav on the Icon Tech trim as well as 17-inch alloys and privacy glass. The XL gets part leather seats, sport front seats and can be optioned with a black roof should you want one.

The space in the back of the Corolla isnít massively generous but itís certainly on a par with the Ford Focus or Vauxhall Astra. However, it hasnít got as much space as youíd find in many of its main rivals. Both leg room and head room is OK on the outer seats but the story is slightly different for middle passengers. This is because taller passengers will find themselves raised up with their head touching the rood which is not great. You do get a couple of IsoFix child points on the outer seats as well as some cup holders in the doors. On the subject of doors, unfortunately they donít open that wide which can be a pain especially for a car thatís meant to be a family car. Therefore you may find it difficult to load in your children in and out of the back and in and out of child-seats. Itís a similar story around at the boot because the space here can only be described as OK and about the same size as the Ford Focus. What we donít really like about the boot is that you get a big drop so youíll have to really reach down to place your things on the boot floor. You should also be warned that if you opt for the 2.0 litre hybrid model then this carís battery will really eat into your boot space.

As you probably know, hybrids are a really big thing with Toyota and there are two hybrid versions with the Corolla. First off, thereís a 1.8 litre engine with 128 break horse power (bhp) which is backed up by a 600 volt battery. Then thereís a 178 bhp 2.0 litre engine with a 650 volt battery. The car weíre looking at for the article is the 1.8 litre and just like the Toyota Prius and the Toyota C HR that combination of engine and electric motor work really well. For the most part the unit is pretty quiet and smooth. Itís not desperately fast and youíre not going to find it massively punchy but it is quick enough. In fact itís about a second quicker to 60 miles per hour (mph) than a 1.0 litre Volkswagen Golf. The 2.0 litre is usefully quicker though and achieves a 0-60 mph time of just under 8 seconds and can cruise in EV mode up to 70 mph. The Corolla may not be quite earth-shattering but its trump card is efficiency. The MPG (miles per gallon) ranges from around 55 and 60 mpg and Co2 emissions are just 76 grams per kilometre (g/km). To put this into perspective a Ford Focus canít get within 15 g/km of that. Opt for the 2.0 litre and these figures slump slightly to between 50 and 60 mpg and 89 g/km.

The Corolla is actually a pretty nice car to drive and sits somewhere between a Focus in the handling department and the Golf when it comes to comfort which is actually a pretty good combination. The steering is direct while the chassis feels quite keen when you turn in and the ride in general is pretty good. This really is a sweet car to drive and for us this is definitely its strongest attribute. The only thing that lets this car down is the CVT gearbox as with all Toyotas. It seems that with every new Toyota the CVT transmission gets a little bit better but itís still frustrating when compared to the conventional automatic gearboxes you find in the Focus, Astra, Golf or Kia Ceed. You just never get that sense that what your right foot is doing is really translating well to what the engine is doing. So, press the throttle hard and youíll find that the rev counter is going up but it just seems to take such a long time to catch up. On the 2.0 litre you do get paddle shifters on the steering wheel and this does help to reduce the rubber-band feeling you get just a little bit.

Around town youíll find that the hybrid models are just fine though they can irritate on a country road. However, if a hybrid isnít for you then thereís a 114 bhp 1.2 litre petrol with a 6-speed manual gearbox that nicely revs the engine on down changes. Unfortunately, itís not a frugal as the hybrids though with 39 to 47 mpg and 129 g/km of Co2 though this is more than comparable to its rivals.

So, what do we think of the 2019 Toyota Corolla? Is it just an old name on a new car that still doesnít want to make you buy it? Weíd say not quite. Itís definitely a transformation from the dreary old Auris with an appealing blend of refinement around town, a comfy ride, good handling and a really solid build quality. Apart from the plain awful entertainment system and a hybrid powertrain that will frustrate keener drivers, the Corolla isnít a bad car at all. If you can look past its faults then youíll get a hatchback thatís cheap to run and nice to drive. If you fancy taking a look for yourself then head to DesperateSeller.co.uk where we have thousands of used Toyota Corolla cars for sale.