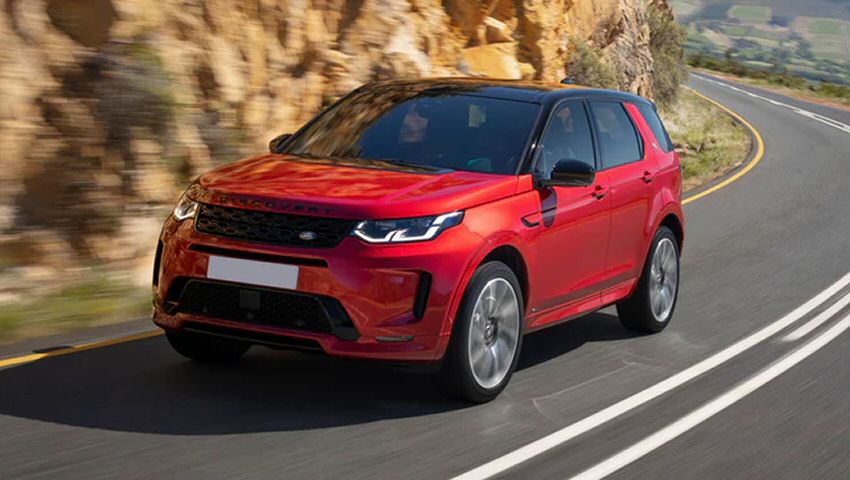 2019 Land Rover Discovery Sport Facelift
The car in our photo is the all-new 2019 Land Rover Discovery Sport. Even by taking a long hard look you still may find it difficult to distinguish it from the old one. Thereís a reason for this - there simply arenít any. Yes, the styling has been tweaked and crimped in a few places but largely the look is pretty much the same as it was before.
The greater revolution has happened on the inside of the Discovery Sport. The cabin is now trimmed up in some smarter materials, not least the glossy black panel you find on the central console. Not only does it look beautifully sharp but it also works as a touch-sensitive panel rather than with physical buttons. Even the controls on the steering wheel are of the same glossy touch sensitive variety. However, if weíre being honest these arenít quite as easy to use due to the fact that the controls are a little more cluttered. Obviously, the big thing about the Discovery Sportís interior is simply the space on offer. The Discovery Sport is actually a 7-seater or a 5+2 (whichever way you want to look at it). What this means is that as a 5-seater itís a spacious, roomy and you can slide the back seats back and forth. You then have an extra pair of seats that pop up from the boot floor when the need arises. Itís very much best to think of this car in this context as itís not a car thatís as big as most full-on 7-seaters on the market. Also, the rear most seats donít really have enough space for adults to sit in on long distances though itís absolutely fine for short hops. As a trade-off for the extra seats the boot space shrinks to pretty much nothing when youíre travelling with seven passengers but when youíre carrying just five passengers then itís absolutely massive.

Under the skin of the Discovery Sport, again, nothing much has changed from the previous version. Itís as if a few bits have been juggled around to improve the packaging but whatís there is very similar to what was there before. What this means is that the way that this car behaves on the road is very much the same as it always behaved. You can expect it to be both smooth and comfortable for the vast majority of the time though a really scruffy surface can cause your ride to become a little bit patchy. The steering certainly wonít suit all. Youíll either love it or hate it especially as itís curiously heavy at all speeds. This isnít all that helpful when youíre trying to manoeuvre what is a very big car at low speeds. Saying this what it does do is inspire confidence through the corners.

Previously buyers of the Discovery Sport invariably opted for one of the diesel engines and even in todayís environment we donít see this pattern changing a great deal. The car we used for this short article happened to be a petrol. It was the P250 which is a turbocharged 2.0 litre engine with a new mild-hybrid system built in. All in all, itís pretty good. Itís reasonably punchy all the way through the rev range, itís really quiet and it works nicely with the automatic gearbox. The thought of having a petrol engine in a car thatís a big and as heavy as this might well send shudders down your spine especially if you donít like spending money at the petrol pump. However, having the 48 volt mild hybrid system does mean that this car is capable of a WLTP (Worldwide Harmonised Light Vehicle Test Procedure) figure of around 35 miles per gallon which isnít too bad. This car also comes with 4-wheel-drive in most models as well as Land Roverís Terrain Response II off-roading system which is basically a suite of systems brought together to make this machine pretty much unstoppable in the sticky stuff.

The stats
0-62mph in 7.6 seconds
Fuel economy Ė 29.9 mpg (WLTP)
Co2 emissions Ė 182g/km (NEDC)
Boot space Ė 157-754-1651 litres

So, the appeal of the Discovery Sport is pretty much the same as it was before. It has 7-seat practicality and premium badge desirability thatís all wrapped up in a package thatís both compact in size and reasonable in price. Itís for this reason that we believe that this car is going to suit quite a few car buyers in the UK and with very good reason. We would just urge a little bit of caution that if you really do need seven seats most of the time then there are a lot of other bigger 7-seater cars on the car market (eg Audi Q7) that will probably suit you a little bit better. Interested? Then take a look at some of the used Land Rover Discovery Sport cars for sale we have available on DesperateSeller.co.uk.